Cellulite Reduction Treatment
Cellulite can take its toll on one's overall self-esteem. If you're a woman with cellulite, you're not alone. Cellulite affects nearly 90% of women at some point during their lives, even women who are otherwise slender and fit. Our cellulite treatments use Radial Pulse Therapy to deliver high-energy pulses that temporarily reduce the appearance of cellulite. Depending on the severity of the cellulite, 8-12 sessions will be required.
Now, with the advanced medical lasers available from Dr. Victor Lacombe in Santa Rosa, Cellulite Treatments can be performed quickly, effectively, and safely.
You can request your complimentary consultation or call our office at (707) 577-8292 to learn more about Artemedica's Cellulite Treatment. At his office in Santa Rosa, Dr. Lacombe sees men and women from Sonoma, Marin, Napa, and surrounding counties as well as throughout Northern California.
Cellulite Basics
Although it is much more common in women, cellulite affects women and men of all shapes and sizes. It is true that age and genetics play a role in one's likelihood to get cellulite. The older you get, the more likely it is you'll notice cellulite starting to appear.
The Procedure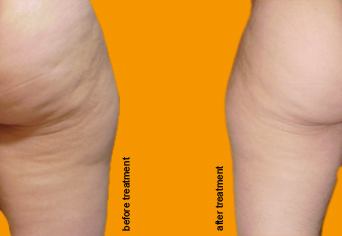 To treat cellulite, we use the Zimmer MedizinSystems. During treatment, Radial Pulse Therapy is used to delivery high-energy pulses. The hand piece contains a projectile that is accelerated electromagnetically. This kinetic energy is then transformed into impact energy in the applicator head. The impact energy results in radial pulses delivered to the target tissue. When you meet with one of our technicians to discuss cellulite treatment, she will explain that the treatment is painless, non-invasive, and has no downtime.
The number of treatments required depends on the severity of your cellulite. In general, at least 8 and up to 12 treatments are required. Treatments should be scheduled twice weekly for 4-6 weeks.
Treatments results can last up to and over a year.