The World's First and Only Injectable Filler for Moderate to Severe Cellulite

Now available at Artemedica, QWO Injectables are the world's most advanced non-invasive cellulite treatment available. This innovative filler represents the latest advancement in treatments for women looking for long-term solutions to stubborn cellulite on the buttocks and thighs.
What is QWO?
QWO is the first and only FDA-approved injectable filler designed to treat moderate to severe cellulite on the buttocks and thighs of women. This revolutionary filler has been clinically tested and proven to smooth cellulite dimples in women without surgery.
What to Expect QWO Injectable Fillers:
– Non-Invasive Treatments
– Quick and Simple Appointments
– Restored Volume to Skin Dimpling on Thighs and Buttocks
– Youthful-Looking Results
– No Post-Injection Downtime
– Minimal Side Effects
QWO injectable fillers are a safe and effective solution for women looking to smooth away cellulite and restore the youthful look of their butt and thighs without having to undergo invasive surgery.
Debunking Cellulite Myths
Treating your cellulite begins with understanding that the root cause lies beneath your skin, so surface treatments like specialized creams or scrubs will never solve the issue completely. The biggest misconception about cellulite is that "it's just fat", and all you need to do is lose weight. But cellulite affects women, no matter their weight, or fat percentage, and no amount of exercise or strict dieting will ever get rid of it completely.
Cellulite is a Structural Issue Happening Beneath Your Skin
Cellulite isn't a body fat issue, it's a structural issue happening below the surface of your skin. The textured dimpling you see is actually a chain reaction caused by a loss of essential collagen proteins naturally found in your skin's connective tissues.
Connective Tissue Bands
The fibrous tissue that connects from your skin to the underlying muscle is called connective tissue bands. When these tissues do not produce enough collagen on their own, they become tighter and less flexible. The bands then stiffen and pull your dermal layer downward creating a visible dimple on the surface of your skin.
Protective Fat Layer
Your body stores essential fat cells between your dermal layer and your underlying bones and muscles to act as a natural protective barrier. When your connective tissues become rigid these bands anchor your dermal layer down, causing the fat cells to bulge into enlarged pockets. With nowhere to go, these pockets of fat cells push against your skin causing even more texturing on the surface, resulting in that signature "cottage cheese" of "orange peel" appearance.
Dermal Thickness
Cellulite texturing can be more or less pronounced in different areas of your body depending on the thickness of your skin. As we age, our skin naturally becomes thinner over time, and the appearance of cellulite can become ever more noticeable.
How Do QWO Injections Work?
QWO represents the latest advancement in non-invasive treatments for women struggling with cellulite on their thighs and buttocks. This innovative filler is formulated with essential enzymes that target the underlying structural issues that cause cellulite to form under your skin.
QWO Collagenases Enzymes
With QWO injections we are able to introduce collagenase enzymes to targeted areas of your butt and thighs. This enzyme targets the rigid tissue bands allowing them to unanchor your skin reducing these surface indents. As the connective tissue bands release, the pockets of fat cells are able to redistribute appropriately.
Collagen Proteins
Collagen is the main structural protein that your tissues require to remain flexible. The QWO injectable works to stimulate the production of new collagen in these tissues so they remain supple.
What to Expect During QWO Treatments
Each QWO treatment is guaranteed to be minimally invasive, quick, and simple! Your butt and thighs are naturally fattier areas of the body, so injections do not require any anesthesia for the treatment to remain relatively painless. You can expect your QWO injections to take ten minutes or less, and require zero post-treatment downtime.
QWO Injection Results
During clinical studies, women received three injections of QWO filler, 21 days apart. During these trials, the QWO injectable fillers were able to visibly reduce cellulite in 10 weeks!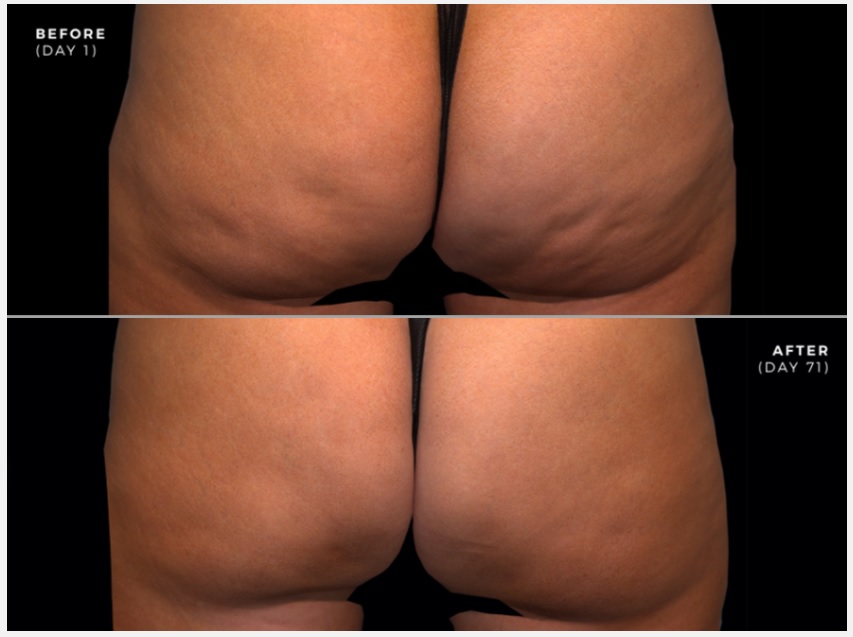 Are there Side Effects to QWO Injections?
In clinical trials, women reported little to no pain during or after their QWO treatments. The most common side effects included moderate bruising at the injection site, redness, and minor swelling. Like any injectable filler, you should consult with your doctor before starting QWO treatments to ensure you have no existing conditions that could lead to serious reactions or complications.
Schedule Your Free QWO Consultation at Artemedica Today!
With our new QWO injectables, we can get to the bottom of your cellulite issue and smooth away skin dimpling without the need for surgery. Our skilled QWO specialists are here to help you illuminate that stubborn cellulite on your bum, so you can feel confident and bikini ready just in time for swimsuit season!
Give us a call at 707- 577-8292, or fill out the form below to schedule your free QWO consultation at Artemedica today!