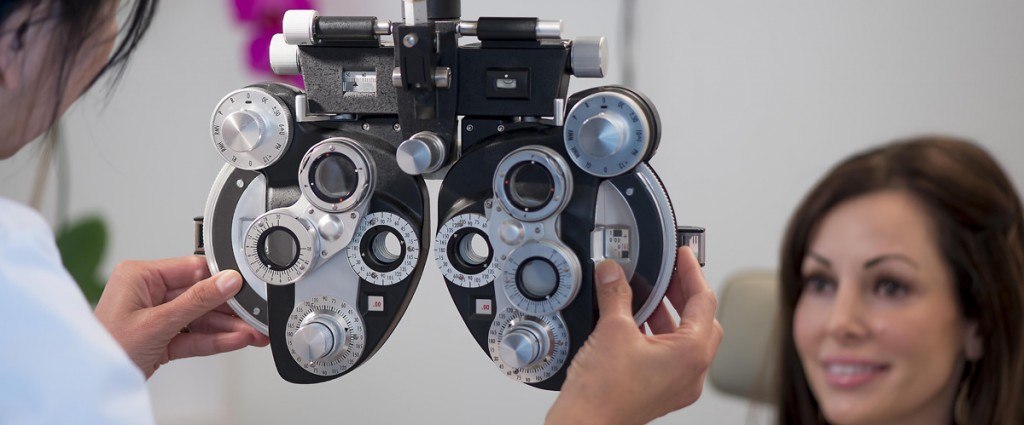 If you would like to know more about our accepted Vision Plans, click here.
Optical Coherence Tomography (OCT) Testing
Our Zeiss Cirrus High Definition-OCT 5000 machine, often referred to as the "Clinical Powerhouse," can detect early signs of glaucoma, many retinal diseases, and cataracts. It can also measure your tear film to detect dry eyes.
Visual Field Testing
Visual field tests are performed by one of our technicians with the assistance of a machine. A visual field test is an eye examination that can detect dysfunction in central and peripheral vision which may be caused by various medical conditions such as glaucoma, stroke, brain tumors, or other neurological deficits.
Pachymetry
Pachymetry is a simple, painless test to measure the thickness of your cornea (the clear window at the front of the eye). A probe called a pachymeter is gently placed on the front of the eye (the cornea) to measure its thickness. Pachymetry can help your diagnosis because corneal thickness has the potential to influence eye pressure readings. With this measurement, your doctor can better understand your IOP reading and develop a treatment plan that is right for you.
Tonometry Pressure Checks
A tonometry test measures the pressure inside your eye, which is called intraocular pressure (IOP). This test is used to check for glaucoma, an eye disease that can cause blindness by damaging the nerve in the back of the eye (optic nerve).
Refraction
The refraction test, also termed vision test, is an examination that tests an individual's ability to see an object at a specific distance. The test involves looking through a device called a phoropter to read letters or recognize symbols on a wall chart through lenses of differing strength which are contained within the device. This test is performed as part of a normal eye examination to determine whether or not an individual has normal vision. It is also used to determine the prescription for eyeglasses or contact lenses.