ThermiSmooth Body at Santa Rosa's Artemedica

What is ThermiSmooth Body?
ThermiSmooth Body is a non-invasive procedure that Artemedica has been performing since it's Clinical Study Phase in 2014. ThermiSmooth Body uses targeted radio frequency energy and is delivered by a hand piece on top of the skin. When the skin's collagen reaches around the desired temperature it reacts by shrinking. This shrinking effect is what causes the skin to naturally tighten, smoothing skin and reducing the appearance of wrinkles, cellulite, skin laxity and/or fat. At the same time, your skin's natural inflammatory response to the heat is to produce new collagen, furthering the beneficial effects of the procedure.
Clinical Study at Artemedica
We were excited to be one of only a handful of offices in the United States to be included in the IRB Clinical Study. The procedure was new to the United States in 2014 but had been approved in Europe where they had performed thousands of treatments with successful results.
Following our clinical study, ThermiSmooth was FDA approved in December of 2015
Our patients described the treatment as "relaxing" and feeling like "a warm soothing massage" and none experienced any sort of discomfort or pain through the duration of their treatment. The study included 4 treatments at 2-3 week intervals.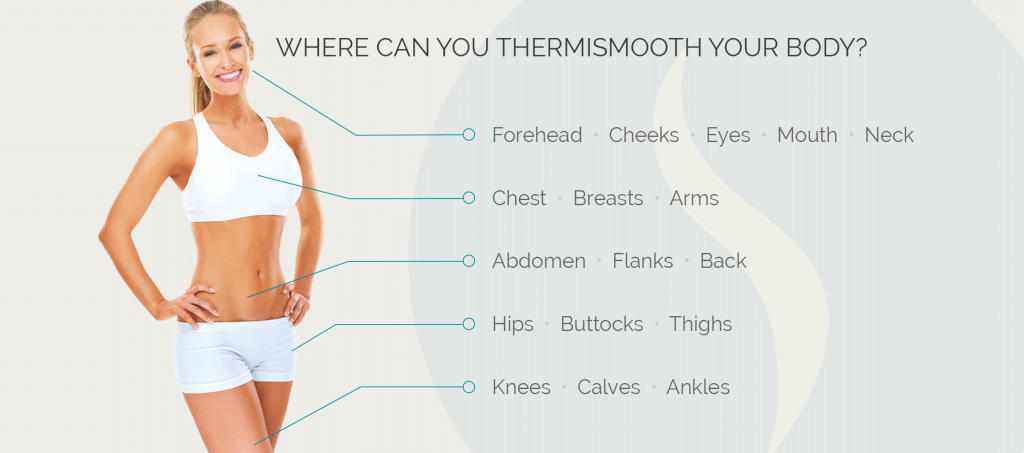 Other areas that can be treated with ThermiSmooth
If you are interested in treating face and neck areas, please visit our ThermiSmooth Face page.
Also at Artemedica from Thermi:
ThermiSmooth Body for Tighter Skin in Sonoma County
If you want to regain some of your lost youth with ThermiSmooth Body, contact Artemedica in Santa Rosa. Dr. Victor Lacombe has been performing facial cosmetic surgeries for years and can help you choose the best treatment for your unique needs.
Give us a call at (707) 577-8292 or fill out the form below today!
*Individual results and experiences may vary
Thermi's temperature controlled RF system is indicated:
In the United States for use in dermatological and general surgical procedures for electrocoagulation and hemostasis.
In Europe for electrocoagulation of soft tissues for vulvovaginal laxity.
Important Safety Considerations:
Thermi radiofrequency products should not be used on patients who are pregnant, have a fever or skin infection in or around the area of treatment. Expected procedure side effects may include transient pain in the procedure area, erythema and edema.