ThermiTight works on the deep layers of the skin to dramatically reduce the appearance of loose or saggy skin!
ThermiTight is a minimally invasive procedure—a new type of procedure between surgical and non-invasive—that offers surgery-like results without the lengthy downtime.
The procedure is performed at Artemedica in Santa Rosa by Dr. Victor Lacombe.
What is ThermiTight?
ThermiTight is one of the techniques from the new ThermiRF system.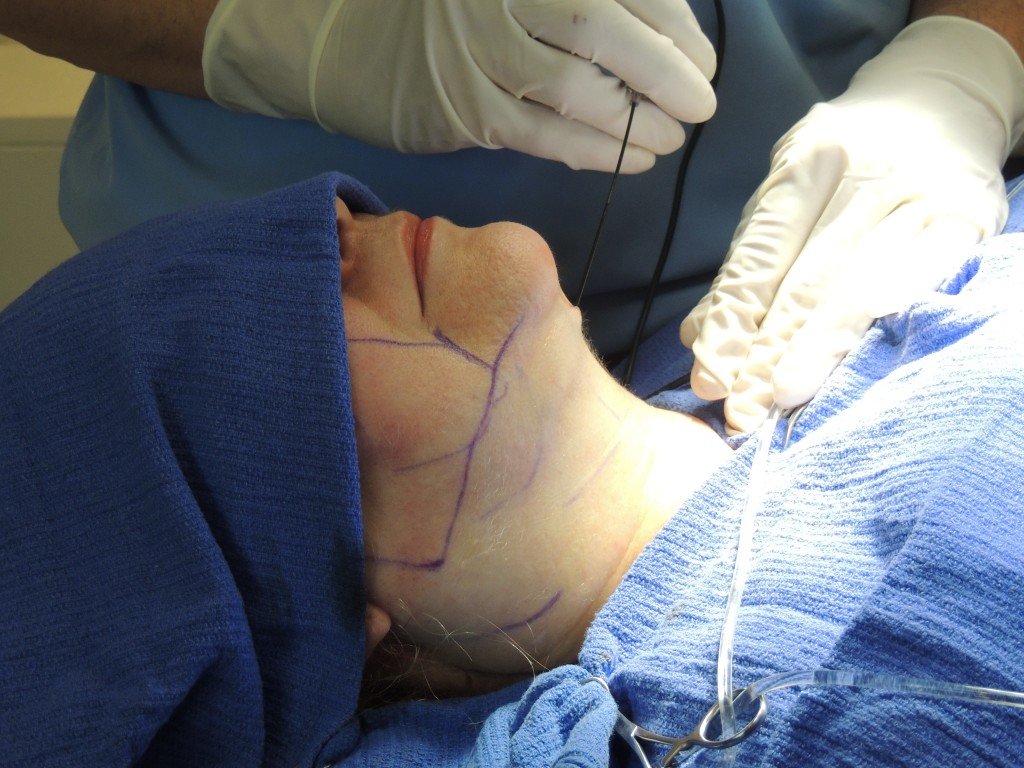 ThermiTight uses the same targeted radiofrequency energy of its sister procedure, ThermiSmooth. However, the big difference is in the method of delivery: ThermiTight involves the use of a tiny probe, underneath the skin in the fatty layer of the target area.
This probe is inserted via needle prick and cannula after local anesthetics are applied. The probe is used to precisely heat the deep layers of the dermis. While the probe heats the deep tissue, a specialized infrared camera monitors the temperature of your skin, making sure to stay in the optimal range of between 50-65ºC.
At this temperature range in the deep dermis, collagen production in your skin is dramatically increased. Collagen is part of the support structure of the skin, and new collagen production firms and tightens aged, sagging skin. The results are firmer, tighter, more youthful skin.
ThermiTight vs. Ultherapy & Thermage
ThermiTight is superior to both Ultherapy and Thermage for a number of reasons. The first is its efficacy. ThermiTight is minimally invasive and works in the deepest layers of skin, producing results that are not possible with fully non-invasive procedures.
The second benefit is ThermiTight's results and recovery time. ThermiTight offers results that are similar to getting a mini surgical facelift, without all of the side effects, costs and downtime. It truly is a mini-facelift alternative, especially for middle-aged patients who aren't quite ready for a facelift.
Third is ThermiTight's versatility. ThermiTight can be safely used on more areas than other procedures. More areas treated more efficiently means better results overall.
Finally, ThermiTight isn't very painful. With the use of local anesthetics, the procedure offers only minimal discomfort.
Areas that can be treated with ThermiTight:
The ThermiRF system is so great because it can be used almost anywhere on the body. The ThermiTight procedure works very well on several areas:
Face and Neck
Upper Arms
Abdomen
Knees
Candidates for ThermiTight
Many patients are candidates for ThermiTight. If you're starting to show signs of aging but aren't quite ready for the more intensive surgical procedures, contact us at Artemedica to begin a free consultation. We can guide you through the procedure and help you decide what the best course of action is for you.
The Procedure
The ThermiTight procedure is generally very fast. Most sessions last less than an hour, depending on the areas being treated.
Recovery & Results*
The side effects for ThermiTight are very minimal, considering the excellent results that the procedure offers.
Swelling and redness may occur, and the area may be sensitive following your treatment. Most patients feel great within 3-5 days and opt to return to work. Some patients experience swelling that lasts up to 10 days.
Patients may experience some immediate results, with effects improving over a period of one to two months. The results of ThermiTight are mainly gradual, as the collagen in your skin is produced and strengthened over a period of months. The effects of the procedure may continue to benefit the skin for years afterward.
Generally, ThermiTight is not a multiple treatment course but depending on the individual and the target area, an additional treatment sessions may be recommended in order to achieve the best results.

Other areas that can be treated with ThermiSmooth
If you are interested in treating the breast area, please visit our ThermiTight Breast page.
Also at Artemedica from Thermi
ThermiTight for Tighter Skin in Sonoma County
If you want to regain some of your lost youth with ThermiTight, contact Artemedica in Santa Rosa. Dr. Victor Lacombe has been performing facial cosmetic surgeries for years and can help you choose the best treatment for your unique needs.
Give us a call at (707) 577-8292 or fill out the form below today!
*Individual results and experiences may vary
Thermi's temperature controlled RF system is indicated:
In the United States for use in dermatological and general surgical procedures for electrocoagulation and hemostasis.
In Europe for electrocoagulation of soft tissues for vulvovaginal laxity.
Important Safety Considerations:
Thermi radiofrequency products should not be used on patients who are pregnant, have a fever or skin infection in or around the area of treatment. Expected procedure side effects may include transient pain in the procedure area, erythema and edema.