Brilliant Distinctions Members DOUBLE your points with Botox Cosmetic…
& save $50 instantly on Juvederm Voluma!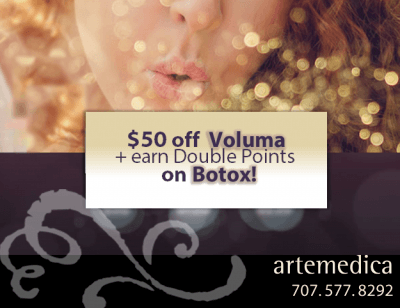 Earn 400 points ($40 value) on your next Botox appointment. Botox appointment must be completed by December 18th! The $40 coupon can then be used towards any future appointments.
Save $50 instantly on your next Juvederm Voluma treatment. (Act fast – limited coupons available)
Fight moderate to severe frown lines this season with the natural-looking results of Botox Cosmetic and use Juvederm Voluma to add volume and fullness to your mid-face.
Call 707-577-8292 to schedule your appointment
You must be a member of Allergan's Brilliant Distinctions rewards program in order to take advantage of this savings! Not signed up? Not to worry- it takes less than a minute to sign up and is free. Visit www.alle.com to sign up today!