Is there anything neurotoxins like DAXXIFY, BOTOX and Dysport can't do? They can help diminish wrinkles and fine lines, prevent migraines and even stop excessive sweating. But the newest, trending treatment, Trap BOTOX involves targeting the trapezius muscles to create a longer, leaner neckline. Not only does this procedure help improve the appearance and definition of your neck and shoulders, but it also helps relieve muscle stiffness and built-up tension.
Benefits include: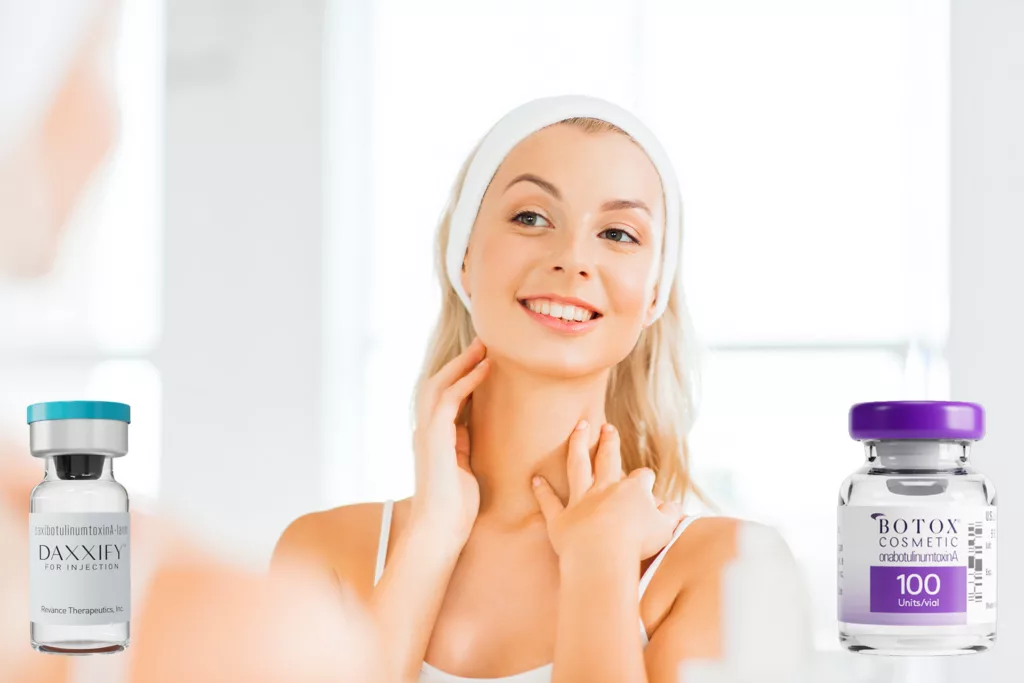 Trap BOTOX for a longer, slimmer neck and better-defined shoulders
While everyone's favorite pop culture icon may have popularized the appearance of a long and slender neck, (Hi Barbie!), Trap BOTOX has been used for years to address both medical and cosmetic concerns. When our trapezius muscles (shoulder and neck muscles) become inflamed or enlarged from overuse, bad posture, or poor sleeping positions, our neck can look shorter and our shoulders more broad, square and rigid. TrapTox helps relax these muscles, creating that perfectly slender Barbie neck/shoulder slope.
Trap BOTOX can help: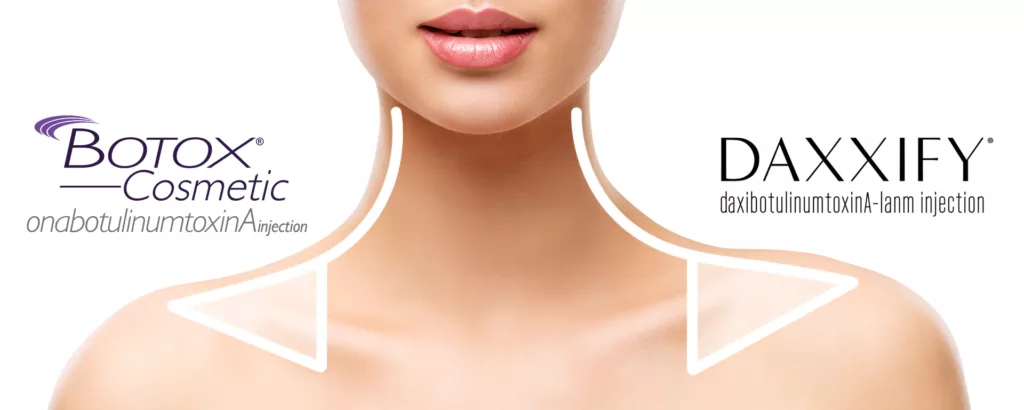 And although the treatment is widely known as trap BOTOX, trap tox, TrapTox, Barbie BOTOX, etc. any neurotoxin administered by a licensed provider will achieve similar results. In fact, here at Artemedica we love DAXXIFY over BOTOX for trapezius injections because DAXXIFY generally has longer lasting results when compared with BOTOX. For reference, BOTOX results last anywhere from 3 to 4 months, whereas DAXXIFY results can last anywhere from 4 to 6 months. If you're not sure which injection is right for you, feel free to ask our clinicians during your FREE consultation.
Getting TrapTox injections at Artemedica
Dr. Lacombe and the other providers at Artemedica have been administering neurotoxins like DAXXIFY and BOTOX to Santa Rosa and Healdsburg residents for over 20 years. In fact, because of his expertise and excellent bedside manner, Dr. Lacombe has been recognized by Allergan as a TOP 100 Allergan Injector. He was also awarded the Black Diamond Injector award: an award given to only 1% of practices nationwide.
And when it comes to the actual procedure, you can be sure that when you receive your injections at Artemedica, it will be comfortable and the results stunning. Our providers use the smallest possible needle and a unique technique for a pain-free experience. Depending on the number of areas to be treated, the procedure should take less than 15 minutes overall.
If you do feel any discomfort or anxiety before or during your treatment, you can always ask your provider about PRO-NOX.
Recovery
Thanks to Dr. Lacombe's special technique, recovery after your injections is quick and any side effects will be mild. Patients may experience some temporary bruising and minor headaches, but these should resolve within 24 hours. If you do experience any side effects, apply an ice pack to the treated areas to alleviate any inflammation and discomfort. Although it may seem like a good idea, avoid rubbing anywhere near the injection sites for the first 12 hours. You should also refrain from lying down for the first 4 hours. This is to prevent the injections from migrating to unwanted areas.
Trap BOTOX results
As for results, many patients begin to see an improvement within the first 24-48 hours. However, results won't be final until roughly 30 days after your treatment. Results last up to 6 months depending on the injection used and the desired results. Remember that results vary from patient to patient, and that you should discuss your ultimate cosmetic goals with your provider to create a treatment plan that works for you.
Trust Artemedica for your "Barbie" Trap BOTOX
Dr. Lacombe has devoted his 20+ year career to helping Santa Rosa residents reach their facial plastic surgery goals. In fact, he co-authored Lasers in Aesthetic Surgery which is considered a standard must-read textbook for aspiring plastic surgeons. Dr. Lacombe is certified by both the American Board of Facial Plastic and Reconstructive Surgery as well as the American Board of Otolaryngology (Head and Neck Surgery). Many men and women in Santa Rosa and throughout Sonoma County choose Dr. Lacombe as their plastic surgeon of choice because of his experience, his skill, and his passion for helping his patients.
If you are interested in BOTOX Cosmetic injections or other cosmetic injections, please fill out the form below or contact our Santa Rosa (707) 577-8292 or Healdsburg (707) 415-8888 offices for your free consultation.
TrapTox Frequently Asked Questions
What is TrapTox aka "Barbie BOTOX"?
TrapTox refers to having a neurotoxin like BOTOX, DAXXIFY, or Dysport injected into your trapezius muscles to relax and loosen the muscle group. Aesthetically, this can make the neck look more elongated and shoulders appear slenderer and leaner. This can also help relieve pain and stiffness in trapezius muscles and even improve posture.
Are injections like DAXXIFY and BOTOX safe?
Absolutely! DAXXIFY, BOTOX and Dysport are all FDA approved.
How do neurotoxin injections work?
Unlike other injections, BOTOX is not a dermal filler. It does not eliminate wrinkles and fine lines by filling in the underlying tissue. Instead, BOTOX uses an FDA approved drug called onobotulinumtoxinA to temporarily prevent targeted muscles from moving. More specifically, these injections block certain chemical signals from nerves that cause muscles to contract.
Neurotoxins like DAXXIFY, BOTOX and Dysport prevent targeted, overactive muscles from moving. More specifically, these injections block certain chemical signals from nerves that cause muscles to contract. As a result, these injectables are used to treat fine lines and wrinkles, migraines and to relieve muscle stiffness and tension.
How long will my results last?
Most patients begin seeing results within 1 to 2 days, but your results won't be final until roughly 30 days after your treatment. In most cases, Trap BOTOX lasts up to 4 months, although some patients have had results last longer. On the other hand, TrapTox with DAXXIFY lasts up to 6 months.
What is the best age to get BOTOX?
It's actually a pretty common misconception that only old women get BOTOX. In fact, BOTOX and DAXXIFY are both FDA-approved for women and men over the age of 18 years old.
How much does TrapTox cost?
The total cost for your injections will depend on how much product we use to achieve your desired results. During your consultation, we will discuss your cosmetic goals and treatment plan so you know how much your unique procedure will cost and why. If you're interested in saving money on your injections, check out our blog for news about specials and discounts or sign up for an Allē rewards program account to earn points for BOTOX, DAXXIFY and other Allergan products like Juvéderm.
Why should I go to Artemedica for my TrapTox injections over other practices?
Artemedica is a first class plastic surgery provider with locations in both Santa Rosa and Healdsburg. Our in-office surgical suite has received the Joint Commission Accreditation, recognizing our commitment to the highest level of patient safety, patient care excellence and meeting all of the highest performance standards. Dr. Lacombe himself has received multiple awards recognizing him as a top provider for BOTOX, DAXXIFY and other injections including the Black Diamond Injector award (an award given to only 1% of practices nationwide) and the TOP 100 Allergan Injector award.