EMFEMME 360 represents the latest advancements in vaginal rejuvenation. Women of all ages struggle with problems like urinary incontinence (bladder control), vaginal dryness, lack of sensation, or cosmetic insecurities. Over time, these issues can significantly impact your quality of life, and interfere with social experiences, leisure activities, and even intimate situations. With EMFEMME 360, not only do patients report observing improvements after just one session, but their results also continue to improve over time. At Artemedica, we love EMFEMME 360 because it's: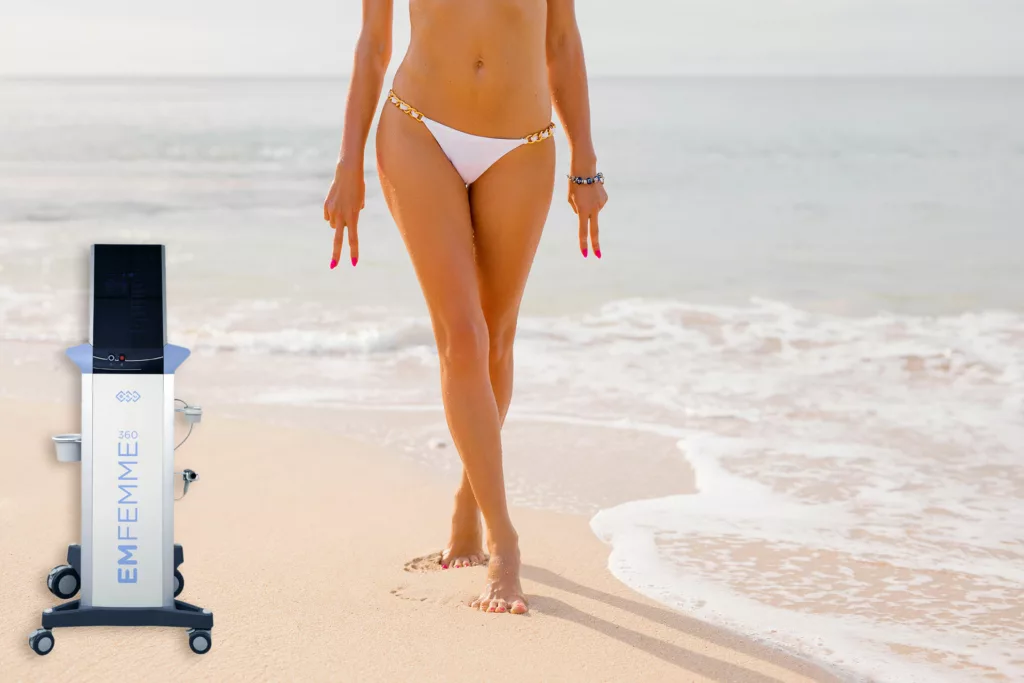 EMFEMME 360 boosts self-confidence
From the creators of EMSCULPT and EMSELLA, comes BTL INDUSTRIES' first radiofrequency (RF) treatment for women's sexual health and wellness concerns. EMFEMME 360 uses gentle RF heat to tighten internal and external vaginal muscles, increase blood circulation and help relax and relieve muscle pain and spasms. As a result, EMFEMME 360 helps Artemedica patients treat: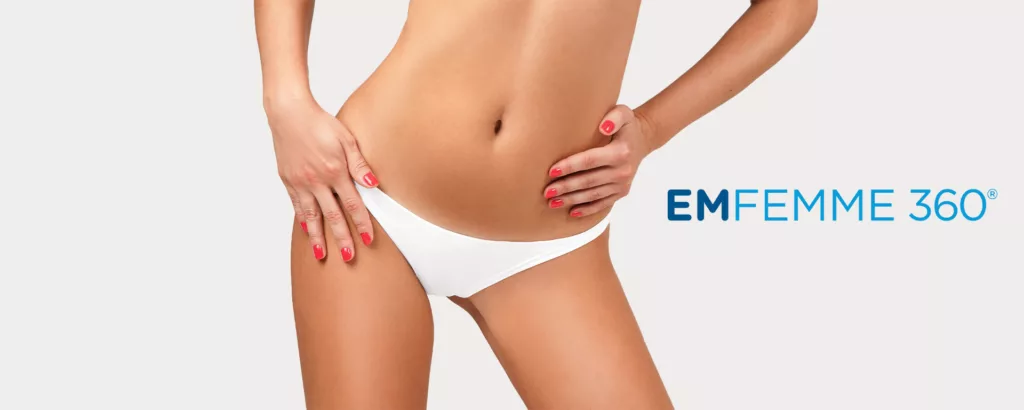 EMFEMME 360 treatments at Artemedica
Every woman has her own goals for addressing intimacy concerns and urinary incontinence. Therefore, when you meet with Dr. Lacombe during your consultation, together you will discuss your wants and needs. He'll assess whether you're a candidate for EMFEMME 360 and develop a personalized treatment plan for you. Anyone can be a candidate, especially if you're interested in non-surgical women's wellness improvements.
Once Dr. Lacombe has created your unique treatment plan and its finally time for your appointment, one of our fully certified technicians will check you into our award-winning, state-of-the-art surgical suite. During your EMFEMME 360 treatment, the applicator will apply homogeneous heat to the treated area which many patients describe as pleasant and comfortable.
Recovery
With EMFEMME 360, there's no surgery, no anesthesia, and no invasive techniques whatsoever, so there's little to no downtime. In fact, most patients return immediately to work following treatment. You may experience some mild redness and swelling, but this should dissipate within a few hours.

"I wanted to just be confident in every area of my life as a woman, that I felt I had lost because I had given natural birth. I just wanted to be the hottest me possible, and with each treatment, I could see improvements by that night."

– Paola | EMFemme 360 Patient

Results
Most patients observe improvement after a single session and results will typically continue to improve over the next few weeks. For optimal results, we recommend a series of 3 treatments scheduled a week apart.

"When I learned about this treatment that can safely tighten things up without having any downtime or any pain, I was really interested. It's been a great experience so far… I've noticed a difference, and my husband has noticed a difference as well. We were intimate one evening and it was better than it had been."

– Kim | EMFEMME 360 Patient

Artemedica is Your Santa Rosa EMFEMME 360 Destination
Dr. Lacombe has devoted his 20+ year career to helping Santa Rosa residents reach their facial plastic surgery goals. In fact, he co-authored Lasers in Aesthetic Surgery which is considered a standard must-read textbook for aspiring plastic surgeons. Dr. Lacombe is certified by both the American Board of Facial Plastic and Reconstructive Surgery as well as the American Board of Otolaryngology (Head and Neck Surgery). Many men and women in Santa Rosa and throughout Sonoma County choose Dr. Lacombe as their plastic surgeon of choice because of his experience, his skill, and his passion for helping his patients.
If you are interested in EMFEMME 360 or any of our other body center procedures, please fill out the form below or contact our Santa Rosa (707) 577-8292 office for your free consultation.
US FDA Clearances
EMFEMME 360™ is intended to provide heating for the purpose of elevating tissue temperature for selected medical conditions such as temporary relief of pain, muscle spasms, and increase in local circulation.
BTL®, EMSCULPT NEO®, EMSCULPT®, EMSELLA®, Exilis®, EMTONE®, HIFEM®, Vanquish® are registered trademarks in the United States of America, the European Union and/or other countries. Trademarks EMSCULPT NEO®, EMSCULPT®, EMSELLA®, EMFEMME 360™, EMTONE®, EM® and HIFEM® are parts of EM Family of products.
** Results and patient experience may vary.
As with any medical procedure, ask your doctor if the procedure is right for you. Patient names have been changed for their privacy.