Get Youthful Skin with Advanced Fractional CO2 Laser Resurfacing
Now available at Artemedica, Tetra CO2 laser treatments are one of the most advanced resurfacing therapies available. With cutting-edge fractional laser technology, Tetra resurfacing provides our patients with smoother, younger-looking skin with less downtime required.
This non-surgical resurfacing treatment is one of the most popular therapies for patients looking to see dramatic improvements in wrinkles, age spots, scarring, and many other skin concerns. The new Tetra resurfacing system represents some of the latest advancements in fractional CO2 laser technology.
What is Fractional CO2 Laser Skin Resurfacing?
Laser resurfacing naturally stimulates collagen production to restore elasticity, and bring new youthful skin to the surface all in as little as one session. CO2 laser therapy utilizes high-energy light to remove the dead tissues and promote cell turnover in the epidermal and dermal layers of your skin. Fractional CO2 lasers break up this light energy into thousands of tiny beams to deliver a more precise treatment and reduce your recovery time.
Reverse Signs of Aging with Tetra CO2 Laser Skin Treatments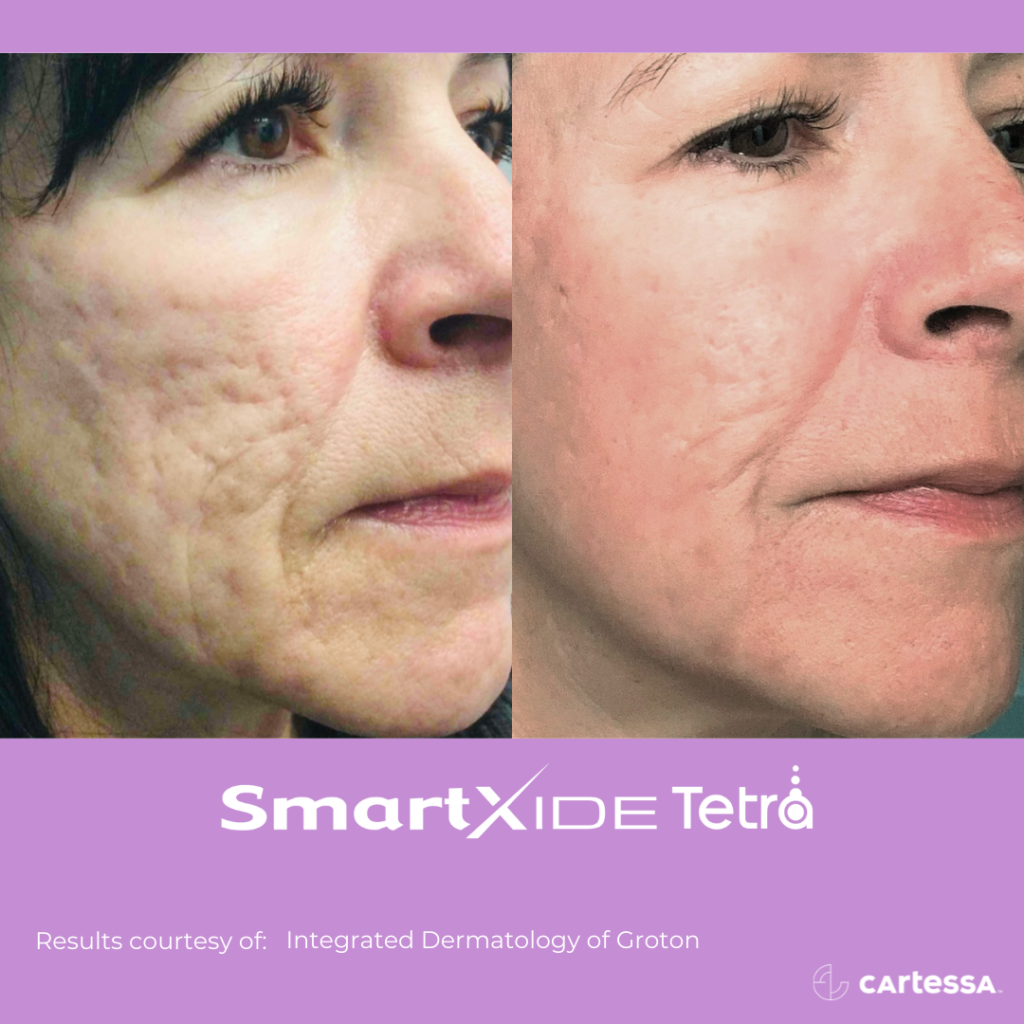 Our new Tetra system is an anti-aging therapy that offers fully personalizable treatments to target your biggest concerns. Tetra CO2 laser resurfacing treatments can rejuvenate your skin and minimize signs of aging such as:
– Brown Spots
– Sun Spots
– Fine Lines
– Crows Feet
– Pigmentation
– Uneven Skin Textures
– Scars (Including Acne Scars)
– Wrinkles
– And more!
Each Tetra resurfacing session is tailored to your lifestyle to provide results based on your unique needs and skincare goals.
Customizable Tetra CO2 Laser Resurfacing Treatments
The Tetra resurfacing system features one of the newest and most advanced operating systems that allows us to customize the shape, depth, and intensity of the laser beams. From full skin-resurfacing to more superficial resurfacing treatments like CoolPeel™, this anti-aging treatment can treat a full range of skin and complexion concerns.
The 3 Levels of Fractional Ablation
Our Tetra CO2 laser is perfect for men and women of all ages with fully customizable treatments based on your desired results. There are three levels of resurfacing available with the Tetra CO2 system, each designed to deliver varying levels of intensity based on your personal needs.
Tetra Resurfacing Levels:
– Mild Fractional Ablation
– Moderate Fractional Ablation
– Aggressive Fractional Ablation
This unparalleled versatility and precision provide optimal results while also minimizing any unnecessary downtime. Our laser specialists will work with you to determine the best resurfacing level for your skin goals, and will fully optimize each session to fit your desired results.
Tetra CO2 Laser Resurfacing Results
With the Tetra system, we can provide treatments ranging from high-intensity resurfacing that targets age-related concerns like deep wrinkles to lighter and more proactive skincare treatments like CoolPeel™. This high range of versatility means your results and downtime vary depending on individual treatment plans.
Our Tetra laser specialists are available to discuss your skincare goals and provide insight on when you can expect to see your desired results and how much downtime you can expect to need.
Get a Free Tetra CO2 Laser Resurfacing Treatment Consultation at Artemedica Today
With our new Tetra CO2 laser treatment, you can target a number of complexion concerns and smooth away signs of aging with little downtime required! During a free consultation, our skilled laser specialists can answer all your questions and provide a personalized treatment plan based on your skincare goals and concerns.
Give us a call at 707-577-8292, or fill out the form below to schedule your free Tetra CO2 Laser resurfacing consultation at Artemedica today!
---