Concerned about signs of aging but not interested in dermal fillers or worried about looking too "overdone"? Perhaps you're considering BOTOX but are still interested in researching all available alternatives. Now, there's a viable alternative to BOTOX with longer-lasting, natural-looking results. From the makers of RHA, Revance Therapeutics introduces DAXXIFY, an FDA approved injectable for the treatment of moderate-to-severe glabellar lines, also known as frown lines or 11 lines. If you are looking to improve the appearance of facial lines and wrinkles with longer-lasting results, DAXXIFY may be perfect for you.
DAXXIFY represents the latest revolution in injectable wrinkle treatments. This innovative formula is clinically proven to reduce the appearance of facial wrinkles, and treat frown lines with results that last longer than any other products on the market.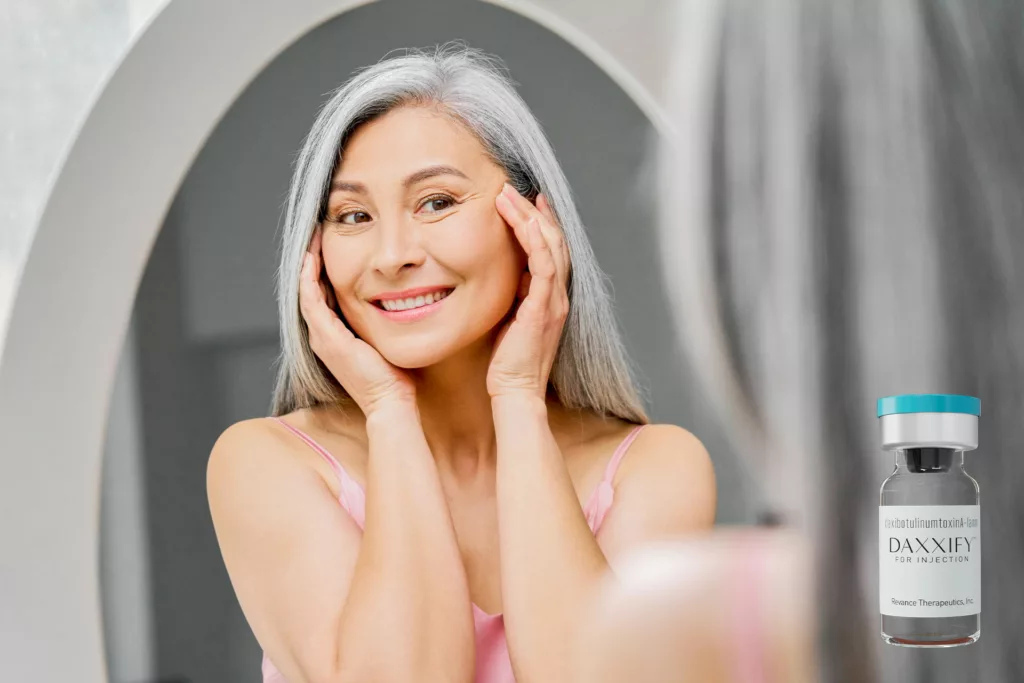 How does DAXXIFY eliminate wrinkles anyway?
Unlike other injectables, DAXXIFY is not a dermal filler. It does not eliminate wrinkles and fine lines by filling in the underlying tissue. Instead, DAXXIFY works in the same way that BOTOX does. It uses an FDA approved drug called daxibotulinumtoxinA-lanm to temporarily prevent targeted muscles from moving. More specifically, these injections block certain chemical signals from nerves that cause muscles to contract. When used in the face, DAXXIFY injections relax overactive facial muscles that cause severe wrinkles. The result is a softer, more refreshed appearance free from deep lines around the eyes, nose and forehead.
However, results from DAXXIFY are much longer lasting than those from BOTOX. That's because DAXXIFY attaches the daxibotulinumtoxinA-lanm neurotoxin to a protein which extends the effects on treated muscles. Results can last anywhere from 4 to 6 months, roughly.
Additionally, DAXXIFY is the first injectable neurotoxin formulated using a novel peptide as a stabilizer, meaning it does not contain human or animal byproducts. It addresses: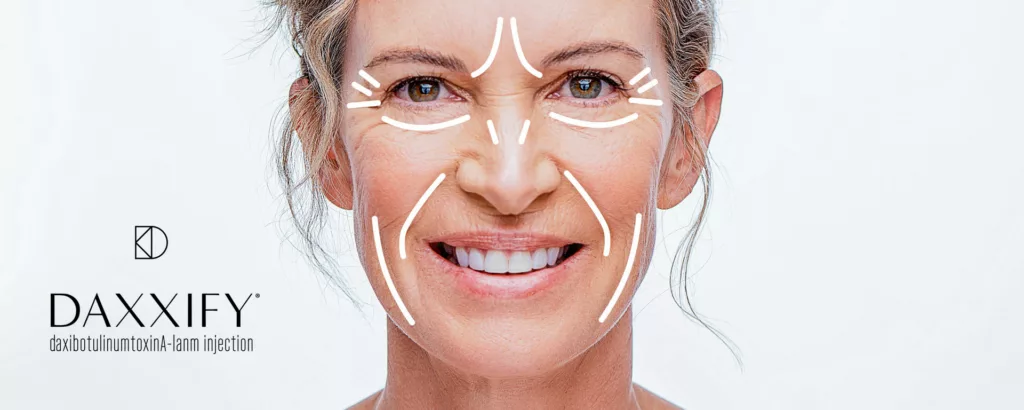 Getting your injections at Artemedica
DAXXIFY is the only one of its kind and must be performed by a licensed and practiced clinician. Dr. Lacombe and the other providers at Artemedica are proud to announce that they will be one of the first practices nationwide to offer DAXXIFY to Santa Rosa and Healdsburg residents. You can be sure that when you receive your injections at Artemedica, the procedure will be comfortable and the results stunning. Depending on the number of areas to be treated, the procedure should take less than 15 minutes overall. Our providers use the smallest possible needle and a unique technique for a pain-free experience.
If you do feel any discomfort or anxiety before or during your treatment, you can always ask your provider about PRO-NOX.
Recovery after your treatment procedure
Thanks to Dr. Lacombe's special technique, recovery after DAXXIFY injections is fairly quick and any side effects will be mild. Patients may experience some temporary bruising and minor headaches but these should resolve within 24 hours. If you do experience any side effects, apply an ice pack to the treated areas to alleviate any inflammation and discomfort. Although it may seem like a good idea, avoid rubbing anywhere near the injection sites for the first 12 hours. You should also refrain from lying down for the first 4 hours. This is to prevent the DAXXIFY from migrating to unwanted areas. Remember, DAXXIFY is not a dermal filler; it does not fill in the skin but instead prevents overactive muscles from contracting.
As for results, many patients begin to see an improvement within the first 24-48 hours. However, results won't be final until roughly 30 days after your treatment. Results last 6 months, depending on the severity of the wrinkles treated. Remember that results vary from patient to patient, and that you should discuss your ultimate cosmetic goals with your provider to create a treatment plan that works for you.
DAXXIFY Injections in Santa Rosa and Healdsburg
Dr. Lacombe has devoted his 24 year career to helping Santa Rosa residents reach their facial plastic surgery goals. In fact, he co-authored Lasers in Aesthetic Surgery which is considered a standard must-read textbook for aspiring plastic surgeons. Dr. Lacombe is certified by both the American Board of Facial Plastic and Reconstructive Surgery as well as the American Board of Otolaryngology (Head and Neck Surgery). Many men and women in Santa Rosa and throughout Sonoma County choose Dr. Lacombe as their plastic surgeon of choice because of his experience, his skill, and his passion for helping his patients.
If you are interested in DAXXIFY injections or other cosmetic injections, please fill out the form below or contact our Santa Rosa (707) 577-8292 or Healdsburg (707) 415-8888 offices for your free consultation.