What is Dysport?

If wrinkles aren't your style and the "frozen look" isn't either, Dysport is the right treatment for you! Like traditional Botox, it's a botulinum type A substance that lifts facial skin, providing temporary results. Dysport is proven to smooth the appearance of moderate to severe frown lines between the eyebrows without changing the look or movement of the rest of your face. The result? A more organic, natural overall look.
How does the Dysport treatment work?
The Dysport procedure includes one 1 injection into 5 major points both above and between the eyebrows, resulting in a completely wrinkle-free forehead. These injection points are carefully chosen to temporarily prevent muscle contractions that cause frown lines. The Dysport injections take about 10 to 20 minutes, and you will start to see the change after 2 to 3 days.
How long does Dysport last?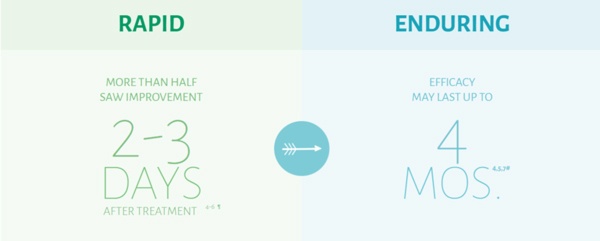 Your Dysport treatment will last about 4 months, after which you will need to return for fresh injections. With a generous performance time and flawless, natural look you will find that Dysport becomes an ideal and beneficial part of your cosmetic lifestyle. Additionally, injecting Dysport regularly, as prescribed by your cosmetic surgeon, can prevent the onset of future wrinkles.
Who are candidates for this BOTOX alternative?
Anyone who is under the age of 65, and seeking out treatment to reduce wrinkle impact is eligible for Dysport. Please note, each Dysport procedure yields different results for different patients due to face and feature variations. If you are considering a more natural treatment that does not affect the whole face, we highly recommend you choose Dysport.
When to consider starting Dysport
It is often recommended that you start any injections of facial alteration procedures past thirty. If you are experiencing severe wrinkles or unwanted facial features that prevent your enjoyment of everyday life, then it is probably time to get that Dysport injection you've been waiting for! Once again, Dysport is a temporary and safe procedure that seeks to make the biggest wrinkle-reducing impact in the most natural way possible.
When it comes to getting the best result, rely on a skilled and experienced injector.
To find out what Dysport can do for you, request your complimentary consultation or call us at (707) 577-8292. Our Santa Rosa office is conveniently located for men and women from Sonoma County, Marin County, and other areas of Northern California.