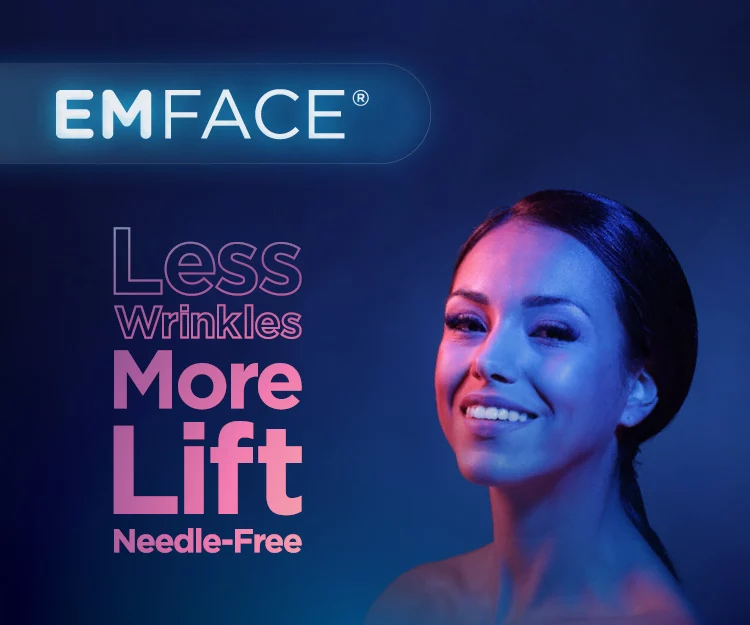 Address Skin & Muscle in a single treatment with EmFace!
At Artemedica we are always on the lookout for the latest offerings and procedures to better help our clients achieve superb results with non-invasive approaches. We are excited to announce that we now offer EMFACE, the first and only needle-free procedure that simultaneously treats facial skin and muscles in a 20-minute session, to our collection of non-surgical treatments!
And we're proud to be one of the first practices in the nation to do so!
What is EmFace?
The state-of-the-art EmFace device provides effortless fat reduction and muscle definition for men and women struggling with facial fullness, sagging, and loss of elasticity. EmFace is poised to become the industry's leading non-surgical, non-invasive facelift treatment that also reduces the appearance of wrinkles, and enhances facial contours.
BTL Aesthetics, makers of EmSculpt NEO, have created a solution using the same technologies for the part of the body that is most visible – the face. Building on the EmSculpt legacy as the world's #1 body sculpting treatment, EmFace uses science and technology to deliver amazing results in just one easy treatment.
How EmFace Works
EMFACE™ utilizes BTL's patented technology, which combines (HIFES™) muscle building therapy with radio frequency emissions to stimulate muscles and heat fat deposits on the face for sharper definition, noticeable lift, and improved muscle tone.
Sync RF Energy for Facial Collagen and Elastin
Radiofrequency (RF) energy is an FDA-approved heat therapy. The focused application of Sync RF energy during your EmFace procedure can stimulate your skin's production of collagen and elastin. These essential proteins work together to give your skin a youthful texture as well as provide more defined structure and strength to your facial features.
HIFES Technology for Muscle Building
What to Expect During an EmFace Treatment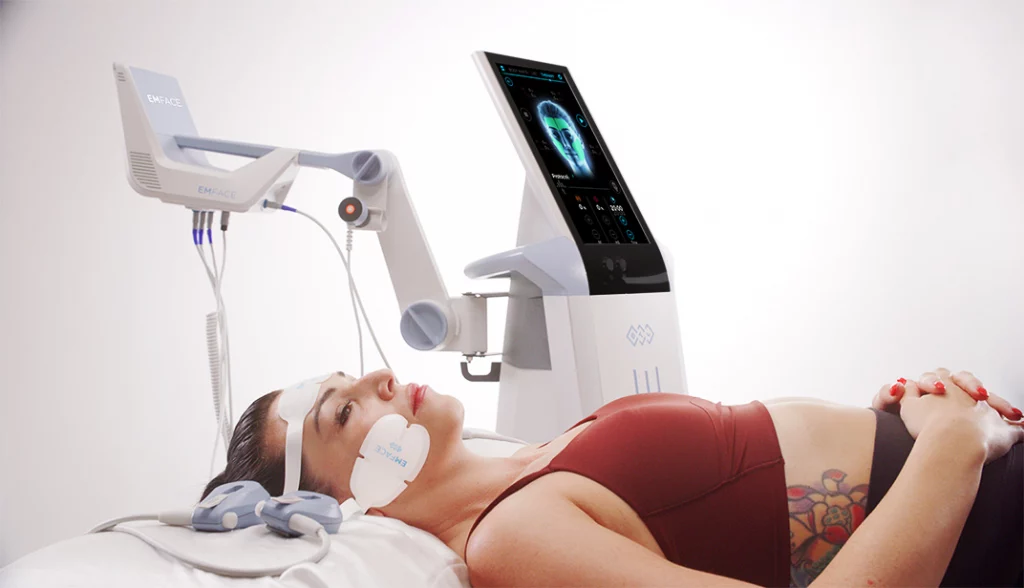 There is no special preparation or recovery time required for your EmFace procedure. During your session, our EmFace technicians will attach applicators to your targeted treatment areas, which could include cheeks, eyebrows, forehead and jawline.
The EmFace procedure activates strong muscle contractions and delivers a heating sensation to your target areas, but should never be painful. This innovative device kills fat cells and stimulates muscle growth without causing harm or discomfort to you or the surrounding skin tissue.
EmFace Before and After
With EmFace, you will experience noticeable muscle definition, fat loss, skin tightening, wrinkle reduction, and face lifting with no effort or recovery time!
Sculpt and Define Your Facial Features With EmFace at Artemedica
The new EmFace procedure has arrived! If you are ready to tone your face without the need for surgery, schedule your free EmFace consultation. Our technicians will be able to answer all your questions and provide a custom treatment plan based on your specific facial sculpting needs. 
Complimentary EMFACE Consultation