Men and women alike struggle with unwanted body hair for a variety of reasons. Some find that their body hair is too dark or thick. Others simply don't want to deal with the hassle of hair removal since frequent hair removal like shaving, depilatories, plucking and waxing can we time-consuming, inconvenient and painful. And oftentimes, results of manual hair removal only last a few days. It's no wonder that laser hair removal is one of the most commonly performed non-surgical cosmetic procedure.
Laser hair removal is a non-invasive option for removing unwanted hair. During laser hair removal, the device used emits light energy that travels through the skin and is absorbed by the hair follicle and hair shaft permanently damaging both and impairing their ability to grow. And with the Soprano ICE system from Alma, it is now possible to safely and painlessly remove unwanted hair from any part of the body regardless of age, sex, skin tone and hair type.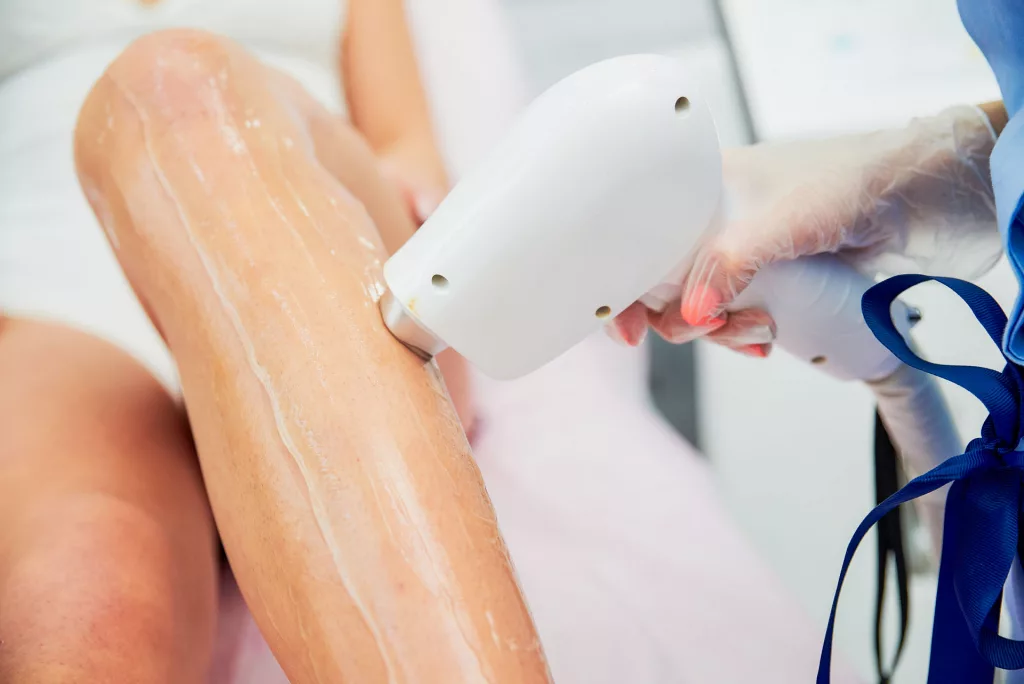 How does laser hair removal work?
Laser hair removal uses infrared diode laser to gently heat the hair follicle to the point at which hair can no longer grow. As a result, the existing hair in the follicle not only dies away, but the follicle becomes unable to grow new hair. In the end, you are left with permanently smooth, hair free skin! Soprano ICE is perfect for anyone looking to remove unwanted hair thanks to their multiple laser wavelength and technology approach. So no matter your skin color or hair thickness, we have a laser hair removal system that's right for you!
When preparing for your session, be sure that the areas you want treated are clean shaven. While you don't need to shave immediately before your treatment, we recommend you shave within 24 hours of your session. Unlike waxing or epilation, laser hair removal does not forcibly remove the hair from the follicle so you don't need to have long hair for the applicator to grip. A clean shave ensures that the laser is able to penetrate the skin to the follicle effectively for the best results. Please note that laser hair removal only affects follicles that are actively growing hair. If there isn't a hair root in the follicle, the follicle will produce a new hair. For this reason, we suggest patients schedule multiple sessions evenly spaced out to target all hair follicles throughout the growth cycle.
Touchably smooth, hair-free skin with Soprano ICE laser hair removal
While yesteryear's technology was painful and time consuming, laser hair removal with Soprano ICE is anything but thanks to SHR. SHR or "Super Hair Removal" uses low energy at a higher frequency which allows the skin to be heated gently for a more comfortable experience. Furthermore, Alma's ICE advanced cooling technology cools the skin during treatment. This helps minimize the risk of burns on the skin surface while maintaining even heat temperature within the dermis where hair follicles are treated. This system, combined with a sweeping In-motion technique, means you get fuller coverage, quicker, with virtually no pain. Many patients compare their experience to a massage-like sensation.
Your skin tone and hair type will determine the number of treatments needed, but the majority of patients require anywhere from 6-8 sessions for complete and permanent hair removal. Much like the hair on your head, hair relatively slowly so you will need to return to your clinician every 4-6 weeks until your results are achieved. Thankfully, individual sessions are relatively short compared to a hair appointment depending on the location:
Recovery after laser hair removal
Laser hair removal with Soprano ICE requires no downtime; you can even hit the gym right after your appointment if you want. Please note that you will not be immediately hairless after your appointment. Laser hair removal is not epilation; it does not remove the hair from the follicle. Instead, it neutralizes the hair root and makes the environment of the follicle inhospitable to growing new hair. The body will naturallys push the hair out of the follicle and the follicle will have a difficult time growing new hair.
Do not attempt to speed up the shedding process. Forcibly removing the hair can cause damage to the skin. Allow the body time to shed dead hair roots. After the shedding process, your body will remain hair-free for an extended period of time and each treatment after will extend the length of subsequent hairless periods. Once you complete your series of treatments, 60-80% of treated hair will not grow back and any hair that does will be significantly lighter, thinner and weaker. After completing their treatment regimen, many patients experience hair-free periods lasting several months and even years.
Laser Hair Removal in Santa Rosa and Healdsburg
Dr. Lacombe has devoted his 24 year career to helping Santa Rosa residents reach their facial plastic surgery goals. In fact, he co-authored Lasers in Aesthetic Surgery which is considered a standard must-read textbook for aspiring plastic surgeons. Dr. Lacombe is certified by both the American Board of Facial Plastic and Reconstructive Surgery as well as the American Board of Otolaryngology (Head and Neck Surgery). Many men and women in Santa Rosa and throughout Sonoma County choose Dr. Lacombe as their plastic surgeon of choice because of his experience, his skill, and his passion for helping his patients.
If you are interested in laser hair removal or other laser skin procedures, please fill out the form below or contact our Santa Rosa (707) 577-8292 or Healdsburg (707) 415-8888 offices for your free consultation.