EmSculpt NEO Treatments at Artemedica

Reduce Fat and Build Muscle With EmSculpt NEO Treatments
Artemedica is excited to be one of the first practices in the Bay Area to offer the new EmSculpt NEO body contouring system!
EmSculpt NEO is the next-generation of FDA cleared non-surgical body contouring treatments, designed to harmlessly eliminate fat while building muscle. The new EmSculpt NEO system carries on the EmSculpt legacy as the world's #1 body sculpting treatment while taking the science and life-changing results of non-invasive body shaping to a whole new level!
What is EmSculpt NEO?
The new EmSculpt NEO device provides effortless fat reduction and muscle definition for men and women struggling to improve the shape, tone, and appearance of their body. EmSculpt NEO is a cutting-edge body contouring system that can eliminate fat by up to 30% and increases muscle mass by 25% without surgery.

EmSculpt NEO Treatment Areas
This advanced sculpting system targets stubborn fat deposits and hard-to-work muscle groups in areas that many men and women struggle to sculpt and define with diet and exercise alone.
It will visible reduce fat and build muscle these areas:
– Stomach
– Buttocks
– Upper Arms
– Calves
– Thighs
Better yet, the NEO sculpting system benefits a broader spectrum of patients and can provide fat loss and muscle growth to anyone with a BMI up to 35! This brand new sculpting system is taking non-surgical body contouring farther than ever to give you complete muscle definition and fat loss in one procedure.
How EmSculpt NEO Works
EmSculpt NEO is the industry's first and only non-invasive body sculpting treatment that combines two revolutionary therapies in one device to reduce fat deposits and build muscle simultaneously. With RF (Radiofrequency) and HIFEM® (high intensity electromagnetic magnetic field) technology, this innovative procedure can reduce stubborn fat and build muscle in one treatment.
Radiofrequency Treatments for Fat Loss
RF (Radiofrequency) energy is an FDA cleared heat therapy used to kill supplemental fat cells in your body without causing any damage or discomfort to the surrounding dermal tissue. After the fat cells have been painlessly neutralized with targeted RF heat technology, your body's lymph system naturally flushes the dead cells out. The focused application of radiofrequency energy during your EmSculpt NEO procedure can provide 30% fat loss to the targeted areas, resulting in a slimmer and more sculpted physique.
HIFEM Technology for Muscle Building
HIFEM® (high intensity electromagnetic magnetic field) uses powerful electromagnetic energy to harmlessly activate supramaximal contractions in your most hard-to-work muscles. This non-invasive stimulation causes the targeted muscles to contract and build strength, resulting in more defined muscle mass without the need for strenuous exercise. The EmSculpt NEO device does all the work for you to build and strengthen targeted muscles by up to 20%, while your body naturally burns the fat in the surrounding area at the same time.
EmSculpt NEO Treatments Before and After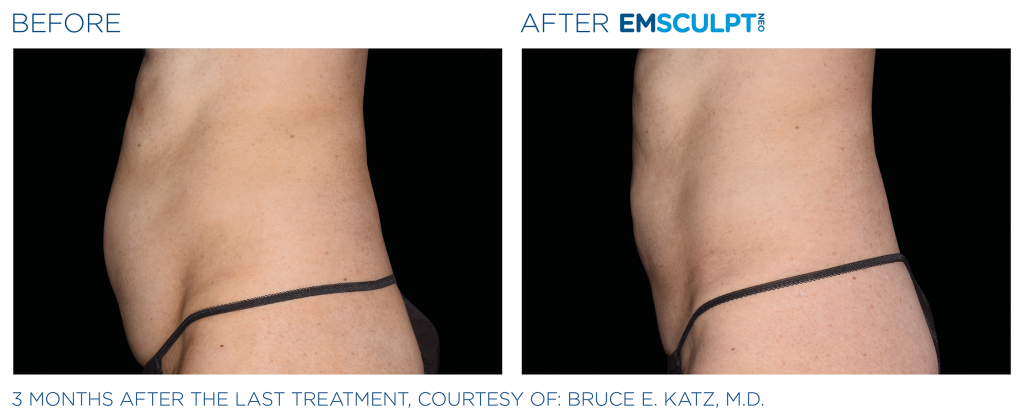 The EmSculpt NEO system is the newest and most efficient non-surgical body sculpting solution for a slimmer figure, more defined abs, firmer buttocks, and stronger triceps, biceps, and calves.
What to Expect During EmSculpt NEO Treatments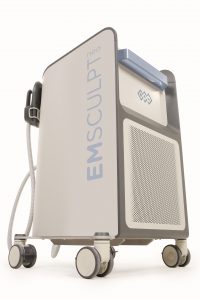 There is no special preparation or recovery time required for your EmSculpting NEO procedure. During your session, our body contouring technicians will have you lay down comfortably while they attached the applicators to your targeted treatment areas for 30 minutes. The applicators are completely non-invasive and designed to fit your body comfortably and provide maximize results.
EmSculpt NEO treatments are simple, yet powerful! The procedure activates strong muscle contractions and delivers a heating sensation to your target areas, but should never be painful. This innovative device will kill fat cells and stimulate muscle growth without causing harm or discomfort to you or the surrounding skin tissue. With EmSculpt NEO you will see noticeable muscle definition and fat loss in less time than ever before with no recovery time required!
Learn More About EmSculpt NEO at Artemedica
If you are looking to achieve your ideal physique without the need for surgery, contact Artemedica today to schedule a free EmSculpt NEO consultation. Our technicians will be able to answer all your questions and provide a personalized treatment plan based on your unique body sculpting goals.
Give us a call at (707) 577-8292, or fill out the form below to contact the Artemedica team today.
US FDA Clearances
Emsculpt Neo® is intended for non-invasive lipolysis (breakdown of fat) of the abdomen and thighs and reduction in circumference of the abdomen and thighs with Skin Type I to Skin Type VI. Emsculpt Neo® is also cleared for improvement of abdominal tone, strengthening of the abdominal muscles and development of firmer abdomen. Strengthening, toning, firming of buttocks, thighs, and calves. Improvement of muscle tone and firmness, for strengthening muscles in arms.
BTL®, EMSCULPT NEO®, EMSCULPT®, EMSELLA®, Exilis®, EMTONE®, HIFEM®, Vanquish® are registered trademarks in the United States of America, the European Union and/or other countries. Trademarks EMSCULPT NEO®, EMSCULPT®, EMSELLA®, EMFEMME 360™, EMTONE®, EM® and HIFEM® are parts of EM Family of products.
** Results and patient experience may vary.
As with any medical procedure, ask your doctor if the procedure is right for you. Patient names have been changed for their privacy.