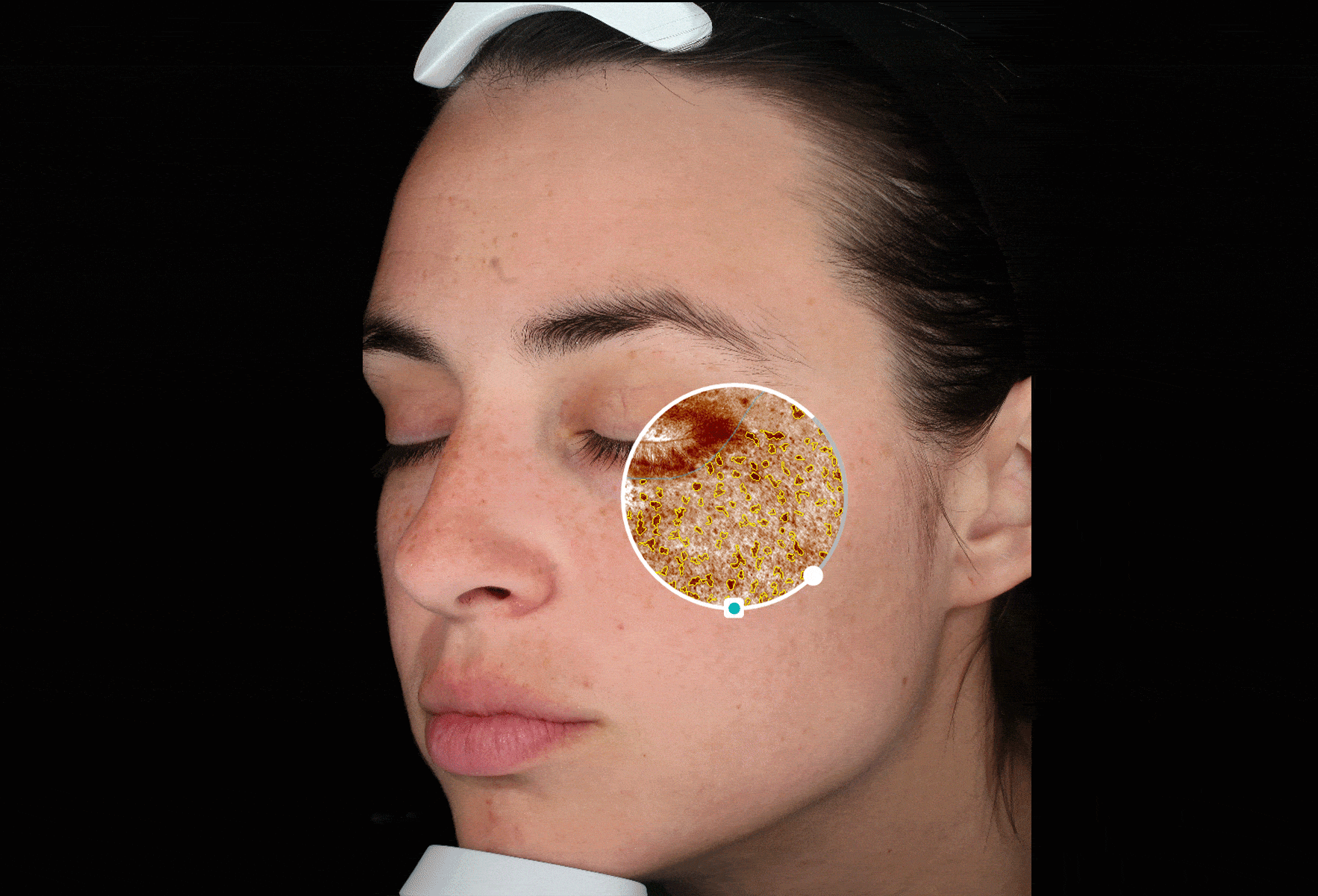 Have you ever wondered what stands in the way of you and the beautiful skin you desire? Well, the future is now. A single Reveal Imager Skin Care Consultation at our new Sun & Skin Bar will give you all the answers you need. Sun damage, brown spots, red areas, enlarged pores, wrinkles, and more can be analyzed in startling clarity. Your consultation will provide our experienced skin care specialists a map to your very own personalized skin care treatment.
The Reveal Imager, created by Canfield Scientific Inc., is an advanced visual analysis tool designed to produce state-of-the-art facial imaging. The purpose of the Reveal Imager is to provide clients with a comprehensive view of their skins surface and underlying tissue where most complexion problems begin.
Originally developed for skin care research, the Reveal Imager has since been enhanced and adopted worldwide in the health and skin care industry and is now available at Artemedica's NEW Sun & Skin Bar!
With the Reveal Imager, we can fully evaluate your skin's health and appearance in order to design a personalized treatment plan that includes a skin care regimen created specifically for you.
All Will Be Revealed
The Reveal Imager enables your skin care specialist to peer beneath the surface of your skin to provide you with a detailed visualization of your skin's specific condition. The information presented is extremely useful in the determination of the best treatment regimen as well as tracking improvement in your skin's health and appearance.
Top skin concerns addressed through a Reveal Skin Care Consultation:
Fine lines + Wrinkles
Elasticity + Firmness
Even Tone + Vibrancy
Skin Texture
Brown Spots
Redness
Oily + Congested Skin
Enlarged Pores
Our cutting-edge device can clearly show you the distinction between your current skin condition and the appearance you desire. Reveal's high tech facial imaging system showcases sun damage, spots, redness, and wrinkles with startling clarity.
How Does the Reveal Imager Work?
The Reveal Imager meticulously scans your skin, capturing essential visual information, using advanced multi-spectral imaging. Utilizing cross-polarized photography we are able to measure and record surface and subsurface skin conditions.
Available views during a Reveal consultation:
Standard View: Provides a base image using typical daylight conditions to view visible features or coloration on the skin's surface. This creates a great reference or comparison tool for other images.
Cross-Polarized View: Special illumination used to identify sub-surface details in the skin. This uses Reveal's advanced RBX Technology to provide an incredible visualization of melanin and vascular conditions.
Brown View: Visualized through the use of cross-polarized imaging, spots on the skin that are a result of an imbalance of melanin, often caused by sun damage, are revealed. This includes hyperpigmentation, lentigines, freckles, and melasma.
Red View: Another view produced by cross-polarized imaging, red areas on your skin can denote conditions such as inflammation, spider veins, rosacea, and acne on the surface and sub-layer of the skin.
3D View: The Reveal Imager can render your facial surface in three dimensions from any angle. We can then display your rendering in natural color, color relief, or grayscale – to better identify fine lines and wrinkles. This makes for an ideal way to isolate areas that would benefit from topical or injectable treatments.
Your Custom Skin Care Plan
Once your skin examination and analysis is complete, you will receive a complimentary consultation report, customized for you. The report will contain detailed images of your skin alongside our expert treatment and skin care recommendations.
The recommendations we make are based solely on your own specific skin type and condition. We make a point to listen to your concerns and only recommend products or services that will fit your personal lifestyle. Together we will develop a skin care regimen that not only benefits you today but every day hereafter.
The Reveal Imager at Artemedica
The Reveal Imager analysis, available at Artemedica's NEW Skin & Sun Bar, takes only minutes to complete and the results could positively impact your skin care regimen for years to come. To learn more about the Reveal Imager and how you could benefit from personalized skin care, schedule your complimentary Reveal Imager skin care consultation by calling or contacting us online today!