What if I told you there was a quicker, more effective way to reverse signs of aging than traditional laser resurfacing? Very few individuals view things like wrinkles, sun damage and scarring positively. For most, these imperfections take a toll on one's confidence and make you look and feel older than you really are. That's why more and more people are treating skin care as self-care. And it's also why many turn to laser skin care procedures to improve the appearance of less-than-satisfactory skin and prevent future damage. We are now proud to offer the latest in laser resurfacing technology with the revolutionary CoolPeel system.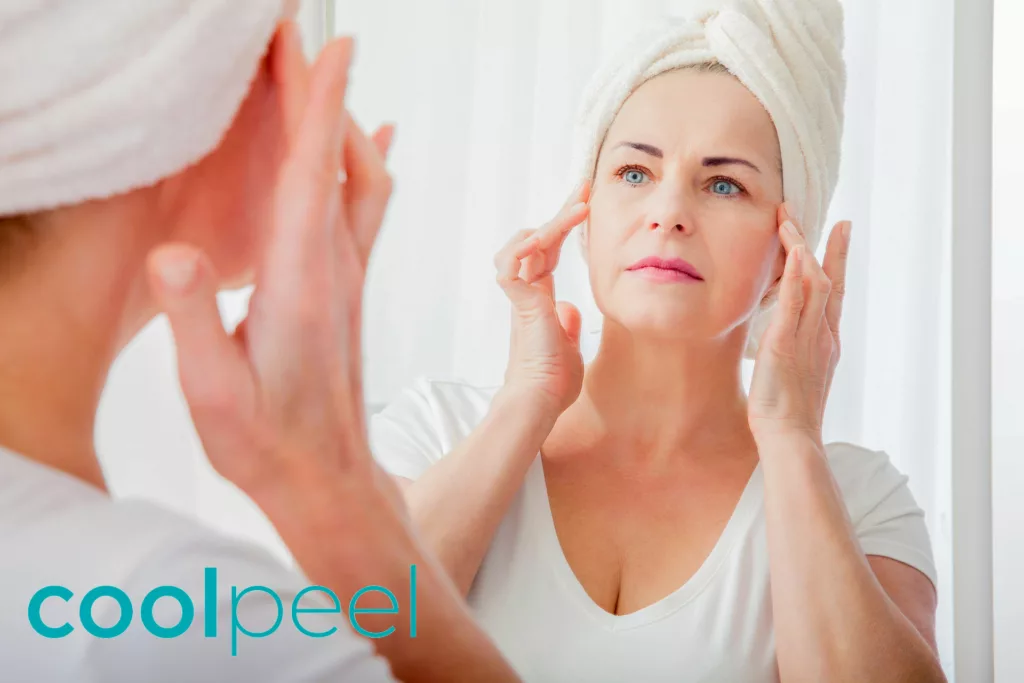 Reveal healthier, younger-looking skin with no downtime
CoolPeel is a brand new way to safely and comfortably deliver the benefits of a traditional CO2 resurfacing treatment. CO2 lasers are already the gold standard in treating signs of aging like wrinkles, age spots, and acne scars because they effectively remove layers of damaged skin and stimulate new collagen production. However, the CoolPeel system makes treatment more comfortable and eliminates any needs for downtime. By targeting just the superficial layer of skin tissue, damaged skin is removed revealing younger and healthier looking skin. And because CoolPeel works so quickly and effectively, sessions only take 15 minutes at most. Imagine, smoother, younger, more radiant skin in less time than your lunch break! It can address:
CoolPeel laser resurfacing at Artemedica
Compared to other laser resurfacing treatments, CoolPeel is incredibly gentle and provides immediate, transformative results. An entire sessions takes as little as 5-15 minutes and requires no downtime. Plus, the process is gentle enough that most patients don't even require localized numbing or numbing cream. CoolPeel laser resurfacing uses the SmartXide Tetra CO2 laser which delivers high energy in extremely short-pulses for impressive superficial, skin resurfacing results without the lingering heat that would traditionally damage the surrounding skin. So you get all the benefits of a traditional laser resurfacing treatment without the overly long process or lengthy recovery.
Recovery
The CoolPeel laser resurfacing treatment is so gentle that you should have no problem immediately returning to your normal daily routine. You can expect your skin to appear a bit flushed for the first day or two, but nothing more than a bit of redness similar to a slight sunburn. You may also experience dryness or itchiness in the following days as your body sheds dead skin cells.
Over the next 3-4 days your dermal cells will start producing more collagen, leaving your skin glowing, while wrinkles, sun damage, and large pores will diminish. After each CoolPeel session, it is important to keep your skin hydrated and avoid certain skincare products that could cause irritation. Your laser specialist will provide a personalized post-treatment care plan and details on when you can return to your normal daily skincare regimen.
Feel the CoolPeel Difference at Artemedica in Santa Rosa and Healdsburg
Dr. Lacombe has devoted his 24 year career to helping Santa Rosa residents reach their facial plastic surgery goals. In fact, he co-authored Lasers in Aesthetic Surgery which is considered a standard must-read textbook for aspiring plastic surgeons. Dr. Lacombe is certified by both the American Board of Facial Plastic and Reconstructive Surgery as well as the American Board of Otolaryngology (Head and Neck Surgery). Many men and women in Santa Rosa and throughout Sonoma County choose Dr. Lacombe as their plastic surgeon of choice because of his experience, his skill, and his passion for helping his patients.
If you are interested in CoolPeel laser resurfacing treatment or other laser skin procedures, please fill out the form below or contact our Santa Rosa (707) 577-8292 or Healdsburg (707) 415-8888 offices for your free consultation.