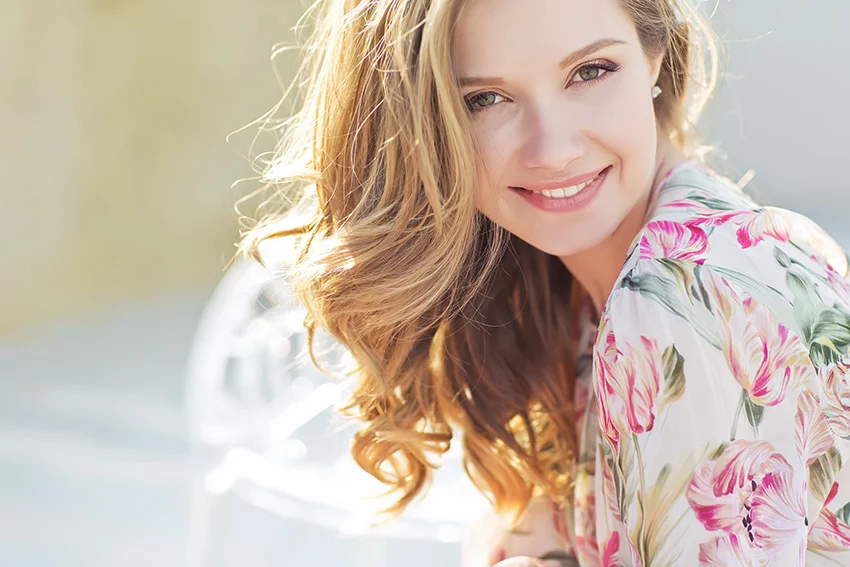 The Best Skincare Treatments for Healthy Rejuvenated Skin for Spring in Healdsburg
The first signs of the new season are like a breath of fresh air – and your skin feels that, too. The skincare regime that got you through the colder seasons may need a little updating during warmer times of the year like spring and summer. Because our skin likes consistency, weather changes can disrupt the system as it adjusts to the external environment. Factors like heat, humidity, and sun exposure may give rise to new and unwelcome skin issues.
Fortunately, Artemedica Healdsburg has the solutions you need to start "showing some skin" for springtime! We have one of the largest selections of personalizable skincare treatment services available in the Bay Area, but with the weather warming up, five treatments are already standing out as the most popular this season.
Read on to learn which skincare treatments from Artemedica Healdsburg can benefit your complexion the most this spring!
1. CoolPeel Laser Resurfacing Skincare Treatment
If you worry about acne scars, uneven skin pigmentation, dark spots, or wrinkles, CoolPeel laser resurfacing treatments are the answer to your prayers – but that's not all. Not only can this revolutionary therapy reduce the appearance of some of the most common complexion concerns like scarring and aging, but CoolPeel treatments also require no downtime at all!
Treatment results include:
– Visibly reduced pore size
– Repair from sun damage
– Reduced dark spots
– Smooth fine lines
– More even skin tone and texture
– Reduced appearance of scar tissue
CoolPeel is the first and only fractional CO2 laser skin treatment that requires zero numbing or downtime to effectively reverse skin damage and reduce the signs of aging. This makes it the perfect treatment for anyone with a busy schedule looking to treat their complexion concerns with no interruption to their daily routine!
2. HydraFacial MD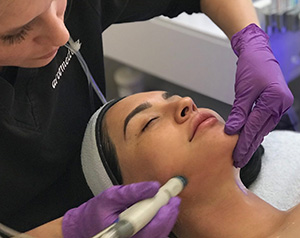 Hydrafacial MD® is a multi-step treatment that cleanses, exfoliates, and extracts impurities from deep within your skin. With each treatment, we can remove dull and dead skin cells and harmful debris while also replenishing your skin with vital nutrients like hyaluronic acid, antioxidants, and peptides.
The beauty of HydraFacial MD treatments is that they can be customized to your skin type and treat your unique areas of concern – many of which will become amplified from seasonal transitions and weather fluctuations.
Customize each treatment to target concerns like:
– Wrinkles
– Firmness & Elasticity
– Texture & Tone
– Hyperpigmentation
– Pore Size & Decongestion
– Advanced Signs of Aging
PLUS! With our brand new HydraFacial Syndeo™ system, we can take your skincare treatments to a whole new level! Artemedica is the first Sonoma County medspa to offer this cutting-edge device and we can now further personalize every HydraFacial experience with Syndeo technology.
With the new Syndeo system, all our clients can now create their very own skincare profile with the HydraFacial Nation app and access personalized treatment recommendations based on an easy selfie assessment!
HydraFacial Syndeo treatments are perfect for all skin types and provide both immediate and lasting results with no downtime required. So while you go about your normal routine, the professional-grade serums are working below the surface of your skin to restore a healthy and youthful complexion!
Your skin looks best when it's at its healthiest state and this skincare treatment will leave you glowing from the inside out. 
3. DiamondGlow Facial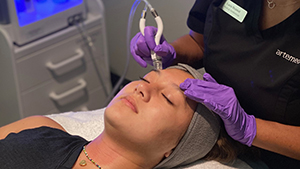 DiamondGlow facial treatments offer revolutionary 3-in-1 skin rejuvenation technology that exfoliates, extracts, and infuses your skin with nutrient-rich serums. This dermabrasion system leaves your skin instantly looking and feeling healthier while also delivering progressive results that are long-lasting.
Instant results include:
– Healthy, smooth, and firm skin
– A brighter youthful glow
– Deep pores decongestion
– A more even skin tone
Progressive results include:
– Reduced appearance of fine lines
– Deep skin hydration
– Reduced dark spots & skin discoloration
– Rejuvenation of dull and congested skin
The DiamondGlow dermabrasion system gently exfoliates your skin with real crushed diamonds. It then extracts built-up oils and debris while also infusing your skin with professional-grade serums. So you can leave each appointment with skin that looks and feels instantly rejuvenated while the nutrient-rich compounds work beneath the surface of your skin to repair years of damage to your dermal tissues.
4. Clear + Brilliant TOUCH Skincare Treatment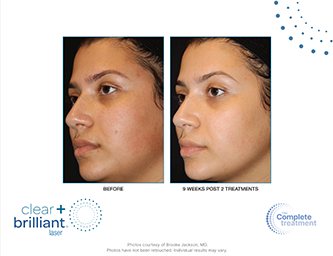 The new Clear + Brilliant TOUCH treatment represents the next generation of laser skin rejuvenation. The TOUCH system can combat the damaging effects that environmental pollutants can have on your skin over time and visibly reduce signs of aging.
Each treatment can help to:
– Combat early signs of aging
– Maintain a youthful complexion
– Even out skin tone
– Increase the skin's ability to absorb nutrients
Clear + Brilliant TOUCH laser treatments gently eliminate damaged surface tissues to reveal the healthy, youthful skin beneath. The TOUCH system features dual-wavelength technology that allows us to switch between the Original and Perméa® handpieces seamlessly. This provides a more effective and complete treatment that can be personalized to deliver maximum results in a single session!
5. Vivace RF Microneedling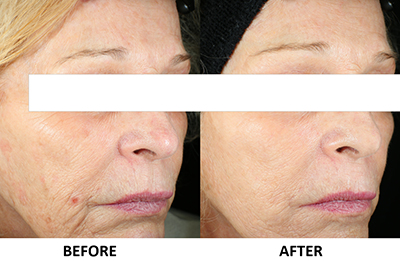 The entire Artemedica team is proud to be Sonoma County's premier MedSpa offering Vivace Microneedling! The Vivace system is an FDA-cleared radiofrequency microneedling treatment that stimulates the production of collagen and elastin to provide a more firm and smooth skin texture.
Results include:
– Reduced appearance of wrinkles
– Skin tightening
– Reduce pore size
– Balanced skin tone and texture
This microneedling treatment is ideal for men and women with any skin tone, type, or texture, and is also incredibly effective on the neck, hands, and body as well!
Before each treatment, you receive a personalized compounded numbing cream to ensure your ultimate comfort throughout the session. Then using superfine, gold-tipped needles and radio frequency (RF) heat energy the Vivace system painlessly activates the skin's natural healing process. Following your session, you will be provided professional-grade serums to ensure optimal results.
Give Your Skin Exactly What it Needs this Spring With Personalized Skincare Treatments at Artemedica Healdsburg
Artemedica is proud to be Sonoma County's most trusted MedSpa and our team of skincare specialists are here to help your beauty blossom this spring! Whatever your skin goals may be, our Healdsburg specialists can help curate a personalized skincare treatment plan to help get you there.
Contact the Artemedica Healdsburg team online or by phone at (707) 415-8888 to schedule a consultation today!