Rejuvenate Your Skin with the DiamondGlow™ Facial Treatment Featuring the Patented Diamond Tip Dermabrasion Wand
Available now at Artemedica, DiamondGlow is unlike any other facial treatment available today. Clean out years of build-up in your pores and eliminate dull dead surface cells to instantly reveal more youthful-looking skin. This non-invasive resurfacing therapy exfoliates, extracts, and infuses your skin with nutrient-rich serums for instant results that last.
DiamondGlow™ Facial Treatments
This revolutionary resurfacing therapy proves that diamonds are everyone's best friend. DiamondGlow facial treatments can instantly improve the appearance of your skin, while also working beneath the surface to repair your dermal tissues for long-lasting results.
Instant DiamondGlow Results:
– Your facial tissues feel healthier, smoother, and more firm
– Your skin appears brighter, youthful, and glowing
– Unclog pores and remove built-up oils and debris for a deep clean
– Even your skin tone and reduce the appearance of hyperpigmentation
Progressive Result of DiamondGlow:
– Repair damage beneath the surface of your skin
– Reduce the appearance of fine lines
– Eliminate dryness with deep skin hydration
– Lighten dark spots & skin discoloration
– Rejuvenate dull, congested skin for a healthier glow
Each DiamondGlow session only takes about 30 minutes and delivers a relaxing and painless experience that requires zero recovery time.
DiamondGlow™ 3-in-1 Technology
The transformative power of DiamondGlow skincare starts with their revolutionary 3-in-1 skin rejuvenation technology. The DiamondGlow dermabrasion wand simultaneously exfoliates your skin using actual crushed diamonds, while also extracting impurities, and infusing your skin with professional-grade serums.
DiamondGlow Diamond Tip Exfoliation
The DiamondGlow dermabrasion system uses a patented diamond tip headpiece to gently exfoliate and remove dead cells and debris to reveal healthy, youthful skin beneath. Just one session eliminates dull, dry, congested tissues leaving your skin more radiant, plump, and youthful.
DiamondGlow Pore Cleansing
As our skincare technicians gently exfoliate your skin, the DiamondGlow wand is simultaneously pulling out impurities like oils and micro debris from deep in your skin. The combination of these two resurfacing therapies unclogs your pores and leaves your skin more receptive to the benefits of the SkinMedica serums.
Nourishing SkinMedica® Pro-Infusion Facial Serums
During your DiamondGlow treatment, we infuse your freshly cleansed skin with our SkinMedica Pro-Infusion Serums. The nourishing ingredients in each serum work to repair and protect your skin for long-term results and continued improvement with each treatment.


Personalized Treatment for All Skin Types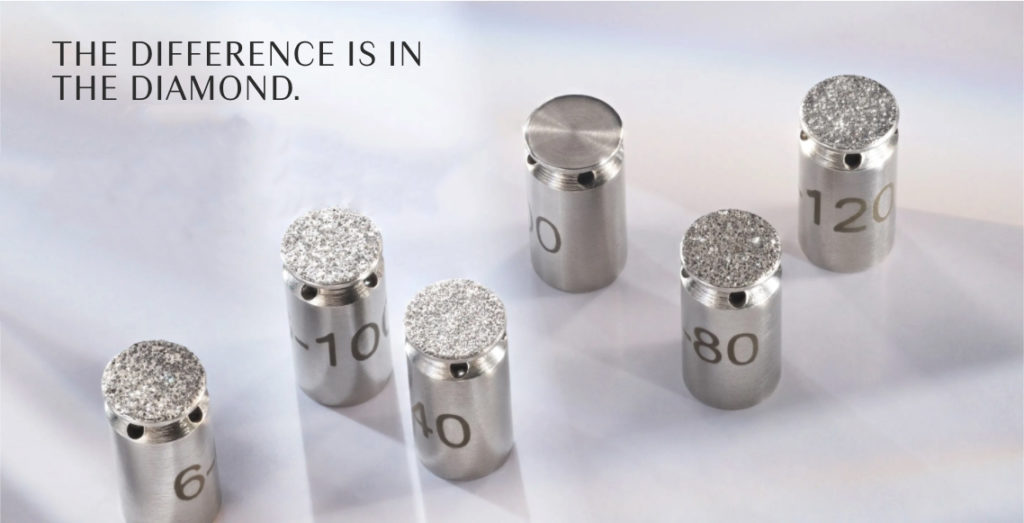 At Artemedica, our dermabrasion specialists can tailor each DiamondGlow facial to your specific skin type and concerns to deliver a highly customizable treatment. The patented DiamondGlow wand can be customized with 6 different tips equipped with real diamond pieces, allowing us to personalize the level of dermabrasion in each session.
The DiamondGlow treatment is designed to work in harmony with our SkinMedica serums. Every pro-infusion serum is formulated with nutrient-dense ingredients that target dermal issues beneath the surface of your skin. There are five SkinMedica serums available for you to choose from based on your specific skincare concerns:

SkinMedica TNS Advanced+ Serum
Enhance the tone and texture of your skin and reduce the appearance of fine lines and sagging skin with this professional serum.
SkinMedica Skin Brightening Serum
Brighten your skin tone and improve the appearance of any pigmentation with this serum featuring their patented Lumixyl® peptide.
SkinMedica Ultra Hydrating Serum
Infused with professional-grade hyaluronic acid, this serum deeply hydrates and smoothes your skin.
SkinMedica® Vitamin C Serum
This serum rejuvenates and protects your skin with a deep dose of rich antioxidants.
SkinMedica® Pore Clarifying Serum
Ideal for blemish-prone skin, this serum addresses imperfections, promoting clearer, healthier-looking skin.
Instant Results and Long Lasting Effects
The innovative DiamondGlow dermabrasion system delivers both immediate and progressive results in one single treatment. As one of the most advanced skin resurfacing treatments available today, DiamondGlow is also extremely gentle and leaves your skin instantly more radiant with no downtime required. Artemedica patients report their skin appears more vibrant, glowing, and youthful immediately after each session.
Beyond these instant improvements that are visible on the surface, the SkinMedica serums are working to repair damage and rejuvenate your skin on a cellular level. These essential nutrients deliver progressive results that last for several weeks following your treatment. Depending on your desired results, patients can require four to six sessions to achieve full skin rejuvenation.
DiamondGlow™ Side Effects
DiamondGlow™ facial treatments are powerful, yet extremely gentle and typically result in minimal side effects. The most common side effects include a tolerable stinging sensation during the treatment and temporary redness or slight swelling following the procedure. Serious side effects are rare but include severe skin irritations and allergic reactions. Make sure to consult with our DiamondGlow experts about any allergies, or topical medications that could affect you or interfere with your treatment.
Experience Instant Skin Rejuvenation with a DiamondGlow™ Facial Treatment at Artemedica in Santa Rosa and Healdsburg
If you are already searching for "DermaGlow Near Me" – look no further, cause this revolutionary skin resurfacing treatment is available now at Artemedica! Experience instant skin rejuvenation with a DiamondGlow™ facial treatment today. Our dermabrasion experts are available now and can help create a personalized treatment plan based on your unique skin concerns and goals.
Give us a call or email us to schedule a complimentary DiamondGlow facial treatment consultation at Artemedica in Santa Rosa and Healdsburg.
Important Safety Information
The DiamondGlow® treatment is not for everyone. You should not have a DiamondGlow® treatment if you have compromised skin quality. Tell your provider if you are pregnant or lactating, or if you have any medical conditions, including allergies, and if you are using topical medications on the area to be treated.
Typical side effects include a scratchy, stinging sensation during the treatment and temporary tightness, redness or slight swelling after the treatment. Rare serious side effects may also occur and include severe skin irritation and allergic reactions.
Skinmedica® Pro-Infusion Serums Disclaimer
SkinMedica® Pro-Infusion Serums are intended to meet the FDA's definition of a cosmetic product, an article applied to the human body to cleanse, beautify, promote attractiveness, and alter appearances. These products are not intended to be drugs that diagnose, treat, cure, or prevent any disease or condition. These products have not been approved by the FDA and the statements have not been evaluated by the FDA.