We can all admit there have been times where we opted to go the DIY-route rather than pay a professional for their services. Manicures. Dying our hair. Dermaplaning. Yes, those $5 at-home kits seem tempting when the alternative is an in-office appointment with a medical aesthetician. But the fact of the matter is that there is a pretty significant difference between at-home DIY "dermaplaning" and a medical spa treatment.
Does at-home face shaving remove unwanted peach fuzz. Yes. Can it give you the added benefit of exfoliation? Absolutely. But comparing an at-home kit with an in-office treatment is like comparing box hair dye with a professional hairstylist's services. The quality, longevity and associated risks are too different. Dermaplaning by an aesthetician is always going to give you better, safer results that last longer.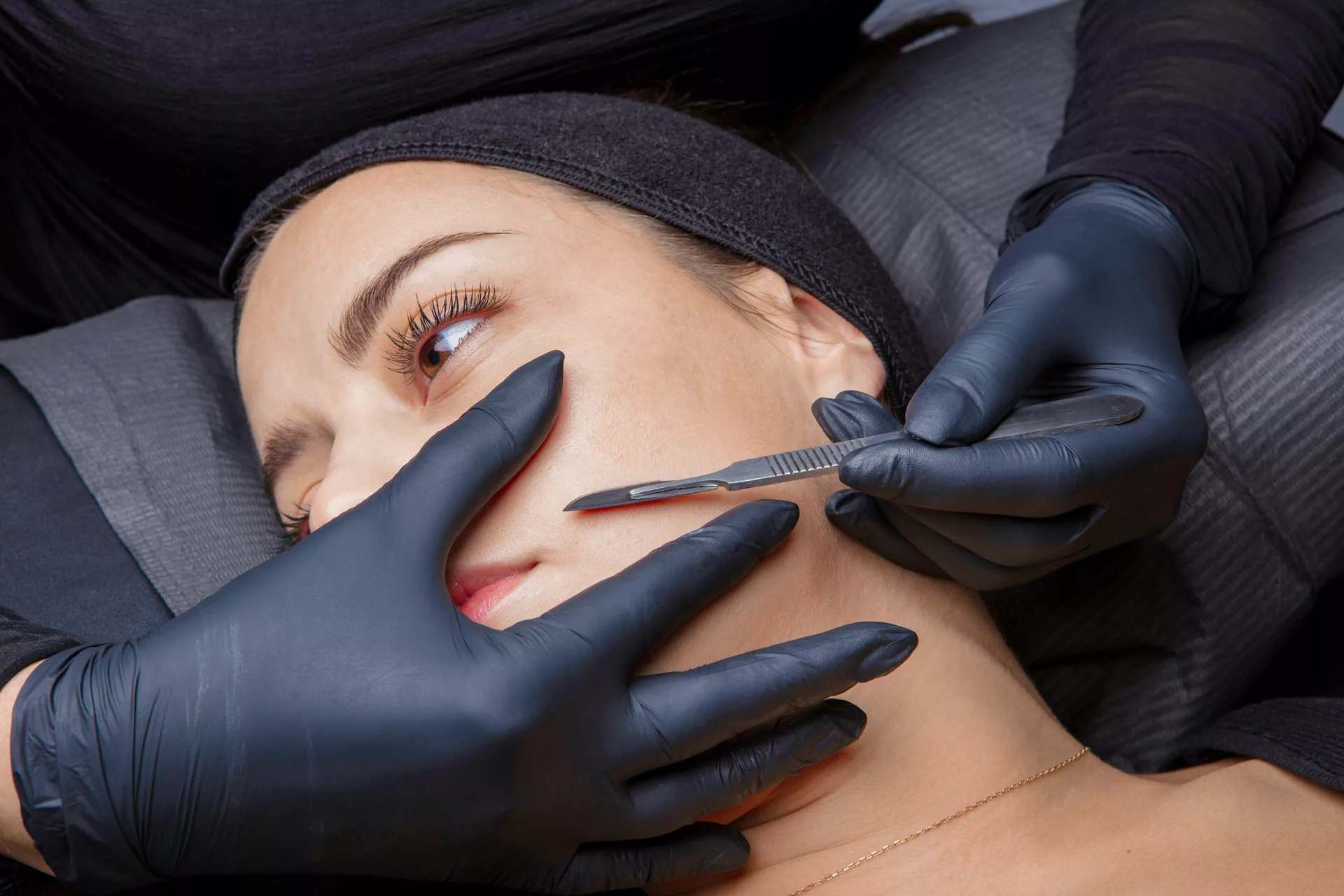 Benefits of professional dermaplaning
Dermaplaning in-office has a number of benefits, chief being excessive facial hair removal. Vellus hair, the baby fine hairs that grow all over our body, can be a source of discomfort and embarrassment from some. Vellus hair can accumulate oil, dirt and dead skin cells, leaving skin looking rough or uneven. And unfortunately, laser hair removal and other hair removal methods simply don't work as effectively as regular dermaplaning.
Dermaplaning is also great for manual exfoliation. With a trained eye, our clinicians can remove the most superficial layer of skin. This not only removes dry skin, but also treats superficial instances of hyperpigmentation, mild acne scarring, and fine lines and wrinkles. It can get rid of light imperfections, reduce the appearance of more severe ones and reveal clearer, brighter, more youthful skin.
Perhaps most importantly, dermaplaning increases the efficacy of follow-up treatments and skincare products. Skincare products rich in active ingredients like vitamin C, hyaluronic acid and retinols are faster and more effective after dermaplaning. That means, you get more out of both your dermaplaning treatment and your skincare products by combining them.
Customizing your in-office experience
And speaking of dermaplaning's ability to increase the efficacy of follow-up treatments, let's talk about dermaplane pairings. Here at Artemedica, we love combining dermaplaning with other treatments to maximize the benefits. When you come in for your free consultation, your aesthetician can discuss customizing your appointment to meet your specific skincare goals. Our favorite combos include:
Dermaplaning In-office at Artemedica
So next time you reach for an at-home dermaplaning kit, consider treating yourself to a professional treatment. Each of our licensed aestheticians has over a decade of experience in the industry and are always eager to help our patients achieve their skincare goals. Many men and women in Santa Rosa and throughout Sonoma County choose Artemedica as their medical spa of choice because of our staff's experience, skill, and passion for helping our patients.
If you are interested in dermaplaning or other spa treatments, please fill out the form below or contact our Santa Rosa (707) 577-8292 or Healdsburg (707) 415-8888 offices for your free consultation.