Who doesn't dream of looking in the mirror to see perfect, flawless, glass-like skin? At Artemedica, we are proud to offer Clear + Brilliant TOUCH: the latest advancement in laser skincare. Clear + Brilliant is a pioneer in non-invasive preventative skin care. It can help avert the visible signs of aging and address the overall effects of time and the environment on your skin. A single treatment can leave your skin feeling smoother, looking younger, and deliver a "radiant glow".
And even celebrities are in love with this revolutionary treatment. Actress Drew Barrymore sat down with Tati from GlamLifeGuru to praise Clear and Brilliant laser skin treatments: "Clear + Brilliant. It's incredible. It's changed my life. I love it so much and it helps because I've got really bad melasma ever since having kids."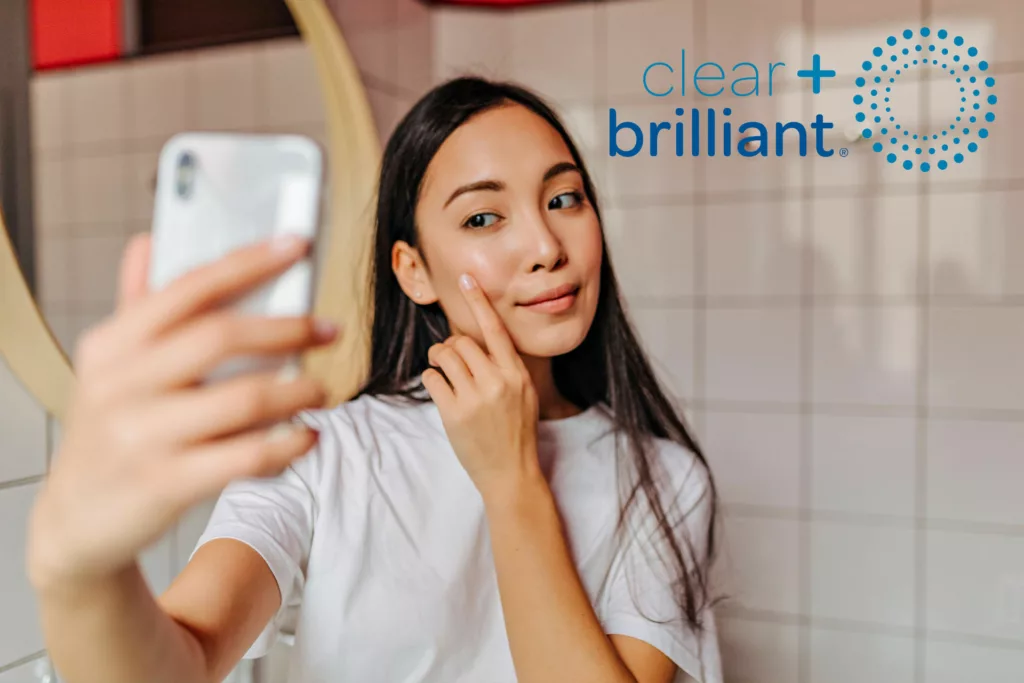 How does Clear + Brilliant work?
Unlike other laser skin care treatments, Clear and Brilliant is quick and gentle. It utilizes fractional laser technology to create millions of microscopic treatment zones throughout the upper layers of the skin. This in turn stimulates the replacement of damaged skin with new tissue which results in healthier, younger looking skin. While this procedure cannot undo severe skin damage like acne scarring and deep wrinkles, it can address other skin conditions like fine lines, uneven skin tone and uneven skin texture. Anyone can be a candidate for Clear + Brilliant, especially those looking to maintain their youthful appearance and preemptively fight early signs of aging.
Whether you are just starting your skincare journey, or are experienced with laser skin treatments, Clear + Brilliant Complete is a great option for you! The Clear + Brilliant Complete Treatment is clinically proven to provide visible results for men and women of any age, all skin types, and is suitable any time of the year. It addresses: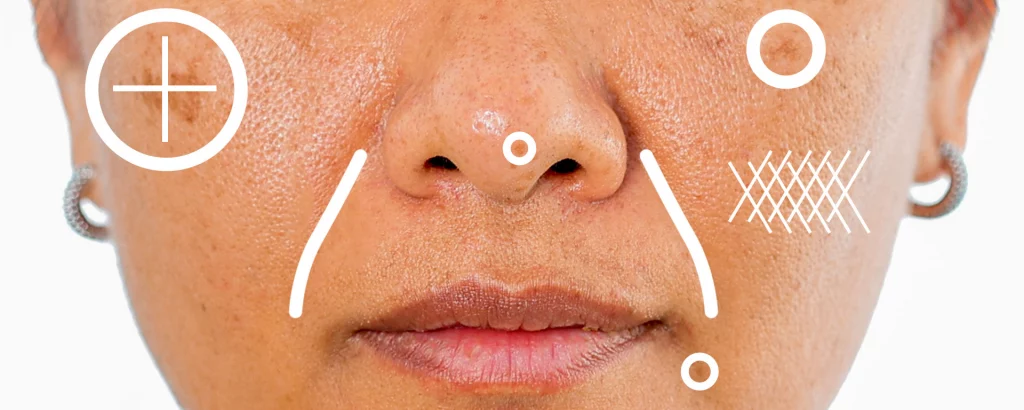 The Clear + Brilliant TOUCH procedure
Clear + Brilliant TOUCH is a gentle, non-invasive laser skin treatment that provides powerful results. An entire session will last only 30 to 45 minutes and requires no downtime. Your clinician may apply a topical numbing cream to your face if you have sensitive skin for optimal comfort. Your clinician will then gently guide the Clear + Brilliant TOUCH applicator across the targeted area for approximately 15-20 minutes. The hand piece utilizes patented Intelligent Optical Tracking System to ensure uniform application to all treated areas.
New Clear + Brilliant TOUCH technology offers you three different treatment options to fit your unique goals.
Clear + Brilliant Original
The original treatment focuses on improving skin texture. It's great for treating fine lines, reducing the appearance of pores, boosting collagen production, and making skin look and feel smoother.
Clear + Brilliant Perméa
Perméa on the other hand evens out skin tone by targeting color issues. It's perfect for those struggling with sun spots, hyperpigmentation and melasma. Plus, it improves skin's ability to absorb skin care products.
Clear + Brilliant Complete
Clear + Brilliant Complete combines the benefits of both original and perméa for the ultimate laser skin care treatment. With one treatment you can both prevent early signs of aging and maintain youthful, radiant skin.
Recovery
Immediately following your treatment, you may return to your regular daily activities. We do suggest that you avoid spending time in direct sunlight without sunscreen and refrain from wearing makeup or using certain skincare products. If you have any questions about what skincare products to avoid, feel free to ask your clinician or aesthetician. Following treatment, your skin will become a little pink, sensitive and may swell. These side effects should diminish within 12 – 24 hours. You may experience dryness or itchiness in the following days as your body sheds dead skin cells.
Results
The results of Clear + Brilliant TOUCH procedures are both immediate and progressive. Following treatment, your skin will feel softer and smoother within 1-2 weeks. Afterwards, your skin should have an improved tone, giving you a more youthful and radiant glow. Results can last for months depending on your age, current skin condition, and how you protect your skin.
Your skincare concerns and desires will determine the number of treatments needed. Most people see optimal results after 4 treatments spaced 2-4 weeks apart. Following your treatments, you will want to be mindful of your sun exposure. Wear sunscreen to protect your new skin, and consider periodic maintenance treatments to preserve your results. Some patients incorporate the Clear and Brilliant TOUCH treatment as part of their overall skin care regimen. You and your skin care provider can discuss a personalized treatment regimen tailored just for you.
Give Your Skin a Brilliant TOUCH at Artemedica
Dr. Lacombe has devoted his 24 year career to helping Santa Rosa residents reach their facial plastic surgery goals. In fact, he co-authored Lasers in Aesthetic Surgery which is considered a standard must-read textbook for aspiring plastic surgeons. Dr. Lacombe is certified by both the American Board of Facial Plastic and Reconstructive Surgery as well as the American Board of Otolaryngology (Head and Neck Surgery). Many men and women in Santa Rosa and throughout Sonoma County choose Dr. Lacombe as their plastic surgeon of choice because of his experience, his skill, and his passion for helping his patients.
If you are interested in Clear + Brilliant TOUCH laser treatment or other laser skin procedures, please fill out the form below or contact our Santa Rosa (707) 577-8292 or Healdsburg (707) 415-8888 offices for your free consultation.