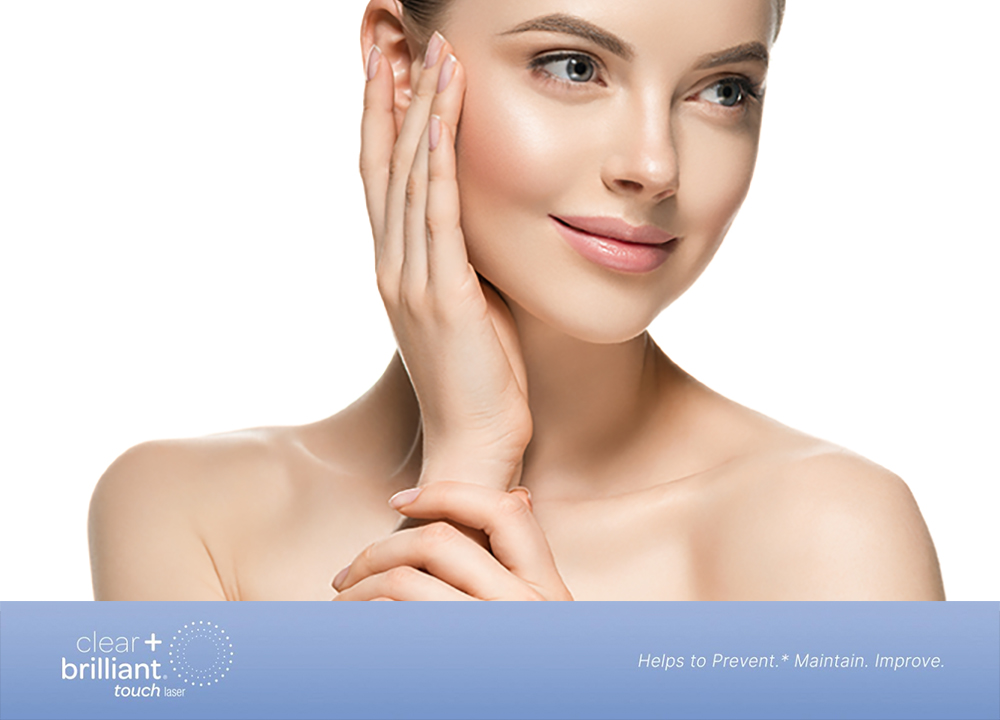 Give Your Skin a TOUCH of Brilliance with the New Clear + Brilliant® Complete Laser Skin Treatment at Artemedica
As a pioneer in non-invasive preventative skincare, Clear and Brilliant is already one of the most popular laser skin treatments on the market. Now, with new advances in skin resurfacing technology, Clear + Brilliant skin treatments are going even farther with their new TOUCH laser!
With this state-of-the-art TOUCH laser technology, you can achieve brilliant glowing skin with even more personalizable treatments and results!
What is Clear + Brilliant® TOUCH?
Clear + Brilliant TOUCH represents the next generation of laser skin treatments. With the new TOUCH system, we can provide you with a more complete and personalized experience to improve the appearance of your skin, and combat early signs of aging.
The original Clear + Brilliant system featured two separate headpieces optimized to treat different skin concerns. The new TOUCH device features revolutionary dual-wavelength technology to combine both treatments in one system!
Original Clear + Brilliant Headpiece

Goes deep beneath your skin's surface to help:
– Improve the appearance of fine lines
– Minimize pore size
– Boost collagen production
Perméa® Clear + Brilliant Headpiece

Treats closer to your skin's surface to help:
– Improve skin tone
– Reduce the appearance of pigmentation
– Allow for easier absorption of skincare products
Our Clear + Brilliant technicians can now switch between the Original and Perméa® handpieces to provide a more effective and comprehensive treatment during a single appointment. With this cutting-edge technology, the TOUCH Laser is the pinnacle of the new Clear + Brilliant Complete Treatment at Artemedica!
Clear and Brilliant® Complete Treatment

With innovative advancements built into the new Clear + Brilliant Complete system, laser skin treatments are more efficient than ever before. By integrating the two different headpieces in a single system, our skincare experts are able to efficiently provide a more personalized treatment and optimal results in a single session.
The Clear + Brilliant Complete Treatment Helps to:
– Combat early signs of aging including fine lines
– Maintain youthful, glowing skin
– Even skin tone and texture
– Increase the skin's ability to absorb skincare products
– Improve the skin's overall appearance
The Clear and Brilliant Complete Procedure
The new Clear + Brilliant Complete Treatment is a gentle, non-invasive laser skin treatment that provides powerful results. An entire session will last only 30 to 45 minutes and requires no downtime. Our technicians can provide a topical numbing cream to provide optimal comfort throughout your treatment, and most patients report no pain or discomfort at all.
Candidates for Clear + Brilliant Complete Treatments

Whether you are just starting your skincare journey, or are experienced with laser skin treatments, Clear + Brilliant Complete is a great option for you! The Clear + Brilliant Complete Treatment is clinically proven to provide visible results for men and women of any age, all skin types, and is suitable any time of the year.
Clear and Brilliant Complete Side Effects
Clear and Brilliant laser skin treatments eliminate old damaged tissue to reveal youthful, radiant skin beneath. It is common to experience some skin flaking for up to two weeks after your treatment. You will want to avoid direct sunlight during this time to ensure optimal results and should use a broad-spectrum, high-SPF sunscreen when outside. After your treatment, you can return to your normal skincare routine as soon as the next day.
Like with any laser skin treatment, make sure to consult with our Clear + Brilliant experts about any medications, or over-the-counter products you should avoid after your treatment.
Get a Free Clear and Brilliant Complete Treatment Consultation at Artemedica
At Artemedica, we are proud to offer all our patients the latest and most advanced laser skin treatments available in Sonoma County. With the new innovative TOUCH laser technology, we can help you defy visible signs of aging and address the damaging effects the environment can have on your skin over time. During a complimentary consultation, our Clear + Brilliant technicians will be able to answer all your questions and provide a personalized treatment plan based on your unique skin concerns.
Give us a call at (707) 577-8292, or fill out the form below to contact the Artemedica team today.