There's nothing quite as mortifying as looking in the mirror to discover you look decades older than you really are. The culprits are often fine lines, sun damage, hyperpigmentation and uneven skin tone and texture that mottle your complexion. As a result, your skin looks and feels less youthful and radiant which in turn ages your appearance. In these situations, people turn to advanced skin care procedures that use lasers to improve the skin's appearance and treat facial flaws. One of the most common laser procedures is laser resurfacing.
Laser resurfacing targets skin imperfections and encourages the skin to repair itself through new cell generation and collagen production which results in a smoother, younger, more radiant complexion.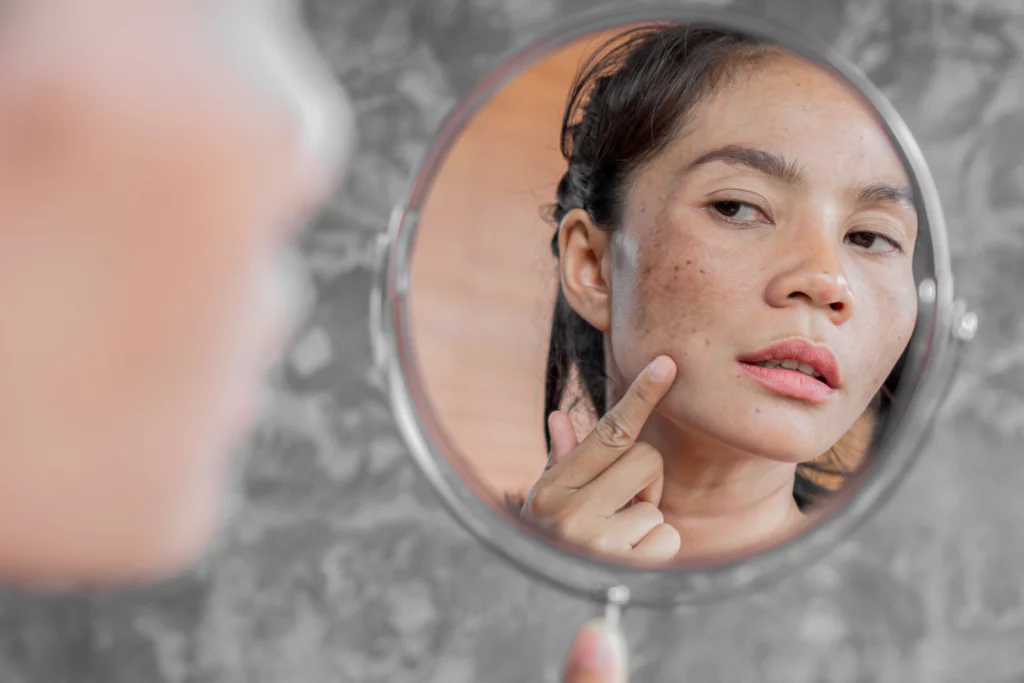 So what is laser resurfacing?
Laser resurfacing, also known as a laser peel, laser vaporization and lasabrasion, is a surgical procedure used to improve the texture and appearance of aged skin, deep lines or wrinkles, acne scars and, in some instances, pre-cancerous lesions. Using a specialized laser, this cosmetic procedure stimulates new skin cell growth resulting in a tighter, younger looking surface. It is a facial rejuvenation procedure that perfect for patients of any age dealing with skin conditions ranging from acne to sun-damage to visible signs of aging like wrinkles and fine lines.
It addresses:
Laser resurfacing process
Laser resurfacing uses a fractional laser to send short, concentrated pulsating beams of light at irregular appearing skin. The procedure itself is incredible safe and predictable, especially when performed by a skilled facial plastic surgeon like Dr. Lacombe. Laser resurfacing may be performed on the whole face or in specific regions with the goal to remove sun damage, rebuild collagen, and smooth deeper wrinkles. The process itself is relatively short depending on the extent of treatment, but a full-face treatment takes may take up to 2 hours. Laser resurfacing first removes unwanted, damaged skin at the outermost level known as the epidermis. Then, the laser will superheat the underlying layer known as the dermis, which in turn stimulates the growth of new collagen. New skin that forms during the recovery process is smoother, firmer, and healthier.
Recovery timeline
Recovery from laser resurfacing is important to the final results of the procedure. It is vital that you follow all instructions given to you by your surgeon. After the first 24 hours, you will need to clean the treated area multiple times a day and apply an occlusive moisturizer to prevent scabbing. Depending on the scope and severity of your treatment, healing can take anywhere from 10 to 21 days. During this time, limit sun exposure and always wear proper sun protection like a broad-spectrum sunscreen to screen UVA and UVB light.
Customizing your cosmetic procedure
Your surgeon can perform a brow lift alone or in conjunction with other cosmetic facial surgery procedures. Complementary procedures include:
Laser Resurfacing Consultations at Artemedica in Santa Rosa & Healdsburg
Dr. Lacombe has devoted his 24 year career to helping Santa Rosa residents reach their facial plastic surgery goals. In fact, he co-authored Lasers in Aesthetic Surgery which is considered a standard must-read textbook for aspiring plastic surgeons. Dr. Lacombe is certified by both the American Board of Facial Plastic and Reconstructive Surgery as well as the American Board of Otolaryngology (Head and Neck Surgery). Many men and women in Santa Rosa and throughout Sonoma County choose Dr. Lacombe as their plastic surgeon of choice because of his experience, his skill, and his passion for helping his patients.
If you are interested in laser resurfacing or other facial plastic surgery procedures, please fill out the form below or contact our Santa Rosa surgical office at (707) 577-8292 for your free consultation.