Who said aging gracefully meant having to live with wrinkles, creases, fine lines and loose, sagging skin? In fact, if anything, these features can add additional years to our appearance. No to mention, wrinkles, fine lines and sagging skin around the face can dramatically lower our self-esteem as well as how others perceive us. Thanks to innovative advances in cosmetic procedures, now you don't have to put up with with your crow's feet, jowls and crepey neck. With Thermage, tighter, more youthful skin is just one treatment away.
Thermage is a clinically proven solution to smoothing out wrinkles and renewing facial contours. It's even been successful in tightening skin on the neck, legs and arms. Results are completely natural, long-lasting and, better yet, improve over time!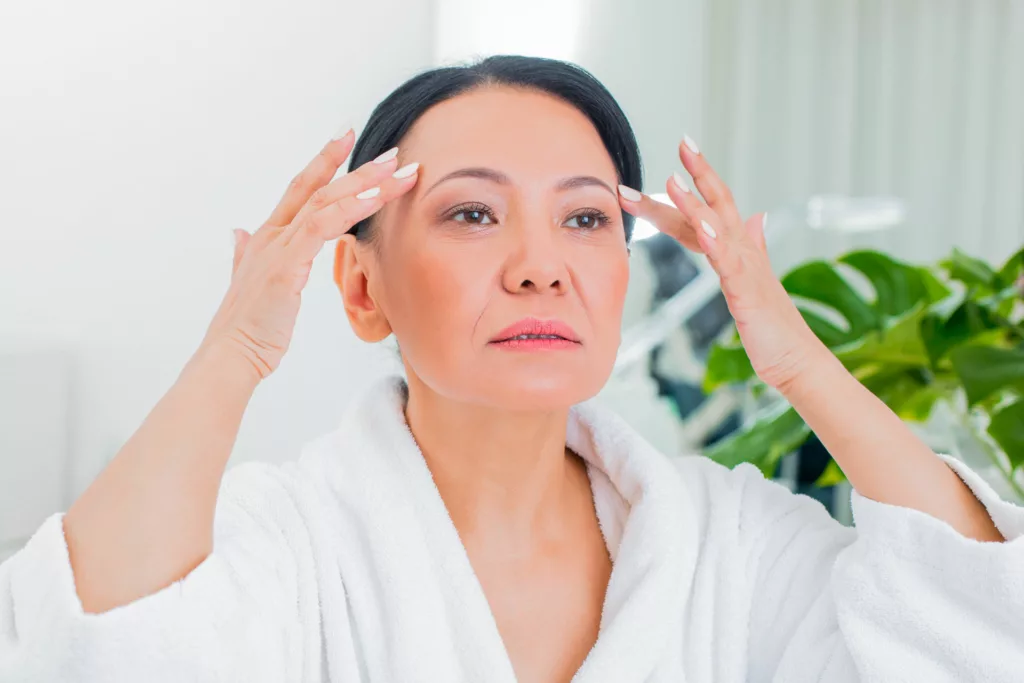 What is Thermage?
Thermage is a revolutionary non-invasive radiofrequency (RF) therapy that smooths, tightens and contours skin for a visibly younger looking appearance. RF technology penetrates the collagen-rich dermal layers of the skin to gently heat skin cells. This heat separates water from the fibrous collagen causing these fibers to contract. When these fibers contract, the skin becomes tighter, firmer and smoother. Furthermore, the heat from Thermage stimulates skin cells to produce new collagen. Together, these two processes reverse the appearance of loose, sagging skin for a younger, more contoured appearance.
Smooth, tighten and contour skin in one treatment with Thermage
Thermage is a relatively gentle procedure that requires no surgery, injections or anesthesia. You may feel an initial, but brief heating sensation when your clinician first applies the handpiece. However, a soothing cooling sensation will quickly follow to help protect your skin and minimize discomfort. The Thermage system also incorporates a vibrating element which has been shown to dramatically aid in patient discomfort. Plus, sessions are super quick, lasting only 30-90 minutes depending on the area to be treated.
Recovery from Thermage
Thermage has little to no downtime and most patients are able to return to their daily activities immediately after treatment. Within the first 24 hours, you may experience some temporary redness or minor swelling. These should resolve quickly. We do recommend adding a broad spectrum sunscreen to your regular skincare regimen. If you have any questions about whether or not you should avoid certain skincare products, feel free to ask your clinician or aesthetician.
Unlike other cosmetic procedures, Thermage delivers results after a single treatment. And, best of all, because Thermage encourages new collagen production while also improving existing collagen, results will continue to improve over time. For most patients, final results appear gradually within 2-6 months following treatment and can last 1-2 years depending on your skin condition, skincare routine and personal aging process.
Thermage for Tighter, Smoother Skin in Santa Rosa
Dr. Lacombe has devoted his 24 year career to helping Santa Rosa residents reach their facial plastic surgery goals. In fact, he co-authored Lasers in Aesthetic Surgery which is considered a standard must-read textbook for aspiring plastic surgeons. Dr. Lacombe is certified by both the American Board of Facial Plastic and Reconstructive Surgery as well as the American Board of Otolaryngology (Head and Neck Surgery). Many men and women in Santa Rosa and throughout Sonoma County choose Dr. Lacombe as their plastic surgeon of choice because of his experience, his skill, and his passion for helping his patients.
If you are interested in thermage or other laser skin procedures, please fill out the form below or contact our Santa Rosa (707) 577-8292 office for your free consultation.