Available late Fall 2023 in Santa Rosa & Healdsburg! Use the form below to join the waitlist!
Looking for an injectable that smooths your cheeks, naturally, without a filler? Juvéderm's SKINVIVE hyaluronic acid (HA) injectables offers men and women a new, safe approach to achieving smooth, glowing skin. In fact, SKINVIVE by Juvéderm is the first and only HA microdroplet injectable indicated to improve skin smoothness of the cheeks. Benefits of SKINVIVE injections include: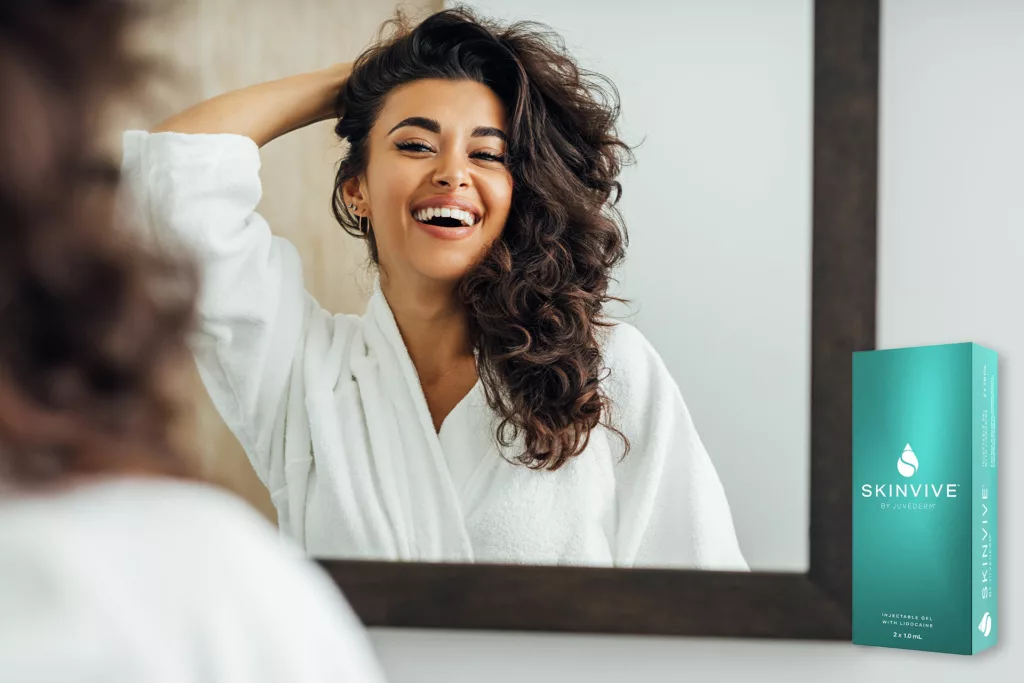 SKINVIVE by Juvéderm for a smooth, glowing complexion
One of the best ways to improve skin quality is by enhancing hydration. SKINVIVE improves skin quality with hyaluronic acid. When injected below the skin's outer layer, HA can attract and retain moisture at an incredible rate, which improves the quality of your skin. This revolutionary new HA gel provides lasting hydration that cannot be achieved with topicals alone. When the dermal layer benefits from better hydration, your skin will naturally have a smoother, more youthful appearance without the need for fillers. Juvéderm's SKINVIVE HA injectable filler is a great option for men and women, age 21 and older, looking to enhance the appearance of their skin. With as little as one treatment, SKINVIVE can leave your skin looking: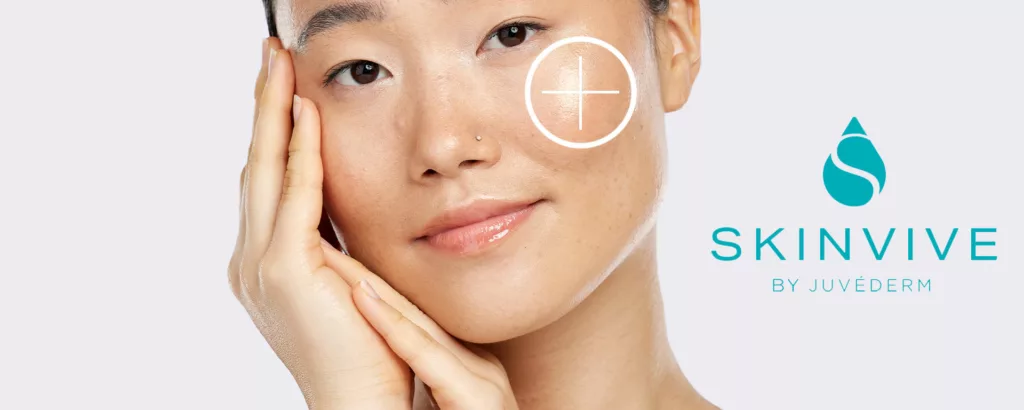 Getting your injections at Artemedica
You can be sure that when you receive your SKINVIVE injections at Artemedica, your appointment will be comfortable and your results stunning. SKINVIVE injectable HA gel contains a small amount of local anesthetic (lidocaine) which numbs the injection site, so that any discomfort or redness will be minimal. Patients typically report no pain at all but may experience a brief pinch. You may also be offered an ice pack or topical anesthetic to help with any irritation or swelling. If you do feel any discomfort or anxiety before or during your treatment, you can always ask your provider about PRO NOX.
Recovery
After your treatment ends, you can return to your daily routine with minimal recovery and no downtime. Some patients experience swelling, bruising and redness at the injection site(s), but this should dissipate within a few days. If you experience any discomfort, apply an ice pack to the treated areas.
SKINVIVE Results
Most clinical study participants who received injections of SKINVIVE HA gel reported that the skin on their cheeks looked smoother immediately after just one injection. Some patients required one more treatment for optimal results. After receiving their optimal treatment of SKINVIVE injection, most patients reported smooth skin that lasted six months or more.
Visit Artemedica for SKINVIVE by Juvéderm
Dr. Lacombe has devoted his 24 year career to helping Santa Rosa residents reach their facial plastic surgery goals. In fact, he co-authored Lasers in Aesthetic Surgery which is considered a standard must-read textbook for aspiring plastic surgeons. Dr. Lacombe is certified by both the American Board of Facial Plastic and Reconstructive Surgery as well as the American Board of Otolaryngology (Head and Neck Surgery). Many men and women in Santa Rosa and throughout Sonoma County choose Dr. Lacombe as their plastic surgeon of choice because of his experience, his skill, and his passion for helping his patients.
Be among the first to benefit from this new Juvéderm treatment at Artemedica! Simply fill out the form below to get on the waitlist for SKINVIVE by Juvéderm. You can also request to be added by contacting us by phone at either location: Santa Rosa at (707) 577-8292 or Healdsburg at (707) 415-8888. 
Join the Waitlist Today!
SKINVIVE by Juvéderm Frequently Asked Questions 
What is SKINVIVE?
Juvéderm SKINVIVE is a hyaluronic acid (HA) injectable for men and women seeking to achieve relief from fine lines in the cheeks, and a healthy, radiant glow that lasts for more than six months.
Is SKINVIVE safe?
SKINVIVE is a toxin-free, injectable hyaluronic acid (HA) gel. HA is naturally found in the body, so rejection is highly unlikely, and side effects are typically minimal. SKINVIVE injections are an incredibly safe procedure with very little discomfort and zero down time required.
How does SKINVIVE work?
SKINVIVE by JUVÉDERM hydrates the skin from within for lasting benefit. Rather than augment the skin with a filler, it acts to hydrate the skin on a deep level that cannot be achieved with lotions. The injectable HA gel flows easily into the skin. The gel includes a small amount of lidocaine (local anesthetic) to increase comfort during the injection.
How long will my results last?
With as little as one SKINVIVE injection, most patients report results lasting six months, with some reporting effects lasting for nine months or more. To achieve optimal results, some patients may need an optional second dose.
Why should I go to Artemedica for SKINVIVE over other practices?
Dr. Lacombe and the other injection specialists at Artemedica are proud to be one of the first practices nationwide to offer SKINVIVE to Santa Rosa and Healdsburg residents. Dr. Lacombe is an Allergan Black Diamond Level, the highest recognition, Plastic Surgeon in Sonoma County for Botox and Juvéderm and Juvéderm Voluma. This status represents the top 1% of accounts in the nation. Dr. Lacombe ensures that he remains a leading provider of all the latest cosmetic treatments and developments. As a result, his patients can be assured of the safest and most modern surgical and aesthetic techniques in use today, including the most innovative facial rejuvenation procedures.
If you are wondering what it's like having a procedure at Artemedica, here's what patient Julie W. says, "Dr. Lacombe is the BEST in the field, as is his compassionate office staff. If you want excellence in technique, experience, knowledge and 'state of the art' procedures, this is the place to come and the doctor to put your trust in! I will forever be appreciative of his skill and grateful for his loving bedside manner." More reviews here.