Artemedica is constantly on the lookout for new, innovative cosmetic treatments to offer our patients. And once again, we are the first North Bay practice to offer EMSCULPT from BTL INDUSTRIES. EMSCULPT is the world's only non-invasive body contouring procedure that builds muscle and sculpts the body. For many, diet and exercise simply aren't enough to achieve a slimmer, more toned physique. But with EMSCULPT, now you can have the slimmer, sculpted body of your dreams. We love EMSCULPT because it's: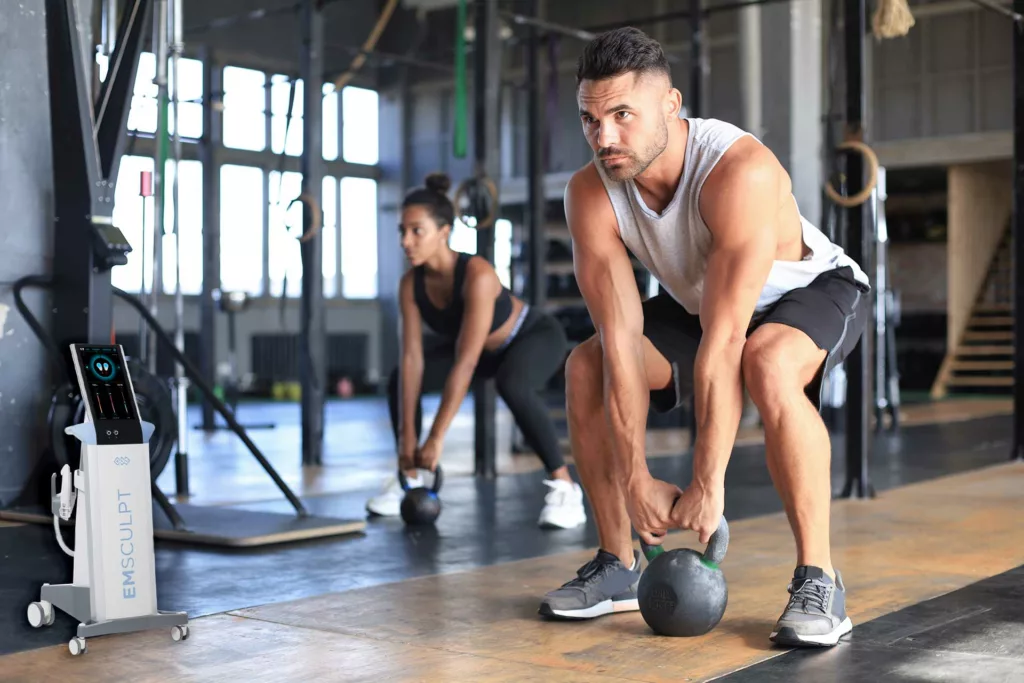 Artemedica was the first to offer EMSCULPT to Santa Rosa and Healdsburg
With EMSCULPT, anyone can build muscle to achieve a more toned, fit appearance. And the process is incredibly simple with real results. EMSCULPT uses high-intensity focused electromagnetic energy to create powerful induced muscle contractions not achievable through exercise. The muscle tissue is forced to adapt to these extreme conditions by remodeling its inner structure. This results in stronger, thicker muscles and a more sculpted physique. EMSCULPT is FDA-cleared to treat: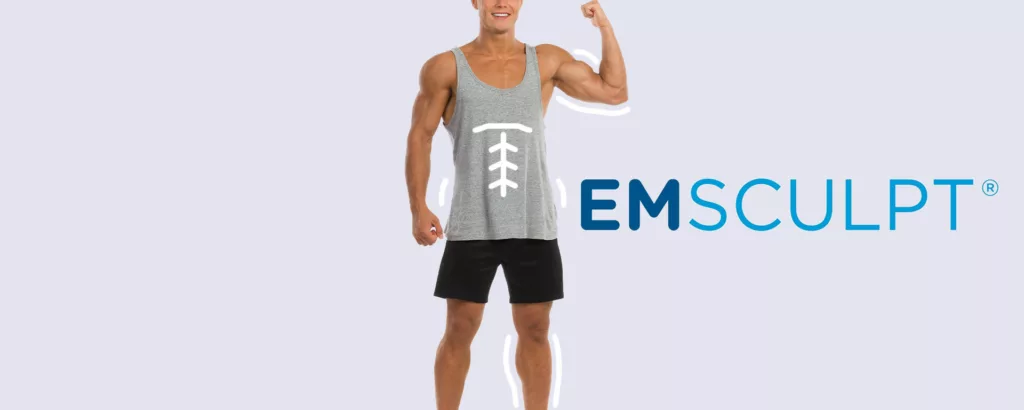 EMSCULPT muscle enhancement at Artemedica
Each person's cosmetic goals are unique to them and that will ultimately affect your EMSCULPT treatment plan. First, Dr. Lacombe will meet with you to discuss your cosmetic goals. He'll assess whether you're a candidate for EMSCULPT and develop a personalized treatment plan for you. Unlike other body contouring procedures, anyone can be a candidate for EMSCULPT so long as they have reasonable and realistic goals.
Once Dr. Lacombe has created your unique treatment plan and its finally time for your appointment, one of our fully certified technicians will check you into our award-winning, state-of-the-art surgical suite. They will then place one of two applicators on the target area: the small applicator for the arms and calves, and the large applicator for the buttocks, thighs and abdomen. You'll immediately start to feel contractions throughout the targeted area which many liken to an intensive workout. And after 30 minutes, you're done! Talk about fast and effective.
Recovery
With EMSCULPT, there's no surgery, no anesthesia, and no invasive techniques whatsoever, so there's little to no downtime. In fact, most patients return immediately to work following treatment.
EMSCULPT results
You will feel initial results immediately following treatment. In fact, it'll feel like you've just finished 1,000 crunches. As for visible results, you'll start to see them within 2 – 4 weeks following your final treatment and results will continue to improve for several weeks following treatments.
For optimal results, we recommend a minimum of 4 EMSCULPT sessions scheduled 2-3 days apart. Dr. Lacombe may suggest more depending on your goals for your treatment plan.
Build Muscle and Sculpt Your Body with EMSCULPT at Artemedica
Dr. Lacombe has devoted his 24 year career to helping Santa Rosa residents reach their facial plastic surgery goals. In fact, he co-authored Lasers in Aesthetic Surgery which is considered a standard must-read textbook for aspiring plastic surgeons. Dr. Lacombe is certified by both the American Board of Facial Plastic and Reconstructive Surgery as well as the American Board of Otolaryngology (Head and Neck Surgery). Many men and women in Santa Rosa and throughout Sonoma County choose Dr. Lacombe as their plastic surgeon of choice because of his experience, his skill, and his passion for helping his patients.
If you are interested in EMSCULPT or other body contouring or fat reduction procedures, please fill out the form below or contact our Santa Rosa (707) 577-8292 or Healdsburg (707) 415-8888 offices for your free consultation.
EMSCULPT Frequently Asked Questions
Is EMSCULPT safe?
Absolutely! EMSCULPT is FDA-approved and cleared to treat 5 distinct areas: abdomen, upper arms, buttocks, thighs and calves.
How does EMSCULPT work?
EMSCULPT uses high-intensity focused electromagnetic energy to induce thousands of powerful muscle contractions. This in turn encourages your muscles to thicken and strengthen.
How long will my results last?
Most patients feel results immediately and see results within 2 – 4 weeks after treatment. As for how long results last, that is entirely up to you. Because EMSCULPT simulates intensive exercise, your muscles naturally grow, thicken and strengthen. And if you do not maintain consistent exercise and good diet, your muscles will shrink from disuse as a result.
How much does EMSCULPT cost?
The total cost for your EMSCULPT will depend on how many targeted areas you want to treat and how much fat we will need to treat. During your consultation, we will discuss your cosmetic goals and treatment plan so you know how much your unique procedure will cost and why. If you're interested in saving money on your EMSCULPT procedure, check out our blog for news about specials and discounts.
Why should I go to Artemedica for EMSCULPT over other practices?
Artemedica is a first class plastic surgery provider with locations in both Santa Rosa and Healdsburg. Our in-office surgical suite has received the Joint Commission Accreditation, recognizing our commitment to the highest level of patient safety, patient care excellence and meeting all of the highest performance standards. Plus, Artemedica was the first practice in the North Bay to offer this innovative solution for muscle building and body sculpting.
US FDA Clearances
Emsculpt® is intended for improvement of abdominal tone, strengthening of the abdominal muscles, development of firmer abdomen. Strengthening, toning and firming of buttocks, thighs, and calves. Improvement of muscle tone and firmness, for strengthening muscles in arms.
BTL®, EMSCULPT NEO®, EMSCULPT®, EMSELLA®, Exilis®, EMTONE®, HIFEM®, Vanquish® are registered trademarks in the United States of America, the European Union and/or other countries. Trademarks EMSCULPT NEO®, EMSCULPT®, EMSELLA®, EMFEMME 360™, EMTONE®, EM® and HIFEM® are parts of EM Family of products.
** Results and patient experience may vary.
As with any medical procedure, ask your doctor if the procedure is right for you. Patient names have been changed for their privacy.