Aging is natural and inevitable, but aging gracefully is a much more involved process. Over time, gravity affects the skin, muscles, and connective issues, causing them to loosen and sag. Loss of volume in the jaw and neck coupled with drooping, crepey skin can lead to the formation of jowls along the jawline, deep folds along the mouth, and hollowness around the eyes. Not to mention, excess fat and skin under the chin can cause a double chin effect. These undesirable outcomes of aging lead many to seek surgical procedures like a face and neck lift.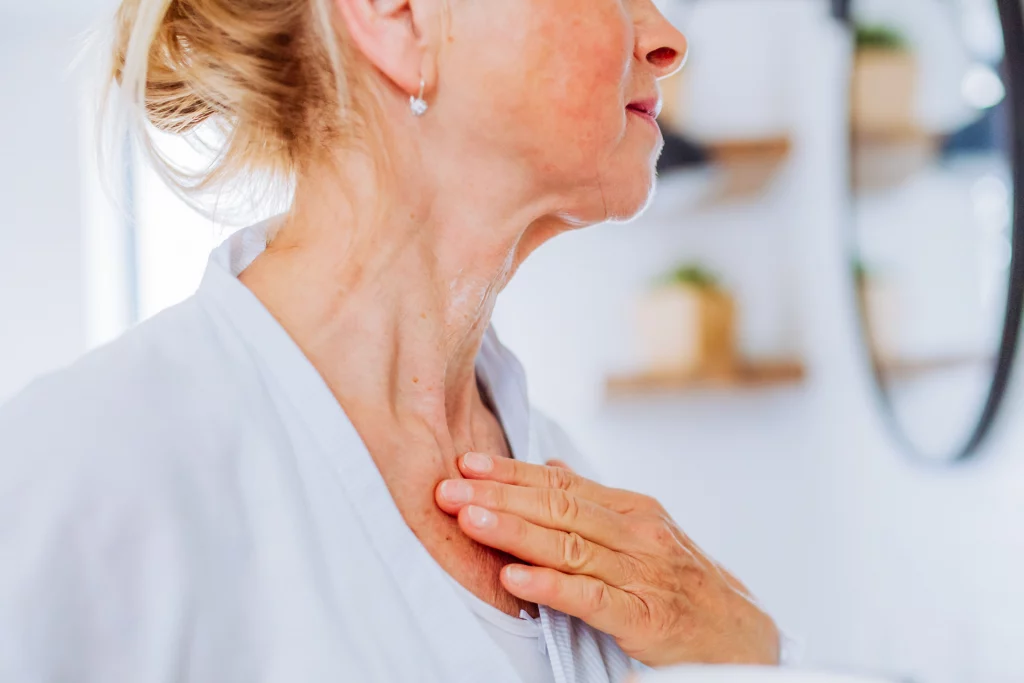 Look younger instantly with a face and neck lift
A face lift is a cosmetic facial surgery that removes excess tissue along the sides of the face to create a more youthful shape. Face lifts are often combined with neck lifts to alter the shape and contour of the cheekbones, jawline, and chin as well. The results are dramatic with patients feeling more confident in their appearance and their skin looking and feeling tighter. Most face lift patients are between their 40s and 60s, although we have also seen older patients (those in their 70s and 80s). Patients who still have some skin elasticity see the best results when treating: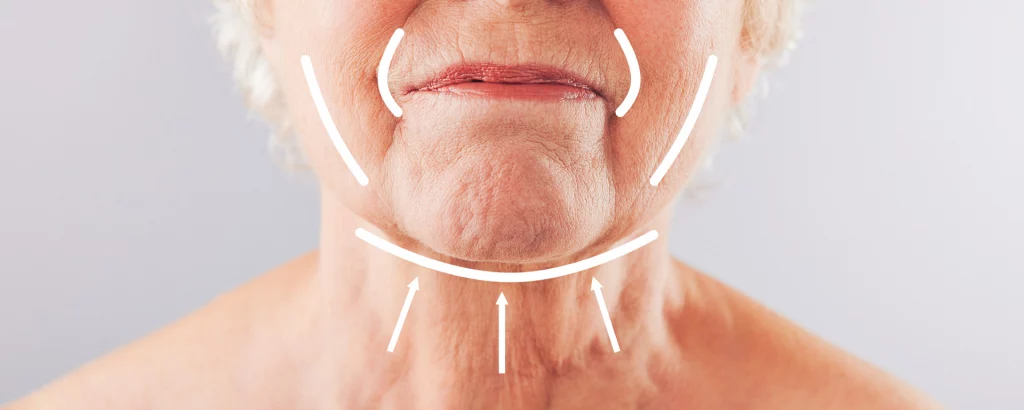 The face and neck lift procedure
The extent of your surgery will depend on the degree of change you want to see in your appearance. For your face and/or neck lift, cosmetic surgeon Dr. Lacombe will create a personalized treatment plan based on your unique needs and goals. Your surgeon will start with tiny incisions around the folds of the ear. For a more dramatic look, these incisions will extend upwards along the hairline for a more sculpted result. If your aim is to remove jowls or a double chin, your incisions may extend downward to target the neck and jawline. In either instance, Dr. Lacombe removes and tightens loose skin, repositions excess fat deposits, and lifts muscles. Once the incisions heal, they are practically invisible to the naked eye.
No two face or neck lift procedures are the same. Artemedica's Dr. Lacombe tailors each procedure to meet each patient's unique goals. Although a facelift and a neck lift are often combined, some people may find that their only area of concern is their neck. When this is the case, a face lift is not necessary and a neck lift alone will suffice. No matter what you're looking to accomplish with surgery, Dr. Lacombe will work with you to make sure you are happy with your results.
Recovering from your surgical procedure
While individual results may vary, your face will be swollen and may feel stiff immediately after surgery. This is to be expected. You may experience some discomfort and bruising, but these will dissipate over the course of about 2 to 3 weeks. You should expect to return to your normal routine within the same day or the following few weeks. Again though, we recommend you avoid strenuous activity for the next few weeks.
Facial cosmetic surgery without surgery
If you're not ready for surgery, Dr. Lacombe also offers injectable fillers that provide equally beautiful results without surgery. These non-invasive alternatives can create similar results without the downtime associated with cosmetic surgery.
Face and Neck Lift Consultations at Artemedica in Santa Rosa
Face and neck lifts are our specialty at Artemedica. With Dr. Lacombe, you will never have to worry about looking overly tight or "worked-on" with your face and neck lift surgery. His many years of face-focused experience have helped hone his skills so that he can provide beautiful, natural-looking results. In fact, he co-authored Lasers in Aesthetic Surgery which is considered a standard must-read textbook for aspiring plastic surgeons. Dr. Lacombe is certified by both the American Board of Facial Plastic and Reconstructive Surgery as well as the American Board of Otolaryngology (Head and Neck Surgery). Many men and women in Santa Rosa and throughout Sonoma County choose Dr. Lacombe as their plastic surgeon of choice because of his experience, his skill, and his passion for helping his patients.
If you are interested in a face and/or neck lift or other facial plastic surgery procedures, please fill out the form below or contact our Santa Rosa surgical office at (707) 577-8292 for your free consultation.