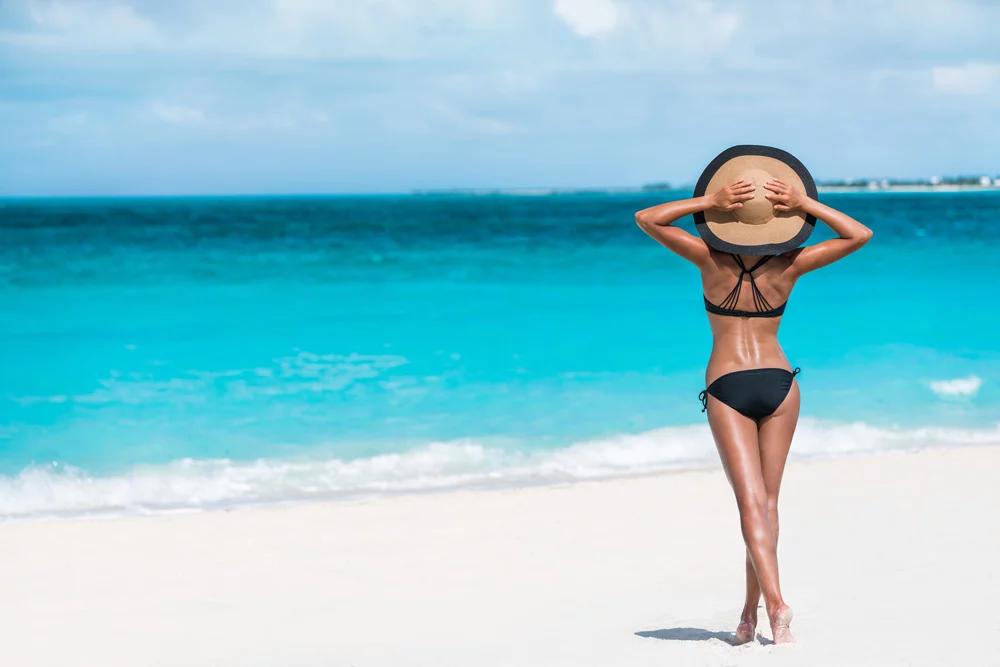 Here comes the sun! Spring is here at last and summer is just around the bend. As the warm weather begins to brighten our spirits it is an excellent opportunity to delve into new ways to look and feel our best. Non-surgical cosmetic procedures are superb alternatives to traditional plastic surgery to enhance one's body and mind without the high costs and downtime accompanied by surgery.
Beach trips, summer BBQs, and days relaxing by the pool are so close you can almost taste it. If the winter months have left your skin less than glowing or if your bikini body is not ready, a non-surgical cosmetic treatment at Artemedica can have you reaping the benefits of your chosen procedure throughout the summer and into the fall.
Botox has long been an especially popular solution for revitalizing and smoothing out dynamic wrinkles including worry & frown lines, necklines, and crow's feet. Both women and men have counted on Botox to maintain their appearance by giving them a more youthful and cheerful presence.
A quick and essentially painless procedure, Botox allows wrinkles to fade away with targeted microneedle injections with no downtime for recovery. Results are noticeable within the first week and typically last 3 months!
Hyaluronic acid fillers (dermal fillers) including Juvederm, Restylane, and Voluma have been used to soften and reduce fine facial lines and wrinkles while at the same time increasing volume in desired areas of the face. Popular among people of all ages, injectable fillers are capable of adding shape & fullness to lips, creating volume in cheek areas, and restoring youthfulness to your face.
Most injectable filler procedures are relatively quick (15-30 minutes) depending on the number of areas treated. The fillers have a built-in anesthetic so the process is not as painful as one may think. There are also options to utilize gentle topical anesthesia or a full dental block injection for a virtually painless experience. Like Botox there will be no necessary downtime, other than possible bruising and swelling in the injection area and results may be noticeable almost immediately.
There are several different ways to achieve tighter and firmer skin but none are as safe, comfortable, and least invasive as a ThermiSmooth procedure. Applying targeted radiofrequency energy, ThermiSmooth uses the ThermiRF system to gently warms up the skin of the intended area. When collagen in your skin is heated to around 104° F, it responds by shrinking which in turn causes your skin to tighten naturally – reducing the appearance of fine lines and wrinkles on ones face & tightening lax/crepey skin on one's body.
What makes the ThermiRF system so unique is its ability to constantly detect and adjust to the temperature of your skin. This results in a very comfortable treatment that many clients compare to the sensation of a warm massage.
One of Artemedica's newest treatments, the Soprano ICE Laser Hair Removal System, makes it possible to safely and painlessly remove unwanted hair anywhere on the body regardless of your age, sex, or skin type. Using a hand applicator to apply targeted infrared light energy, hair follicles are slowly and evenly heated until they are no longer able to grow without any of the pain or discomfort associated with other laser hair removal technologies.
Following your treatment session, the targeted hair will naturally fall out on it's own leaving behind beautiful smooth skin. Due to the fact that a laser hair removal treatment can only target hair that is currently in an active growth phase, a series of treatments is necessary. Begin now to be ready for summer!
The CoolSculpting procedure is the world's #1 non-invasive fat-reducing treatment. To achieve the body you desire, diet and exercise may not always be enough. This revolutionary body contouring procedure is exciting and scientifically proven with a wide range of benefits for men and women alike as it works to reduce fat cells resistant to regular diet and exercise.
Our clients positively love the CoolSculpting experience because the entire procedure takes as little as 35 minutes to perform with long-lasting results. Schedule a CoolSculpting session without having to take off a full day of work and return to your regular activities without any downtime.
Say hello to the world's only non-invasive body contouring procedure that can build muscle and burning fat at the same time. EmSculpt is a leading-edge treatment option designed to tone muscle while burning fat.
The EmSculpt treatment feels like an intensive workout. One 30-minute procedure is the equivalent of nearly 20,000 voluntary crunches. Moreover, EmSculpt is also the world's very first non-invasive buttock toning treatment! When switched to the buttock setting, one 30-minute procedure is equivalent to 20,000 voluntary squats. No pain – only gain. Enhance your derriere with added lift and toning.
Achieve lasting sweat-free results with this fast, non-invasive procedure in less than 1 hour. The miraDry procedure uses advanced targeted thermal energy to gently and safely heat up and eliminate sweat and odor glands. With just a single treatment, you can begin to notice. We recommend a series of two treatments to reduce underarm sweating by as much as 80-90%!
Get immediate results and feel fresh & clean all of the time. With summer almost here, say goodbye to wet spots and antiperspirant stains on your favorite outfits and gain back your confidence.
Let Artemedica Upgrade Your Summer
If you've been considering a cosmetic procedure to get your body Summer ready, now is the perfect time to take action. Our compassionate staff and expert providers are able to answer any questions and get you set up for a complimentary consultation. Learn more about these amazing non-surgical procedures and many more by calling or contacting online our Santa Rosa Plastic Surgery practice today!