Everyone sweats. But we can all agree that nothing can ruin a day more than realizing you've sweat through your shirt or blouse. And unfortunately, some men and women have to live with excessive sweat and body odor more than others. Constantly sweating can affect not only your wardrobe choices but also your self-esteem, especially when even clinical-grade antiperspirants and deodorants have no effect. But no one has to live with excessive underarm sweat, at least not anymore thanks to miraDry.
MiraDry is the only FDA cleared procedure for permanently treating hyperhidrosis without surgery. Using innovative thermal technology, miraDry eliminates sweat glands that cause unwanted sweat and odor safely and effectively.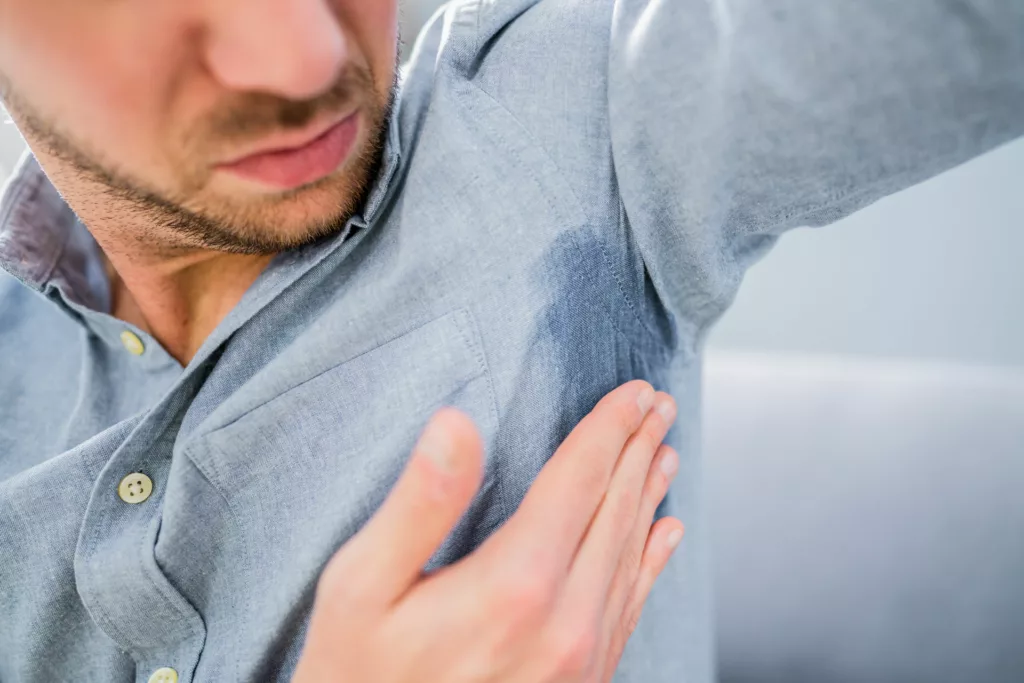 How does miraDry work?
MiraDry uses proprietary miraWave technology to deliver thermal energy to the dermal-fat interface of your skin. This heat builds up in your sweat glands to the point that the gland itself is unable to function. And because sweat glands do not grow back, treatment is permanent. Mind you, some may baulk at the idea of permanently eliminating their sweat glands because of course, our bodies need sweat glands. However, keep in mind that the human body has between 2 and 4 million active sweat glands. More importantly, only 2% of all sweat glands reside in the underarm. So while miraDry permanently eliminates problematic sweat glands in your armpits, the rest of your body will continue perspiring normally.
Say goodbye to underarm sweat and odor with miraDry
MiraDry is a safe and effective procedure that typically takes around an hour to complete. During your consultation, your clinician will determine how many treatments will be necessary for your given situation. For mild symptoms, you may only need one treatment for immediate, long-lasting results. For more severe symptoms or diagnosed hyperhidrosis, you may need multiple procedures for optimal results. During the procedure itself, your clinician will apply the applicator directly against your skin after local anesthesia. The handpiece will emit both low frequency microwaves to the dermal-fat layer where your sweat glands reside as well as cooling to the dermal layer to provide added comfort. And again, once the sweat glands are eliminated, they are gone for good.
Recovery after miraDry
Most patients report little to no discomfort during and after their miraDry procedure. And because miraDry treatment is non-surgical and non-invasive, you don't have to worry about any downtime after your procedure. There are, however, a few precautions you should take to avoid any irritation. For one thing, avoid shaving or using deodorant; the treated skin will be sensitive so you don't want to irritate it intentionally. Second, we highly recommend avoiding exercise for at least 3 days to give the treated areas time to recover. Third, keep the affected areas clean, dry and refrain from wearing tight fitting clothing. If you do feel any discomfort or irritation, use ice.
Free Yourself from Underarm Sweat and Odor with miraDry at Artemedica
Dr. Lacombe has devoted his 24 year career to helping Santa Rosa residents reach their facial plastic surgery goals. In fact, he co-authored Lasers in Aesthetic Surgery which is considered a standard must-read textbook for aspiring plastic surgeons. Dr. Lacombe is certified by both the American Board of Facial Plastic and Reconstructive Surgery as well as the American Board of Otolaryngology (Head and Neck Surgery). Many men and women in Santa Rosa and throughout Sonoma County choose Dr. Lacombe as their plastic surgeon of choice because of his experience, his skill, and his passion for helping his patients.
If you are interested in miraDry or other laser skin procedures, please fill out the form below or contact our Santa Rosa (707) 577-8292 office for your free consultation.
US FDA Clearances
The miraDry system is FDA-cleared for the treatment of unwanted underarm sweat and odor, as well as the permanent removal of unwanted underarm hair. Outside the U.S., the miraDry system is intended for use by health care professionals for treatment of primary axillary hyperhidrosis (excessive sweating). Patient results and experience may vary. miraDry® and miraDry fresh™ are trademarks of miraDry, Inc. Products may be covered by one or more U.S. Patents. Please click here to see patents associated with individual miraDry, Inc. products.