Tattoo regret is more common than you think. Regret can stem from being too young, outgrowing the design, getting an exe's name, poor quality and hundreds more reasons. Maybe you work in a professional field that still looks down on ink and are tired of having to cover up day after day. Or perhaps the tattoo isn't as meaningful as the day you got it. For whatever reason, you're not alone when it comes to regretting a tattoo and thanks to modern advances like laser tattoo removal, you no longer have to live with unwanted ink.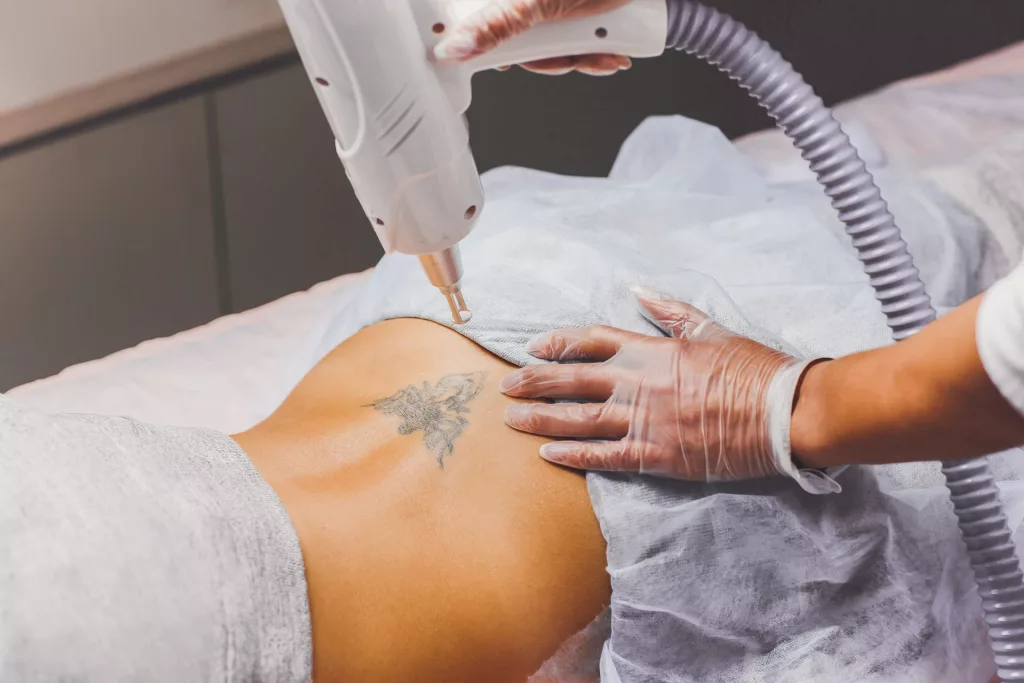 How does laser tattoo removal work?
Laser pigment correction uses concentrated light of a certain frequency to lift unwanted color from the skin. The most dramatic results are immediately after session, but finally results can range from significantly lightening to complete removal. Your results will depend on the colors used and the tattoo's age.
Laser tattoo removal is available to anyone wanting to permanently remove an unwanted tattoo. However, we do not recommend removing fresh tattoos that are still healing which can take anywhere from 6 to 18 weeks after inking. Attempting to remove a tattoo while it's still healing can cause permanent discoloration to the tattoo site and surrounding tissue which would require additional skin care treatments to correct. Not to mention, laser tattoo removal works best on older tattoos that have already begun to fade. So it's better to be safe and wait, than be sorry and jump the gun when it comes to tattoo removal.
Say goodbye to tattoo regret and hello to laser tattoo removal with the VersaPulse Q-Switched
At Artemedica we use the latest laser systems, the VersaPulse. The VersaPulse Cosmetic laser system combines four lasers in one system including three proven Q-switched lasers optimized for pigments. This laser system penetrates the skin's surface without damaging it. These devices release energy in extremely short bursts (one-billionth of a second) so pigment clusters deeper within the dermis can absorb heat without compromising surface skin. Targeted pigment deposits absorb the laser light which in turn breaks down the large deposits into small enough molecules that the body is able to "digest" and eliminate them.
Your laser tattoo removal experience will depend on your unique pain tolerance. Most people liken the sensation to a rubber band snap or hot grease splash or sunburn, but in any case we cannot guarantee that the removal process will be more or less painful than the initial inking. If you are concerned about pain during your treatment, feel free to request local anesthesia, ice or even PRO-NOX for a more comfortable experience. And again, while your session time will depend on the size and age of your tattoo, sessions are relatively short: 30-45 minutes.
Recovery after laser tattoo removal
The color, size, and age of your tattoo will determine the number of treatments needed. Fresher tattoos or tattoos made with dark ink will require more treatments than older, lighter colored tattoos. Most people see optimal results after 4 treatments spaced 4-6 weeks apart to give your body time to process the broken down ink molecules. Following your treatments, you will want to be mindful of your sun exposure.
Laser Away Your Unwanted Ink at Artemedica in Santa Rosa
Dr. Lacombe has devoted his 24 year career to helping Santa Rosa residents reach their facial plastic surgery goals. In fact, he co-authored Lasers in Aesthetic Surgery which is considered a standard must-read textbook for aspiring plastic surgeons. Dr. Lacombe is certified by both the American Board of Facial Plastic and Reconstructive Surgery as well as the American Board of Otolaryngology (Head and Neck Surgery). Many men and women in Santa Rosa and throughout Sonoma County choose Dr. Lacombe as their plastic surgeon of choice because of his experience, his skill, and his passion for helping his patients.
If you are interested in laser tattoo removal or other laser skin procedures, please fill out the form below or contact our Santa Rosa (707) 577-8292 office for your free consultation.