Although small and harmless, with time unsightly veins can take a toll on a person's appearance and self-esteem. This is particularly true when these veins appear on the face which is our most visible feature. For this reason, many turn to cosmetic procedures to remove or at least diminish the appearance of these superficial veins. While there are many options for addressing spider veins, the most common is laser spider vein removal treatment.
Laser spider vein removal is a safer, non-invasive alternative to traditional sclerotherapy. Plus, it's perfect for those wanting to get rid of small, superficial veins. This advanced technological procedure delivers a precise level of light to the blood vessels, improving the appearance of spider veins and some varicose veins. The results are clearer skin free of angry red irregular veins.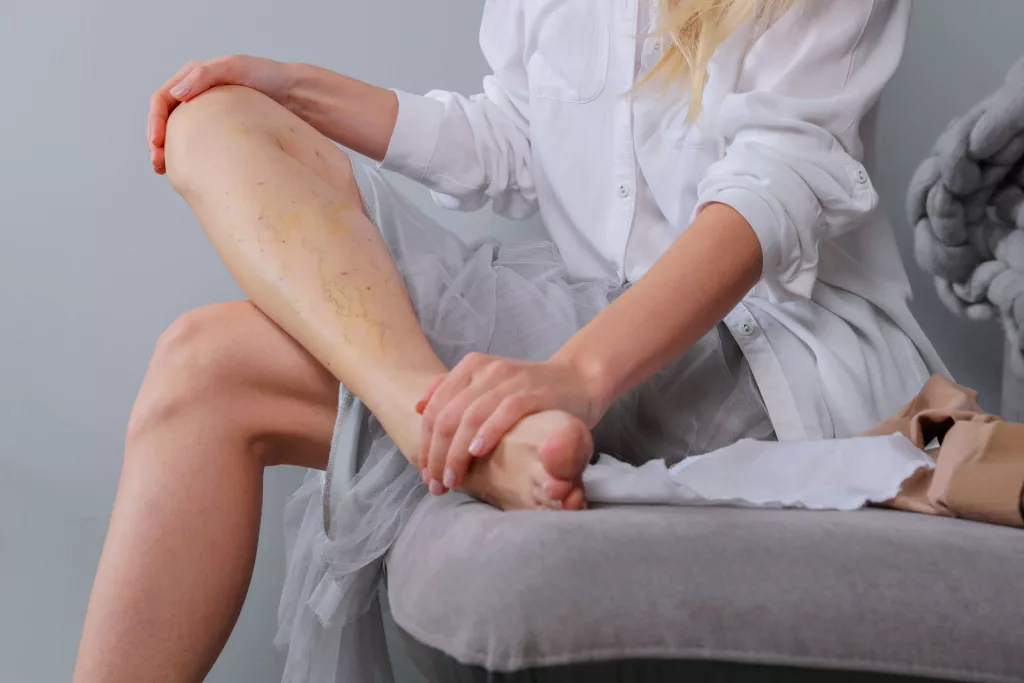 How does laser spider vein removal work?
Laser spider vein removal uses concentrated light of a certain frequency to breakdown veins in the targeted area. The results are a more uniform, lighter complexion. Spider veins can happen to anyone at anytime including childhood. Spider veins can be caused by a variety of factors including genetics, obesity, and fluctuations in hormone levels. They tend to become more numerous and prominent with age, and are common among people over thirty and pregnant women. Due to the nature of the treatment, laser removal is not recommended for patients with darker skin tones because of the risk of permanent skin discoloration. Not sure whether laser spider vein removal is right for you? Discuss your concerns during a free consultation.
Treat unsightly spider and varicose veins once and for all with VersaPulse HELP-G
Laser spider vein removal is a safe and effective non-surgical treatment. At Artemedica we use the latest laser systems, the VersaPulse. The VersaPulse Cosmetic laser system combines four lasers in one system including HELP-G laser which targets hemoglobin in the blood vessel. This laser system penetrates the skin's surface without damaging it. These devices release energy in extremely short bursts (one-billionth of a second) within the dermis can absorb heat without compromising surface skin. The laser is absorbed by the blood in the veins, causing it to coagulate. Blood flow will be redirected elsewhere in the body and as a result, the veins will begin to deteriorate. Your body will naturally process the deteriorated veins.
Recovery after laser spider vein removal
Unlike traditional sclerotherapy where patients must wear compression socks after treatment, laser spider vein removal requires little downtime and has very few, if any, side effects. Like other laser skin care treatments, we do suggest that you avoid spending time in direct sunlight without sunscreen and refrain from wearing makeup or using certain skincare products. If you have any questions about what skincare products to avoid, feel free to ask your clinician or aesthetician. Following treatment, your skin will swell and may even bruise which should dissipate within a week or so. Please note that laser spider vein removal does not prevent new veins from forming.
Your skincare concerns and desires will determine the number of treatments needed. Spider veins on the face generally do well with three or more treatments whereas larger veins on the body typically require 6 or more treatments. Following your treatments, you will want to be mindful of your sun exposure. Wear sunscreen to protect your new skin, and consider periodic maintenance treatments to preserve your results. You and your skin care provider can discuss a personalized treatment regimen tailored just for you.
Let Dr. Lacombe at Artemedica Help You Regain Your Confidence
Dr. Lacombe has devoted his 24 year career to helping Santa Rosa residents reach their facial plastic surgery goals. In fact, he co-authored Lasers in Aesthetic Surgery which is considered a standard must-read textbook for aspiring plastic surgeons. Dr. Lacombe is certified by both the American Board of Facial Plastic and Reconstructive Surgery as well as the American Board of Otolaryngology (Head and Neck Surgery). Many men and women in Santa Rosa and throughout Sonoma County choose Dr. Lacombe as their plastic surgeon of choice because of his experience, his skill, and his passion for helping his patients.
If you are interested in laser spider vein removal or other laser skin procedures, please fill out the form below or contact our Santa Rosa (707) 577-8292 office for your free consultation.