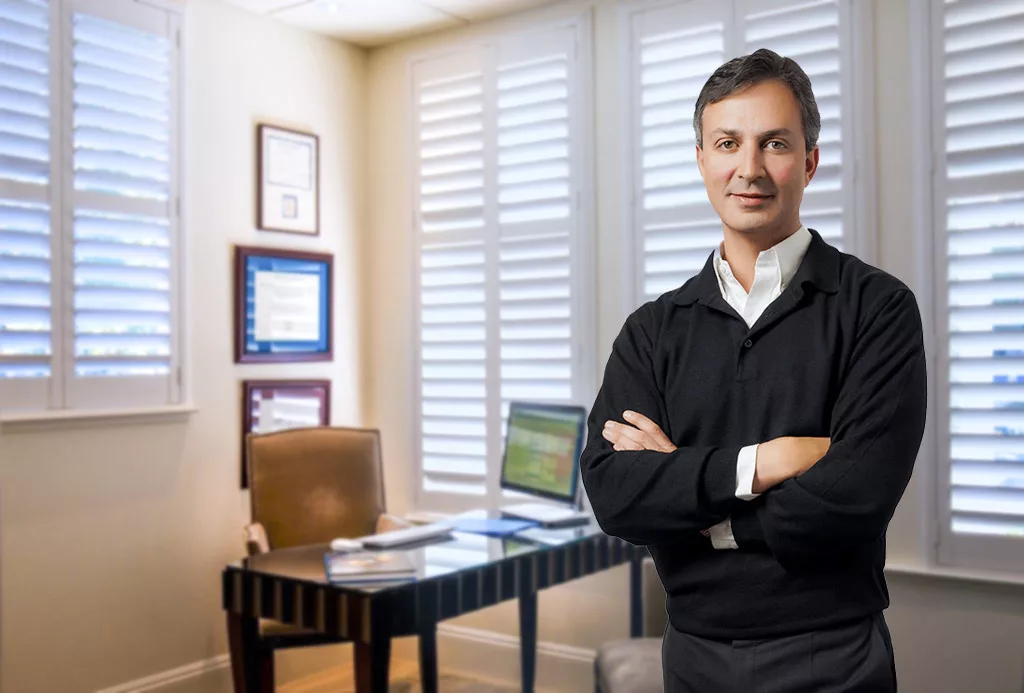 Meet Dr. Victor Lacombe, Double Board-Certified Facial Plastic Surgery and Laser Surgery Specialist
The first thing people notice about you is often some feature of your face. With cosmetic facial surgery, you control what you want people to notice, and in what way. Choosing a facial plastic surgeon is at the heart of the results you desire, as you search for someone whom you can trust with one of your most valuable assets. Victor Lacombe, M.D. has been helping men and women in Santa Rosa and throughout Sonoma County and beyond to gain confidence and curate their appearance with the latest, most effective aesthetic techniques and treatments available for 24 years.  
Read on to learn more about Dr. Lacombe, his background, and the transformative cosmetic treatments he provides.
Double Board-Certified Plastic Surgeon in Sonoma County
When patients choose Dr. Lacombe, they benefit from his dual board certifications, for the utmost surgical expertise for their cosmetic surgery. In addition to being certified by the American Board of Facial Plastic and Reconstructive Surgery, Dr. Lacombe has been certified by the American Board of Otolaryngology (head and neck surgery).
Allergan Leader and Trainer
Allergan Advisory Board Member and AMFAST Trainer Dr. Lacombe is a TOP 100 Allergan Injector—the highest recognition awarded to the top 1% of Allergan account holders in the nation. Right here in Sonoma County, we have a leader in Botox, Kybella, and Juvederm Collection of Injectable Fillers.
Top 100 Level for Galderma Injectables
Galderma Advisory Board Member Dr. Lacombe is also a TOP 100 Injector for Galderma's Dysport, Restylane Collection of Fillers and Sculptra. Artemedica is in the TOP 3 Restylane Lyft practices in the nation and the TOP 5 Restylane Kysse practices. This distinguishes Dr. Lacombe as an expert in aesthetic medicine utilizing Galderma Injectables.
Author, Educator, and Public Speaker
Among Dr. Lacombe's accomplishments is the co-authoring and editing of two comprehensive textbooks. Lasers in Aesthetic Surgery was written for aspiring facial plastic surgeons and professional laser technicians. Cosmetic Injection Techniques is a text and video guide to neurotoxins and fillers.
Prior to opening offices in Sonoma County, Dr. Lacombe served on the faculty at UCLA in the Head and Neck Surgery division. There, he supervised the training of future plastic surgeons. In addition, his ongoing research in the science of facial plastic surgery takes him to many national, regional, and local conferences as well as speaking engagements where he instructs other surgeons.
FDA Clinical Researcher
Because he is involved at the research level for laser and facial techniques for skin care, as well as FDA clinical research trials for new injectables and fillers, he is able to bring state-of-the-art advances from around the country to his patients in Northern California, often before they are available at other plastic surgery practices. His last three Clinical Studies included Allergan's Juvederm Voluma and Juvederm Volux, as well as a currently unnamed (still in Clinical Trials) injectable for Galderma.
Founder of the #1 Plastic Surgery Center in Sonoma County
Dr. Lacombe and his wife, Dr. Alice Chiang, founded Artemedica Santa Rosa in 2011. The name Artemedica is a reflection of their dream to build a center of excellence, where art and medicine meet.
In addition to offering laser treatments, cosmetic fillers, and medical-grade skin care, the Santa Rosa practice also includes a fully accredited surgical suite with state-of-the-art equipment. While benefiting from the highest standard of safety and care, patients enjoy the convenience of onsite treatment in complete privacy and comfort.
Artemedica Healdsburg was founded in 2021, upholding the level of excellence and personalized care that Dr. Lacombe's practices have become renowned for throughout Sonoma County. This second location remains dedicated to providing patients with the latest innovations in cosmetic treatments, spa services, and skincare.
Praise from a Long-Standing Client
At Artemedica, Dr. Lacombe is committed to providing each patient with personalized care and attention. With his compassionate approach and exceptional surgical skills, Dr. Lacombe has earned a reputation as one of the leading facial plastic surgeons in the Sonoma County area. Hear what one patient has to say after over 15 years of care:
I have known Dr. Victor Lacombe since 2007 when I started working with an aesthetic company. He was my customer and, of course, very soon after, he became my personal doctor for cosmetic procedures. Dr. Lacombe has a wonderful bedside manner, is very kind, and is very easy to talk to . . .

As a patient, I can confidently say that he always does a thorough evaluation of my face and always recommends the best products for facial rejuvenation. I am always happy with the results and keep coming back for more . . . I routinely recommend him to all my friends for all cosmetic procedures, including facelifts and injectables. They all love him and continue to drive two hours from the Bay Area to see him for all their procedures, too.

– F.S.
Is Dr. Lacombe Accepting New Patients in Sonoma County?
If you've been looking for an experienced facial surgery doctor in the California North Bay, you're in luck! Dr. Lacombe welcomes new patients in need of an experienced plastic surgeon at both Artemedica Santa Rosa and Artemedica Healdsburg practices. If aesthetic treatments are something you've been thinking about for a while or you are newly curious, rest assured that choosing a double-board-certified plastic surgeon will assure the best outcome.
There's no time like the present to give yourself the gift of confidence and enhanced beauty. To learn more about Dr. Lacombe and the procedures he performs, you can request your complimentary consultation with Dr. Lacombe by filling out the form below or by calling his Santa Rosa office at (707) 577-8292.