One of many common concerns both women and men have when considering cosmetic procedures is whether or not they will look like they've had work done. And it's a valid concern. Looking overdone can not only make it much more obvious that you've had cosmetic surgery but it can also have a profound effect on your confidence. For those who don't want to live with their wrinkles and folds, but also want natural-looking results, Sculptra Aesthetics may be a good choice for you.
Sculptra is an FDA-approved injectable filler that helps gradually replace lost collagen—the most common protein in the body that is used to form a framework to support cells and tissue—for results that can last up to two years.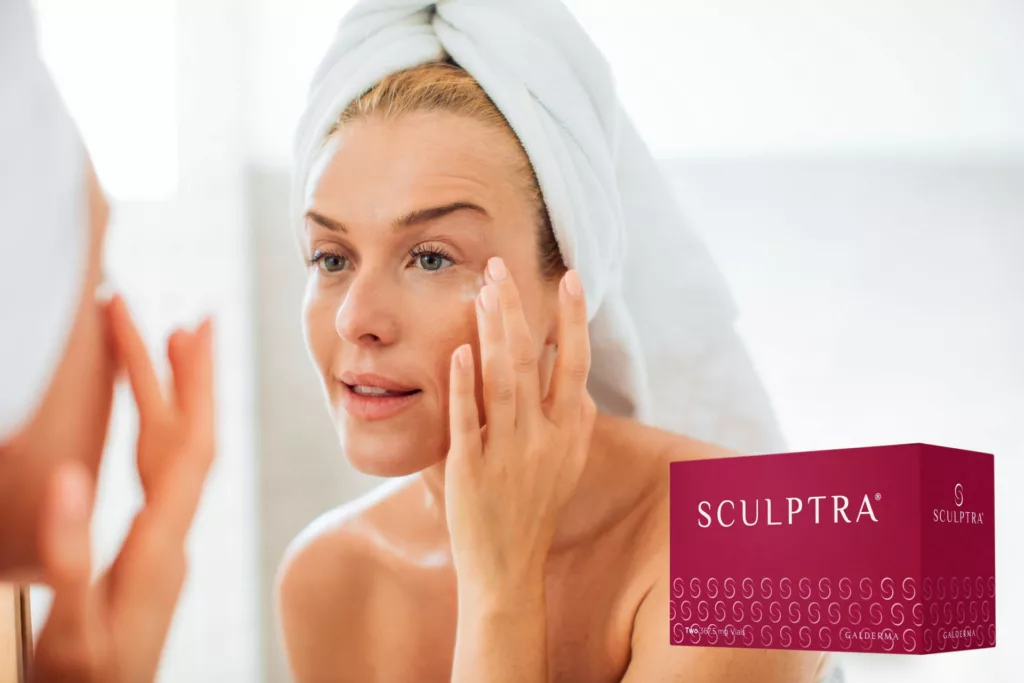 How does Sculptra Aesthetic work?
Sculptra Aesthetic addresses an underlying cause of facial aging, not just the symptoms. Collagen creams don't fully penetrate to the dermis so while they may have an immediate effect on the skin's appearance, these effects are brief. Collagen supplements' effectiveness remains inconclusive. And while other dermal fillers may fill in wrinkles and folds, they don't prevent those same wrinkles from reappearing once the dermal fillers wear off. So while these options may help diminish the appearance of wrinkles and folds in the short term, they are neither preventative nor long-term solutions.
On the other hand, Sculptra not only fills in wrinkles and folds like other dermal fillers, but also stimulates collagen production in the dermis. Sculptra is made with biocompatible, biodegradable, synthetic material called poly-L-lactic acid, which is gradually and naturally absorbed by the body and helps to rebuild lost collagen through a series of treatments administered by a trained specialist. It works with your body within the deep dermis to help revitalize collagen production and help restore your skin's inner structure and volume. Thus, wrinkles are immediately diminished upon injection and over time new collagen production helps prevent wrinkles from coming back. So not only are results immediate, but they are also long-lasting and continue to improve over time. It addresses: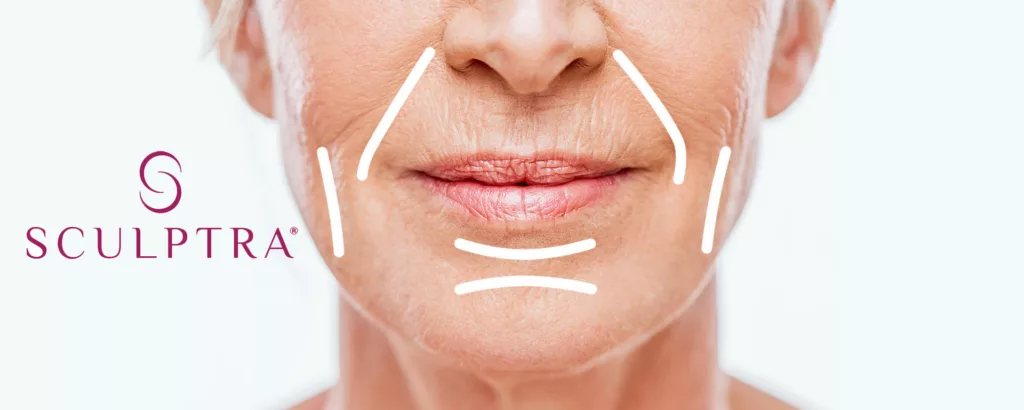 Restore skin's collagen and fill wrinkles with Sculptra Aesthetic at Artemedica
The entire injection process is quite straightforward and fast. Before your injections, Dr. Lacombe or one of our other trained clinicians will provide local anesthesia to ease discomfort. It will take some time for the anesthetic to kick in, but afterwards you should feel minimal to no pain. Your provider will then ease the dermal filler under your skin to smooth out any targeted wrinkles and folds, instantly increasing volume. Following your injection, Your provider may massage the treated areas to evenly distribute the dermal filler and minimize any bruising or swelling. The whole procedure should take no more than 15-30 minutes depending on the size and scope of the areas to be treated.
If you do feel any discomfort or anxiety before or during your treatment, you can always ask your provider about PRO-NOX.
Recovery after your injection treatment
After your treatment ends, you can return to your daily routine with minimal recovery and very little downtime. Some patients experience swelling, bruising and redness at the injection site(s), but this should dissipate within a few days. If you experience any discomfort, apply an ice pack to the treated areas.
Because Sculptra Aesthetic is an injectable filler and not a neurotoxin like BOTOX, results are immediate and long-lasting. However, Sculptra Aesthetic works a little differently than other fillers, working over time to improve your appearance. You should see a gradual improvement in the treatment areas over time resulting in a fuller, natural looking appearance as collagen is stimulated. Generally, Sculptra Aesthetic is injected in a series of 2 or 3 treatments two months apart. Results can last up to 2 years with optimal treatment, although results vary from patient to patient.
Sculptra Aesthetic Injections in Santa Rosa and Healdsburg
Dr. Lacombe has devoted his 24 year career to helping Santa Rosa residents reach their facial plastic surgery goals. In fact, he co-authored Lasers in Aesthetic Surgery which is considered a standard must-read textbook for aspiring plastic surgeons. Dr. Lacombe is certified by both the American Board of Facial Plastic and Reconstructive Surgery as well as the American Board of Otolaryngology (Head and Neck Surgery). Many men and women in Santa Rosa and throughout Sonoma County choose Dr. Lacombe as their plastic surgeon of choice because of his experience, his skill, and his passion for helping his patients. Furthermore, he has been recognized as a Top 100 volume injector for Restylane, Restylane Silk & Restylane Lyft.
If you are interested in Sculptra Aesthetic injections or other cosmetic injections, please fill out the form below or contact our Santa Rosa (707) 577-8292 or Healdsburg (707) 415-8888 offices for your free consultation.
Important Safety Information
Indications: Sculptra (injectable poly-L-lactic acid) is indicated for use in people with healthy immune systems for the correction of shallow to deep nasolabial fold contour deficiencies and other facial wrinkles.
Sculptra should not be used by people that are allergic to any ingredient of the product or have a history of keloid formation or hypertrophic scarring. Safety has not been established in patients who are pregnant, lactating, breastfeeding, or under 18 years of age.
Sculptra has unique injection requirements and should only be used by a trained healthcare practitioner. Contour deficiencies should not be overcorrected because they are expected to gradually improve after treatment.
Sculptra should not be injected into the blood vessels as it may cause vascular occlusion, infarction or embolic phenomena. Use at the site of skin sores, cysts, pimples, rashes, hives or infection should be postponed until healing is complete. Sculptra should not be injected into the red area (vermillion) of the lip or in the peri-orbital area.
The most common side effects after initial treatment include injection site swelling, tenderness, redness, pain, bruising, bleeding, itching and lumps. Other side effects may include small lumps under the skin that are sometimes noticeable when pressing on the treated area. Larger lumps, some with delayed onset with or without inflammation or skin discoloration, have also been reported.
Sculptra is available only through a licensed practitioner.