If you have facial wrinkles, you've probably thought a little about facelift surgery. After all, it would be nice to regain that smoother complexion and lost volume you had when you were younger. But many of us aren't quite ready for a surgical procedure. Cost and recovery time are amongst the two major reasons people avoid having a face lift surgery. Luckily, there is an alternative with only a fraction of the cost and no downtime. To refresh your appearance without surgery, consider a "Soft Lift" liquid facelift.
A liquid facelift provides similar results without the commitment of a surgical cosmetic procedure by utilizing various cosmetic injections to lift your appearance, smooth wrinkles and fine lines, and restore volume and fullness. Results are near instantaneous and long-lasting, and you don't even have to take time off to recover.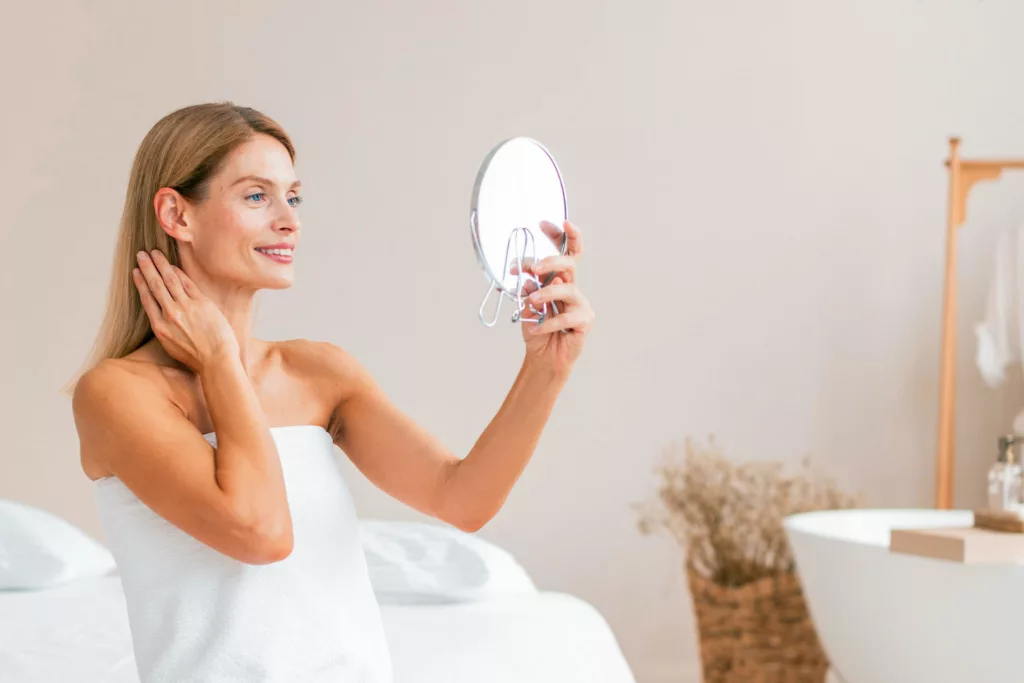 Liquid facelift and "Soft Lift" liquid facelift basics
Liquid facelifts combine multiple non-invasive procedures and injectable fillers for a customized approach to your unique cosmetic goals. By combining BOTOX and dermal fillers, you can achieve the same results as a traditional facelift without having to go under the knife. That means no anesthesia and little to no downtime. And while a liquid facelift generally combines BOTOX with any injectable filler, the trademark "Soft Lift" liquid facelift specifically uses BOTOX with Juvéderm Voluma XC for subtle, natural-looking results. It addresses:
BOTOX Cosmetic + Juvéderm Voluma XC = Soft Lift Liquid Facelift
Both the liquid facelift and the "Soft Lift" are pretty straightforward treatments. Dr. Lacombe carefully selects the areas of the face that can benefit from treatment and the types of injectables that will deliver the appropriate degree of wrinkle correction. Depending on the number of areas to be treated, the procedure should take less than 15 minutes overall. Our providers use the smallest possible needle and a unique technique for a pain-free experience.
If you do feel any discomfort or anxiety before or during your treatment, you can always ask your provider about PRO-NOX.
Recovering from your cosmetic procedure
Thanks to Dr. Lacombe's special technique, recovery after a liquid facelift is fairly quick and any side effects will be mild. Patients may experience some temporary bruising and minor headaches but these should resolve within 24 hours. If you do experience any side effects, apply an ice pack to the treated areas to alleviate any inflammation and discomfort. Although it may seem like a good idea, avoid rubbing anywhere near the injection sites for the first 12 hours. You should also refrain from lying down for the first 4 hours. This is to prevent the BOTOX from migrating to unwanted areas. Remember, BOTOX is not a dermal filler; it does not fill in the skin but instead prevents overactive muscles from contracting.
As for results, many patients begin to see an improvement within the first 24-48 hours. However, results won't be final until roughly 30 days after your treatment. BOTOX results last up to 4 months depending on the severity of the wrinkles treated, but dermal fillers may last upwards of 12 months. Remember that results vary from patient to patient, and that you should discuss your ultimate cosmetic goals with your provider to create a treatment plan that works for you.
No two liquid facelift procedures are the same. Artemedica's Dr. Lacombe tailors each procedure to meet each patient's unique goals. No matter what you're looking to accomplish with surgery, Dr. Lacombe will work with you to make sure you are happy with your results.
"Soft Lift" Liquid Facelift Consultations at Artemedica in Santa Rosa
Dr. Lacombe has devoted his 24 year career to helping Santa Rosa residents reach their facial plastic surgery goals. In fact, he co-authored Lasers in Aesthetic Surgery which is considered a standard must-read textbook for aspiring plastic surgeons. Dr. Lacombe is certified by both the American Board of Facial Plastic and Reconstructive Surgery as well as the American Board of Otolaryngology (Head and Neck Surgery). Many men and women in Santa Rosa and throughout Sonoma County choose Dr. Lacombe as their plastic surgeon of choice because of his experience, his skill, and his passion for helping his patients.
If you are interested in a liquid facelift or other cosmetic injections, please fill out the form below or contact our Santa Rosa (707) 577-8292 surgical office for your free consultation.