If you have facial wrinkles, you've probably thought a little about face lift surgery. After all, it would be nice to regain that smoother complexion and volume you had and look good for your age. But many of us aren't quite ready for a surgical procedure. Cost and recovery time are amongst the two major reasons people avoid having a face lift surgery. Luckily, there is an alternative with only a fraction of the cost and no downtime. To refresh your appearance without surgery, consider a liquid facelift or Soft Lift™ liquid facelift from Santa Rosa rejuvenation specialist Dr. Victor Lacombe.
Liquid facelifts combine injectables and fillers for a custom treatment. Dr. Lacombe is highly skilled in liquid facelift treatments and has performed over 20,000 procedures with liquid facelift products including BOTOX Cosmetic and advanced dermal fillers such as JUVÉDERM VOLUMA XC, Restylane®, RADIESSE®, JUVÉDERM®, Sculptra®, and Perlane®.
While a liquid facelift combines Botox with any of the above fillers, the Soft Lift™ liquid facelift is a combination of the two most popular products on the market today, BOTOX Cosmetic and JUVÉDERM®.
Liquid Facelift and Soft Lift™ Liquid Facelift Basics
The liquid facelift and Soft Lift™ liquid facelift treatments can achieve a smoother skin appearance and an increase in volume, a lot like a surgical facelift.* Over time it is natural for the face to lose collagen and elastin, essential building blocks of youthful skin. The loss of facial volume and elasticity can lead to the wrinkles, creases and folds. In addition, repeated facial muscle movement can cause other unwanted wrinkles.
Dr. Lacombe is recognized by Allergan as a Black Diamond BOTOX/JUVÉDERM/VOLUMA Provider and by Medicis as a Chairman Restylane/Sculptra Provider, signifying extensive experience with products that are used in a liquid facelift procedure. As 1 of 8 National Sculptra Physician Trainers and a trainer for Botox, Restylane, Juvederm, and Voluma he instructs physicians in advanced injection techniques. He is a member of the National top 100 Juvederm trainers.
The Procedure
Both the liquid facelift and the Soft Lift™ liquid facelift are pretty straightforward treatments. Dr. Lacombe carefully selects the areas of the face that can benefit from treatment and the types of injectables that will deliver the appropriate degree of wrinkle correction. Treatment takes only minutes in the comfort of Dr. Lacombe's Santa Rosa office.
Results*
Treatment with injectable fillers results in an immediate improvement to skin smoothness and volume.* BOTOX Cosmetic requires about a week before the muscles causing "dynamic" wrinkles begin to relax, releasing the treated wrinkles.
Soft Lift™ Liquid Facelift by the Decades:
In your 30s
Typically in your 30's you begin to notice a decrease in collagen and elasticity. You'll notice fine lines appearing in areas that you may not have noticed before. Typically these areas include on the forehead, around your eyes, the glabella (space between your eyebrows and above your nose), and around your mouth. The Soft Lift™ liquid facelift treatment is ideal for you if you are looking to rejuvenate your appearance and bring back some youth while slowing down the aging process.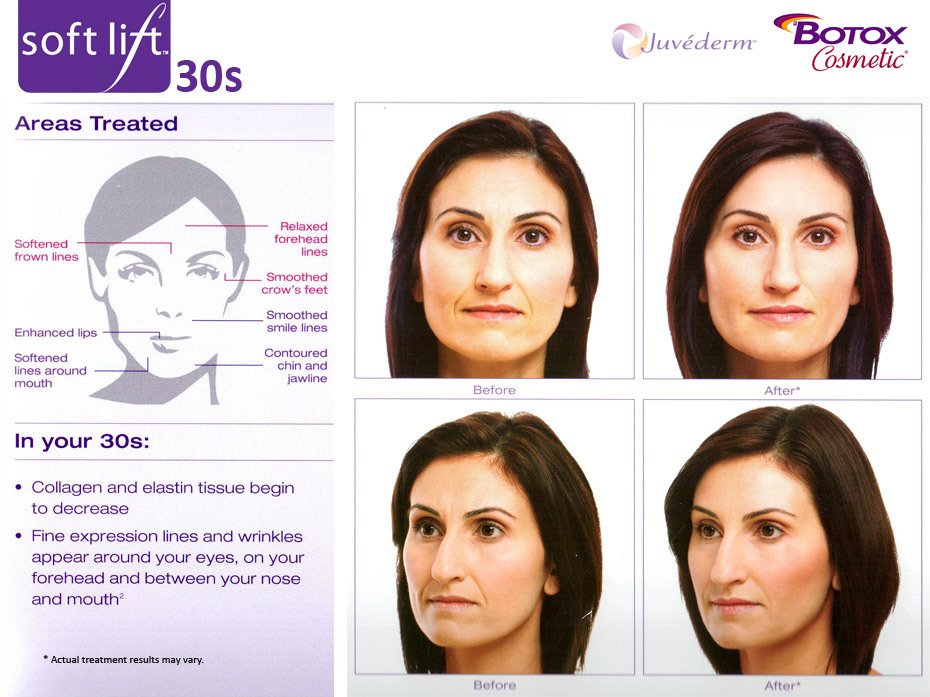 In your 40s
In your 40s you may begin to notice that your once "fine lines" are not so fine anymore and facial volume loss is beginning to become more visible. The lines on your forehead, around your eyes, in the glabella, and around your mouth have most likely deepened. You may notice the area around your mouth has started to create a natural frown-like appearance and your lips aren't as full as they once were. The Soft Lift™ liquid facelift treatment will relax and smooth out your deepened lines and will give you the volume that you desire back.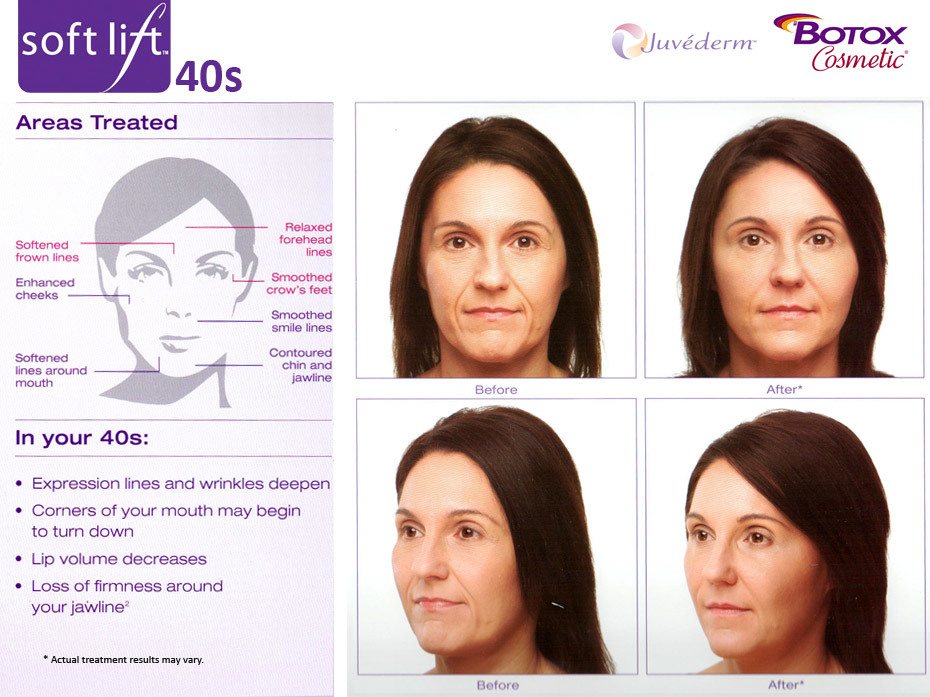 In your 50s
In your 50s you'll continue to notice both a deepening of and increase in lines and wrinkles. In addition, even more volume loss will be visible, especially in your mid-face. Your skin also loses even more collagen in this decade. When you lose collagen your skin can begin to thin and you may feel as though the lower half of your face (and especially your jawline) is appearing to sag. The Soft Lift™ liquid facelift treatment will create a softened and smoothed appearance with added volume.
In your 60s and beyond
As you continue to age and especially in your 60s and beyond your skin has most likely become noticeably thinner, is now loose and saggy, has lost its elasticity, and your wrinkles have extended to new areas. The Soft Lift™ liquid facelift treatment can create a more refreshed look and leave you looking (and feeling) younger. Continued maintenance is recommended to preserve this appearance.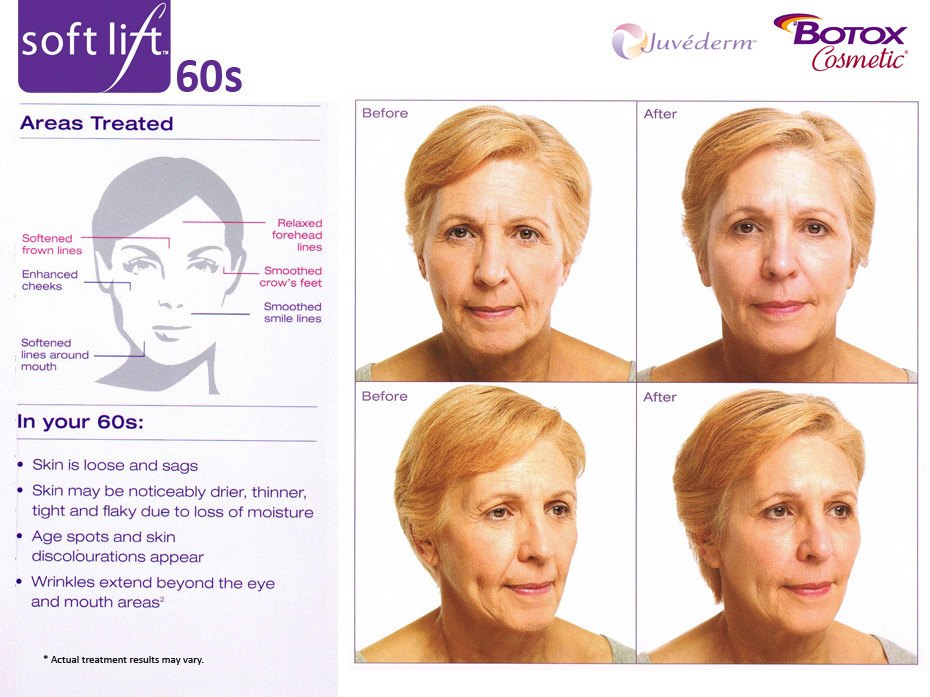 You Have Options
In addition to performing liquid facelifts and the Soft Lift™ liquid facelifts, Dr. Lacombe specializes in facial cosmetic and laser surgery, including the traditional facelift, eyelid surgery, and laser skin resurfacing, all in Artemedica's Santa Rosa offices.
*Individual results and experiences may vary