Kybella vs. CoolMini for Double Chin Treatment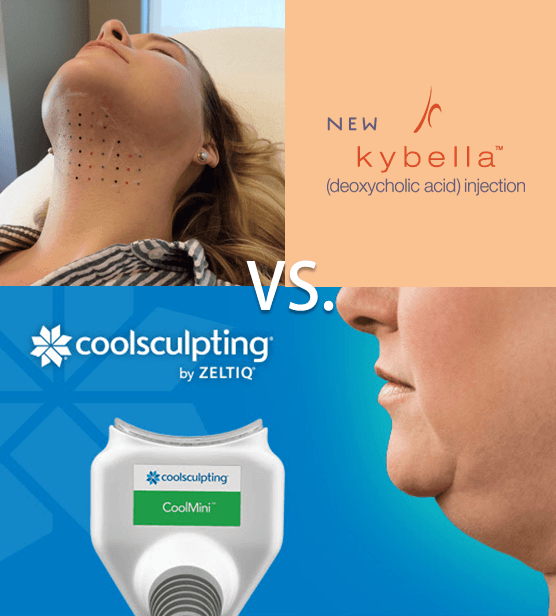 Every year, more and more people become interested in cosmetic procedures. Interest in reducing chin and neck fat (aka double chin) has especially grown in a dramatic way in recent years.
In 2015, Kythera launched its revolutionary Kybella treatment, aimed at reducing the appearance of double chin via injection. The treatment launched to great success, drawing patients with stories of success and the promise of a non-invasive treatment for excess chin fat. Kybella was the first treatment of its kind and the excitement surrounding it was surely justified. Allergan, the makers of Botox, Juvederm and Voluma, went on to acquire Kybella in late 2015.
Recently, however, Zeltiq of CoolSculpting fame threw its hat into the ring as well. CoolSculpting is another cosmetic procedure that had a very exciting and successful launch, offering a non-invasive method of removing fat on larger areas of the body, like the love handles. Zeltiq's new FDA-approved CoolMini applicator takes CoolSculpting to places it's never been before—namely, the chin!
So What's the Difference?
Now that there are two non-invasive cosmetic procedure for addressing a double chin, what are the differences between Kybella and CoolMini?
One thing to note is that, due to the nature of each of the treatments, the result is the same on a cellular level. Both Kybella and CoolSculpting permanently destroy fat cells inside the body and utilize the body's natural functions for the removal of those cells. Since the cells are destroyed, the fat cannot return in the same way ever again.
Treating Double Chin with Kybella and CoolMini
To start with the most obvious difference between the two, Kybella is an injection and CoolSculpting is performed using a cooling suctioned applicator. Each has its advantages, but if you don't do needles then you may already have your answer.
Treatment Duration and Number of Sessions
Kybella offers the quickest treatment times, making it the easiest to pencil in on a lunch break. Each session lasts approximately 15-20 minutes. To achieve their personal best results, patients generally require 2-3 sessions at 4-week intervals.
CoolSculpting takes a bit longer, clocking in at around 60 minutes per session. There's no downtime after the procedure, so you can continue with your day as normal. Many patients see results after a single session, but you may need subsequent treatments to achieve your desired results.
Patient Candidacy
CoolSculpting is a good option for patients with looser skin, as the applicator can more readily target the necessary areas for the best results. CoolSculpting still works for younger patients, but may be hindered if your skin is too taut.
Since Kybella comes in the form of an injection, it's a good choice for anyone experiencing the appearance of fat under the chin.
Results and Side Effects
Patients begin to see the full effect of their results anywhere from two to four months after the treatment. This is mainly due to the fact that the body needs time to process and remove the dead fat cells.
The most common side effects of each procedure are swelling, soreness, and redness, all of which do not last very long. Both Kybella and the CoolMini can cause some numbness in the area, which generally lasts a shorter period of time with the CoolMini.
CoolMini and Kybella Double Chin Treatment at Artemedica!
Know which treatment you want? Still not sure? Artemedica in Santa Rosa and Healdsburg offers both of these procedures to address your double chin, performed by highly experienced professionals. We can help you determine which is the best procedure for you during a complimentary consultation.
If you're interested in removing that unwanted fat for good, give us a call or fill out the form below!