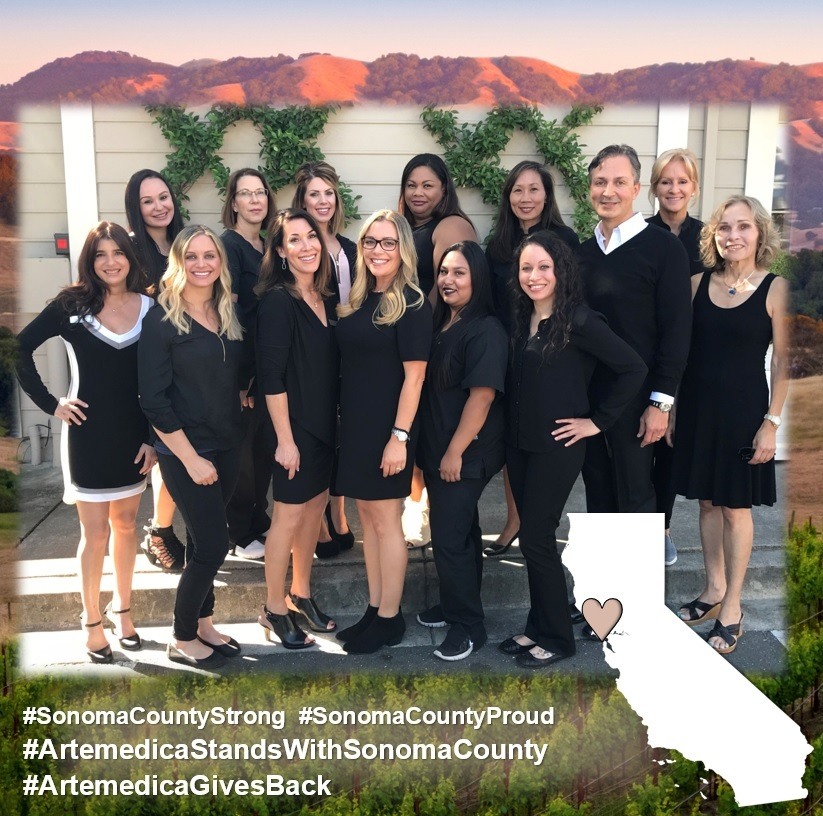 Our hearts continue to ache for those affected by the many wildfires that have destroyed homes and businesses and displaced families in Sonoma County this past week. It is with sincere compassion that we take a moment to mourn the loss of lives and to pray for the families and friends of those who are no longer with us.
The past week has been extremely trying on our community, friends, clients and family here at Artemedica. Members of our Artemedica family have lost their homes, as have many of our amazing friends and clients. We share in the sadness of the entire Sonoma County community. In this past week we have witnessed sadness, loss and destruction like we never imagined possible, but what has stood out the most is the sense of HOPE. In a time of disaster, one can only hope that their community will come together and help one another and we are witnessing just that. We have never been more proud to be members of the Sonoma County and Santa Rosa communities.
As our community sorts through the devastation of these wildfires, we are committed to help. We are dedicated to bring happiness and normalcy back into your lives. Together, we will recover and we will rebuild.
Thank you to the thousands of first responders, both local and from afar, that have worked tireless to save our communities lives, homes and businesses.
In addition to emotional support, Artemedica would like to extend the following tangible support to any fire victim's in our Sonoma County community:
BOTOX – 10% OF ALL BOTOX PROCEEDS WILL BE DONATED
Botox is the staple of any Plastic Surgery practice & here at Artemedica we see hundreds of Botox clients a week. Now through November 30th, we will give 10% of all Botox proceeds back to the community through the Redwood Credit Union Kincade Fire Relief Fund, distributed directly to Sonoma County Fire Victims.
ARTEMEDICA SPA – EXPRESS DERMASWEEP (FREE, a $75 value)
If you've lost your home in the fire, we invite you to take a break and escape the stress with a 30 minute Dermasweep treatment at Artemedica Spa. This treatment will leave your skin softer, smoother, and glowing! Call us today to schedule your appointment before November 30th at 707-577-8292! If you have a friend or family member who lost their home & are not clients of ours, we invite them to come in as well.

Call us today to schedule your appointment before November 30th at 707-577-8292!
ARTEMEDICA – Up to $100 OFF ANY SKIN CARE PRODUCT PURCHASE
If you need to purchase skin care products that were lost, we will provide you with an instant $20 rebate on the purchase of new products over $100 & an instant $100 rebate on the purchase of new products over $400. We want you to wake up in the morning and be able to resume normal simple activities that make you feel good, like cleansing your face & applying your favorite moisturizer & sunscreen. Must purchase by November 15th.
ARTEMEDICA OPTICA – 25% OFF ALL FRAMES & LENSES
We have many that have lost their prescription eyewear & contact lenses, two of many everyday medical necessities. At Artemedica Optica, we can expedite orders to ensure you have your eyewear needs met ASAP. We have an extensive collection of frames, including: Maui Jim, Mykita, Lindberg, Alain Mikli, Persol, Kate Spade, Ray Ban, Rudy Project, LA Eyeworks, Nike & more. For those who do not have vision insurance, we will be offering 25% off both frames & lenses.
#SonomaCountyStrong #SonomaCountyProud
#ArtemedicaStandsWithSonomaCounty #ArtemedicaGivesBack
---
---
To donate directly to the Redwood Credit Union Kincade Fire Relief Fund, see below:
Visit an RCU branch to make a donation.
By mail:
Please make checks payable to RCU Community Fund. Include "2017 North Bay Fire Relief" in the memo, along with a note on which county you'd like to support. Mail to: P.O. Box 6104, Santa Rosa, CA 95406