Stop by our office at 1002 Mendocino Avenue in Santa Rosa to see our Secret Santa Giving tree!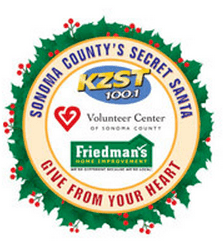 We are proud to be a Secret Santa Business Sponsor! Sonoma County's Secret Santa has brought joy to people in our community for over 20 years!
We have over 50 gifts to fulfill. With your help we hope to fulfill them all! Sonoma County's Secret Santa helps ensure that kids, teens, adults, and seniors who would not otherwise have a holiday gift, are able to smile and have hope during the holiday season.
The helping hand extended by generous individuals and families to individuals & families in need ensures that our hearts are connected!