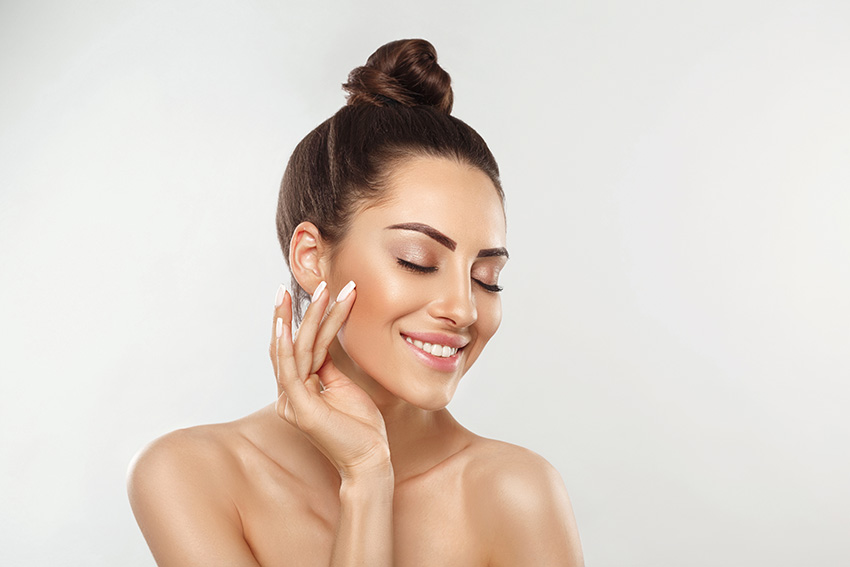 Introducing the Clear + Brilliant Complete Treatment with the New TOUCH Laser Technology!
With the new Clear + Brilliant Complete Treatment with TOUCH Laser – radiant, youthful skin is easier to achieve than ever before!
Clear + Brilliant is already revered as one of the world's most popular non-invasive laser skin treatments. However, the new Clear + Brilliant TOUCH Laser takes it even further with new advancements in laser technology. This advanced skin rejuvenation system introduces the cutting-edge TOUCH laser. This laser helps improve the appearance of your skin with more customizable solutions and personalized results.
Read on to learn more about the new Clear + Brilliant Complete Treatment at Artemedica and the amazing benefits of TOUCH laser technology!
Clear + Brilliant vs. Clear + Brilliant Complete
The first Clear + Brilliant system featured two separate headpieces designed to treat various skin issues and concerns. The Original headpiece delivers wavelengths beneath the surface of your skin to treat texture concerns. On the other hand, the Perméa® handpiece focuses wavelengths on your skin's exterior to improve issues like tone and pigmentation.
The new TOUCH Laser features dual-wavelength technology. It combines the Original and Perméa® headpieces in one device to create the Clear + Brilliant Complete Treatment! This allows our skincare technicians to seamlessly switch between optimal wavelengths. We can effectively treat your skin's texture, tone, and pigmentation issues in a single session, with one complete device.
The TOUCH Laser
The new TOUCH laser utilizes the same state-of-the-art fractional laser technology that this skin treatment is notorious for. However, this modern device has been redesigned to provide a more personalizable experience to achieve your desired results. With the innovative Clear + Brilliant TOUCH laser, we are able to target even more of your skin concerns at the same time with new dual-wavelength technology.
Our skincare experts can now switch between two different handpieces. Therefore, we can focus on complexion issues occurring on the surface of your skin and within the underlying tissues in a single session. This new laser skin treatment is gentle enough for all skin types. And it delivers powerful results and healthier, desirably younger-looking skin.
Experience Customizable Treatments with Clear + Brilliant Complete
This treatment is clinically proven to provide visible results on people of all ages and with any skin type. The dual-wavelength laser technology allows us to customize each of your treatments like never before. This way we can provide you with even more personalized results.
Struggling with skin texture? We can target tissues below the surface of your dermal layer to improve the appearance of fine lines and minimize pore size. Likewise, we can even boost collagen production for healthy youthful-looking skin. We can also target exterior concerns. This includes evening your skin tone, reducing pigmentation, and even improving your skin's ability to absorb skincare products. All in one session!
What to Expect from Treatments
All it takes is one 30 minute treatment to leave your skin looking and feeling more youthful, smoother, and radiant. Our technicians will apply a topical numbing cream to help prepare your skin for the treatment and ensure you remain comfortable throughout your session. Not to mention, the TOUCH laser is gentle enough to require no downtime after your treatments, and you can even start your normal skincare routine the very next day.
Following a treatment, most patients report little to no discomfort or pain. However, it is not uncommon to see some skin flaking anywhere from four days to two weeks after your treatment. After all, to ensure optimal results you will want to stay out of direct sunlight, and apply broad-spectrum, high-SPF sunscreen anytime you go outside.
The New Clear + Brilliant Complete Treatment with TOUCH Laser Technology is Available Now at Artemedica!
Looking to achieve and maintain youthful glowing skin? The new Clear + Brilliant Complete laser treatment may be perfect for you! With the cutting-edge TOUCH laser, our skincare experts can visibly improve the look and feel of your skin. The Artemedica team is here to answer all your questions about laser skincare treatments, and create a customized treatment plan based on your unique goals and concerns!
Call our office at 707-577-8292, or contact us online to schedule your free treatment consultation today.