Enjoy Life with Great Looking Skin!
Introducing one of the most popular laser skin treatments on the market – Clear and Brilliant is now available in Santa Rosa!
The Clear and Brilliant laser skin treatment is a pioneer in non-invasive preventative skin care that can help avert the visible signs of aging and address the overall effects of time and the environment on your skin. A single treatment can leave your skin feeling smoother, looking younger, and deliver a "radiant glow".
The Celebrity-Endorsed Laser Skin Care Treatment
Famous model and actress Christie Brinkley, recently told PEOPLE Magazine that she relies on Clear and Brilliant laser treatments to keep her skin looking young.
"I grew up in Malibu then my real job of modeling took me to beaches all over the world and under the sun. I really am aware of all the sun exposure I've had in my life and I'm interested in things that they can do to [reverse the sun's effects]," she tells People, saying that she'll get Clear and Brilliant laser treatments.
Drew Barrymore recently dished her beauty routine to the New York Times and revealed her annual Clear and Brilliant treatment to counteract her melasma. Check out her Instagram page to see a shot of her fresh face immediately following her treatment.
How Does Clear and Brilliant Work?
Clear and Brilliant is a gentle treatment that utilizes fractional laser technology to create millions of microscopic treatment zones throughout the upper layers of the skin which stimulates the replacement of damaged skin with new tissue – yielding healthy, younger looking skin.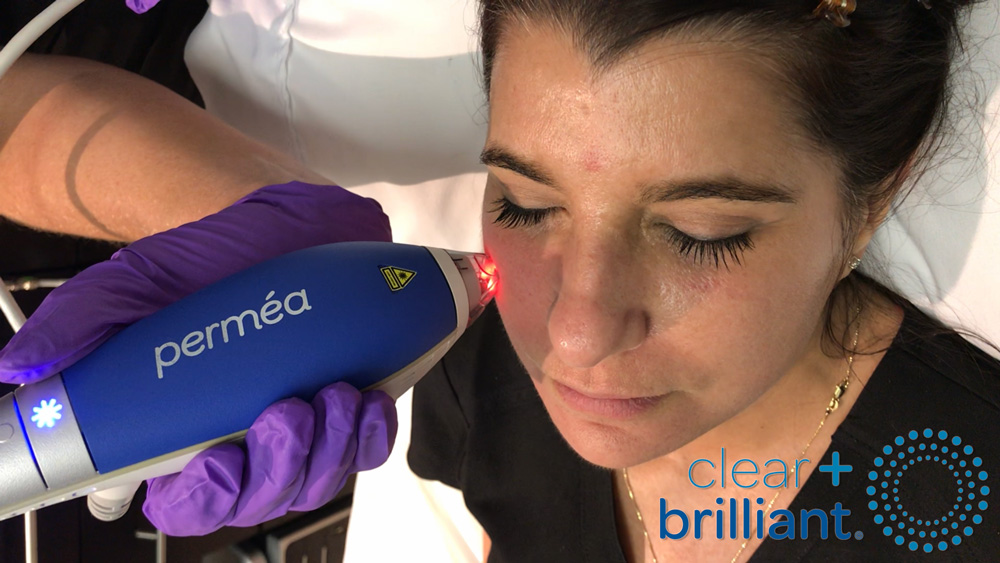 Routine treatments will deliver noticeable results that will keep others trying to guess your secret.
There are two handpieces in the Clear and Brilliant system. The Original focuses on skin texture concerns, while the Perméa handpiece focuses on improved skin tone such as hyperpigmentation and melasma. Both are optimized for improved skin tone, texture, and enhanced skin permeability to increase the known benefits of topical skincare products applied following treatment.
The Clear and Brilliant Procedure
The Clear and Brilliant laser system is based on advanced technology, but the treatments are simple. After a complimentary skin care consultation to determine whether Clear and Brilliant is right for you, your complete treatment session will require about 30 minutes to perform. Clear and Brilliant treatments are quick and gentle with little to no downtime. Treatment may involve the application of a topical numbing cream to your face for patients with sensitive skin to provide optimal comfort.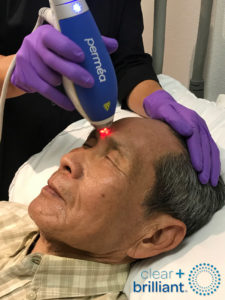 Treatment is delivered by gently guiding the Clear and Brilliant hand piece across the targeted area for approximately 15-20 minutes and utilizes the patented Intelligent Optical Tracking System to ensure your skin care professional maintains proper contact with your skin and provides a uniform application to all treated areas.
Immediately following your Clear and Brilliant treatment you may return to your regular daily activities but should avoid spending time in direct sunlight without sunscreen. Your skin will become a little pink and mild swelling can occur but will diminish within 12-24 hours. You may experience dryness or itchiness in the following days as the skin exfoliates but this is your skin's natural renewal process.
It is recommended that you refrain from wearing makeup or using certain skin care products during the first 24 hours following treatment to avoid unintended effects while your skin recovers from the laser treatment. We can advise you on the most beneficial products to use doing this healing period to help boost your skin's new healthy glow.
Clear and Brilliant Results
The results of a Clear and Brilliant procedure are both immediate and progressive. Following treatment, your skin will feel softer and smoother with an improved tone giving you a more youthful and radiant glow within 1-2 weeks. Results can last for months depending on your age, current skin condition, and how you protect your skin.
With Clear and Brilliant…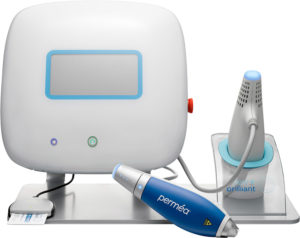 Improve the look of fine lines
Reduce the appearance of pores
Improve skin tone & texture
Improve your skin's overall appearance
Your skincare concerns and desires will determine the number of treatments needed. Most people see optimal results after 4 treatments spaced 2-4 weeks apart. Following your treatments, you will want to be mindful of your sun exposure and wear sunscreen to protect your new skin and consider periodic maintenance treatments to preserve your results. Some patients incorporate the Clear and Brilliant treatment as part of their overall skin care regimen. You and your skin care provider can discuss a personalized treatment regimen tailored just for you.
Candidates for Clear and Brilliant
Clear and Brilliant is great for women and men alike who are looking to maintain their youthful appearance and fight the early signs of aging. No matter how old you are – sun exposure, environmental conditions, and lifestyle can all contribute to lackluster skin. Whether you would like to prolong the youthful appearance of your skin or address the visible signs of aging, Clear and Brilliant can help.
Clear and Brilliant Laser Skin Care at Artmedica in Santa Rosa
Keep your skin looking it's youthful best. Call us or fill out the form below to schedule a complimentary consultation with the skincare experts at Artemedica today! Together we can discuss your treatment goals and find out if Clear and Brilliant laser skin care is right for you.