CoolSculpting Elite Non-Surgical Body Contouring Treatments Offer the Most Advanced Fat Reduction Technology Yet
The brand new CoolSculpting Elite body contouring system is available now at Artemedica! This non-invasive treatment represents the latest in CoolSculpting® technology and takes full-body fat reduction to a whole new level.
Our body contouring experts at Artemedica work closely with men and women throughout Sonoma County to find customized solutions to their unique body goals. With the CoolSculpting Elite system, we can create a personalized treatment plan that pinpoints the exact areas of fat you want to eliminate to achieve your ideal figure.
Read on to learn how the CoolSculpting Elite system is redefining non-surgical body contouring treatments with cutting-edge fat reduction technology.
Experience the Difference
CoolSculpting is already the #1 body contouring treatment in the world for both men and women. This innovative treatment delivers targeted cooling technology to literally freeze and kill stubborn fat cells that are resistant to diet and exercise alone. After each treatment, your body naturally sheds the dead fat deposits, resulting in a slimmer and more defined physique.
The new CoolSculpting Elite system features the same state-of-the-art "cooling" technology but has been redesigned to eliminate fat cells faster and target more areas of your body. This innovative treatment is safe, precise, and painlessly reduces body fat with more personalized results.
The New Applicator Collection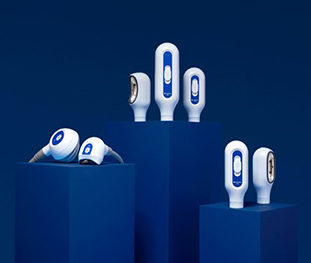 The CoolSculpting Elite device features seven new applicators that have been optimized for fit, comfort, and treatment efficiency. Each applicator is designed to target specific areas of your body and accommodate your unique curvature.
The redesigned elite applicator collection provides up to 18% more surface area contact, increased suction, and even more targeted cooling. The innovative CoolSculpting Elite system also features two applicators that allow for twice the fat removal with one machine.
Get Full Body Fat Reduction
Weight loss and fat loss may sound like the same thing, but when it comes to contouring your body to reach your ideal physique, they are completely different. When you lose weight with diet and exercise you don't always see the results you hoped for. Clothes may fit awkwardly and hug your problem areas, leaving you feeling less confident, even after all your hard work.
With targeted fat reduction treatments you can actually change the shape of your body and achieve a more defined figure. CoolSculpting Elite is the first and only FDA-cleared system that targets nine common problem areas and can reduce body fat by up to 25%.
CoolSculpting Elite Treatment Areas for Men and Women:
Jawline
Under the chin (Submental)
Upper arms
Upper chest (Pectoral area)
Bra bulge (Back fat)
Love Handles (Side flanks)
Lower stomach (Abdominals)
Under buttocks (Banana rolls)
Thighs (Inner, outer, and distal)
CoolSculpting Elite body contouring treatments go beyond weight loss, and deliver targeted fat loss that sculpts your body so you can look and feel your best every day. Our body contouring technicians can address more areas of fat and even treat two areas at once with the same machine. This provides faster treatment times, increased comfort, and personalized results like never before.
Eliminate Body Fat Without Surgery with Our New CoolSculpting Elite Treatments at Artemedica in Santa Rosa
If you are looking to reduce stubborn body fat deposits without undergoing invasive surgery, our new CoolSculpting Elite treatments could be your answer to the physique of your dreams. At Artemedica, our body-contouring technicians want to help you achieve your goals to look your best and feel confident every day!
Contact the Artemedica team by phone at 707-577-8292 or online to schedule a complimentary body contouring CoolSculpting Elite consultation. We are eager to answer all your questions about our new elite fat reduction system, and create a personalized treatment plan just for you!