Get Thicker, Fuller, and Healthier Hair with Keravive Scalp Treatments
Over 30% of people in the U.S. are dealing with thinning hair. With millions of hair care treatments, tips, and tricks available on the market these days there is still one secret no one is talking about! What's the first step to having healthy hair? Having a healthy scalp!
Introducing HydraFacial Keravive for scalp health! These scalp treatments are designed to cleanse, stimulate, and nourish your scalp, resulting in thicker and healthier-looking hair! Perfect for both men and women of all ages, this non-invasive procedure has a number of benefits.
Benefits of Keravive Scalp Treatments:
– Deep cleanses your scalp
– Exfoliates dead skin
– Stimulates hair follicles
– Hydrates your scalp
– Nourishes hair roots
How Do Keravive Scalp Treatments Work?
Keravive scalp treatments go way beyond normal washing or scalp massage. With advanced HydraFacial technology, we will cleanse and exfoliate your scalp to remove excess oil, dirt, and microscopic build-up & debris. This allows the powerful growth serum to penetrate deeper into your scalp. The advanced Keravive serum is 200 times more concentrated than other treatments on the market, resulting in the growth of healthier and thicker-looking hair.
What Can I Expect From My Keravive Treatments?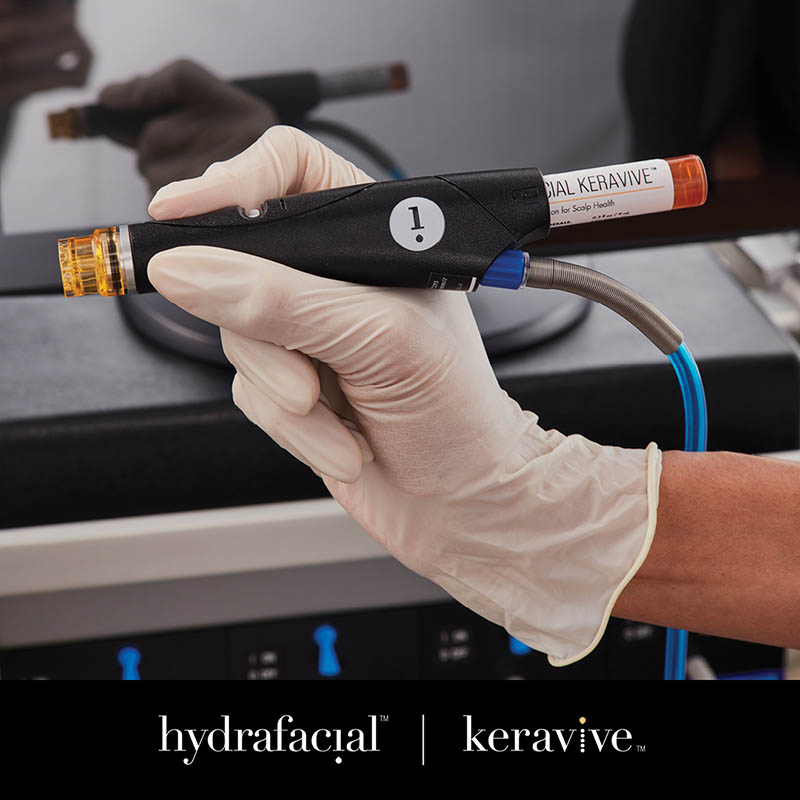 Many of our Sonoma County patients at Artemedica are surprised to learn their Keravive appointment will only take about an hour! This perfect "lunch break procedure" only requires your hair to be dry and clean before your treatment.
Every Keravive appointment at Artemedica is a simple in-office procedure and will be personalized just for you. Whether you want to cleanse your entire scalp or focus on a trouble area, we are more than happy to curate the treatment for you. Our expert Keravive technicians recommend a series of three treatments once a month, for three months. After each treatment, you will receive a powerful daily hair serum to use at home until your next treatment.
Keravive Cleanses and Exfoliates Your Scalp
During the cleansing and exfoliating steps, we will use our HydraFacial machine to remove any dead skin, built-up product, or other harmful debris from your scalp and deep within your hair follicles.
Stimulate and Nourish Your Hair Follicles with Keravive Treatments
This treatment is completely pain-free and non-invasive. The HydraFacial Keravive treatment stimulates your hair follicles and scalp through suction and message, increasing your blood flow to your head. Once your scalp is prepped, our expert Keravive technicians will infuse a powerful scalp serum of growth factors and skin proteins deep in your hair follicles.
Extend and Enhance Your Keravive Procedure With Take-home Treatments
The final step in the Keravive scalp rejuvenation process is your daily use of the take-home serum. This at-home spray helps deliver ongoing health benefits to your scalp and enhances the results in between your treatments at Artemedica.
Are Keravive Scalp Treatments Right For Me?
Over 60 million men and 30 million women are struggling with damaged or thinning hair. This can be emotionally taxing and disruptive to your everyday routine.
Signs Of Poor Scalp Health
– Thinning hair
– Flaky skin
– Dry or itchy skin
– Damaged hair strands
– Overly oily scalp
– Clogged hair follicles
If you suffer from damaged looking hair, or are noticing your hair is thinning in places, it may be due to poor scalp health. Keravive Scalp Treatments from HydraFacial is clinically proven to improve scalp health for any all scalp and hair types.
Try HydraFacial Keravive Scalp Treatments at Artemedica in Santa Rosa
Ready to see what HydraFacial Keravive treatments can do for the health of your scalp and hair? If you want visibly thicker and healthier hair, our trusted skincare experts at Artemedica in Santa Rosa are here to help. Contact our team online today to schedule your complimentary HydraFacial Keravive consultation.