THE NEW COOLSCULPTING APPLICATOR COOLSMOOTH™ COMING TO ARTEMEDICA APRIL 1ST!
Breakthrough Technology to freeze away body fat now able to target areas that could not be treated before
Santa Rosa-Based Plastic Surgeon Dr. Victor Lacombe among first to offer new CoolSculpting CoolSmooth™ applicator in the Bay Area
CoolSmooth™, a new applicator for CoolSculpting®, an innovative technology that freezes away unwanted fat, is available April 1st at Artemedica, the Santa Rosa Plastic Surgery office of Dr. Victor Lacombe, making it one of the first medical practices in the San Francisco Bay Area to offer this breakthrough in non-invasive fat reduction targeting areas that could not be treated before.
Unlike the other CoolSculpting® applicators, CoolSmooth™ is a non-vacuum based cooling system so it does not require that there be enough fat to "fill" the applicator like previous released applicators. The new CoolSmooth™ applicator has three flat panels that will be held into place with a band. The total panel area measures 5 by 7 inches, much larger than previous areas.
For now, the indicated area of usage is the outer thighs. However, we will be testing several other areas to see the effectiveness. The only downside to the new CoolSmooth™ applicator is that it requires twice the amount of time as previous applicators. (2 hours vs. 1 hour).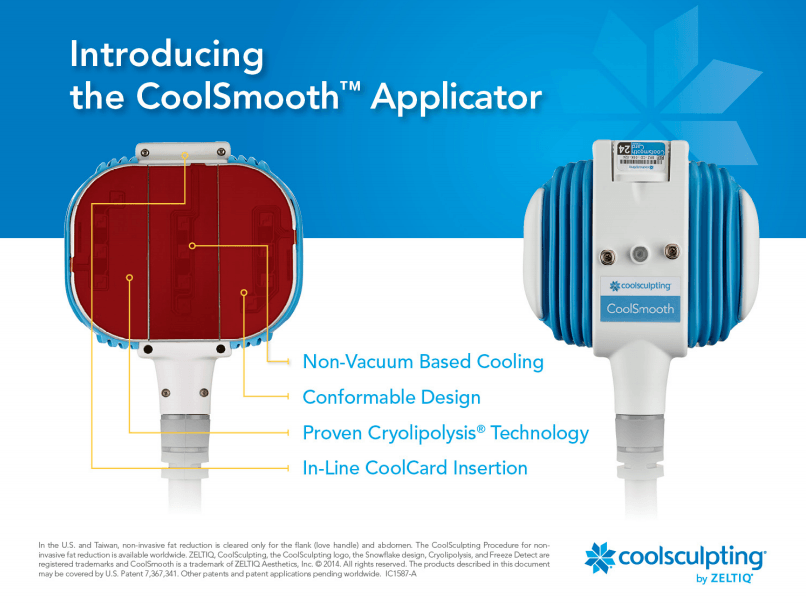 The FDA is expected to approve the CooLSmooth™ applicator this week.