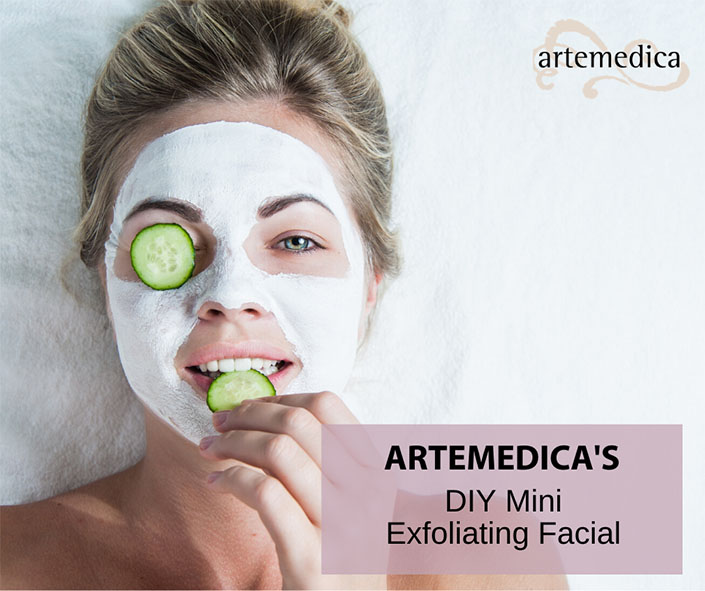 Create a Nighttime Mini-Exfoliating Facial Routine at Home to Reduce Stress
Nothing beats the relaxing experience and stress-reducing benefits of a professional facial from our aestheticians at Artemedica. While we look forward to inviting you back to our office as soon as possible, in the meantime we want to help you create a mini-exfoliating facial routine you can do at home! Between professional treatments, this skincare regime can help reduce the signs of stress on your skin, and keep you feeling and looking your best.
How Often Should I Do Facials at Home?
Our skincare experts at Artemedica recommend considering your skin type before doing regular mini treatments at-home. Between professional spa facials, you will be able to personalize an at-home skincare schedule based on your skin's behavior. The products we suggest in this mini facial will benefit all skin types and can be done one or two times per week, right before bed.
Why is a Nighttime Facial Treatment Important?
While you sleep your skin naturally heals faster, so special treatments and deep exfoliating cleansers have better results at night. Saving targeted care for the evening provides your skin with more time to revitalize, and will leave you looking and feeling refreshed.
How to do a Mini Exfoliating Nighttime Facial at Home to Reduce Signs of Stress
Follow these steps below before bedtime to help eliminate the signs of stress and wake up the next morning with healthier-looking skin:
Step 1: Wash Your Hands
The first step in any skincare routine will be washing your hands. This will help reduce spreading pore-clogging oils and harmful pathogens. With freshly clean hands, wet your face with warm water.
Step 2: Cleanse with Alastin Gentle Cleanser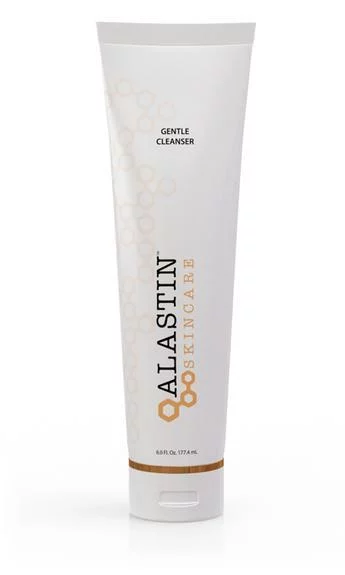 Begin cleansing your skin with our Alastin Gentle Cleanser by lightly massaging into your face and rising it away. Avoid getting it in your eyes. If contact does occur, flush your eyes thoroughly with water.
This cleanser is great at removing impurities without irritating or drying out your skin. This product is designed to clean, soothe, and soften your skin with each use. It is formulated with a unique blend of vitamins and moisturizers that don't throw off your skin's delicate moisture balance.
Step 3: Exfoliate with Green Tea Collection EXFOLIATE Scrub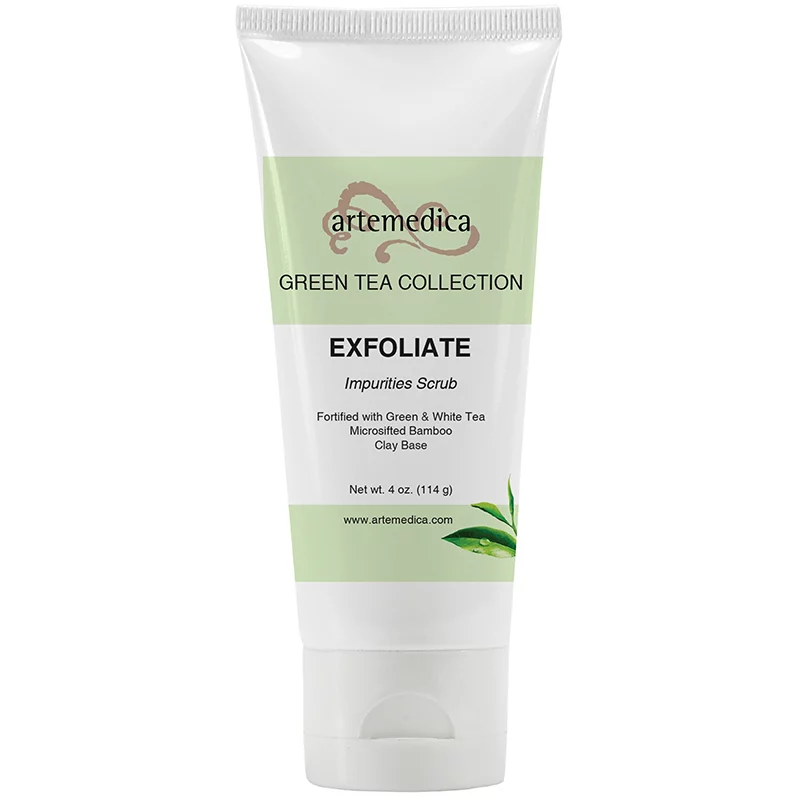 Pat your face dry with a clean towel and begin to apply a moderate amount of the Green Tea EXFOLIATE Scrub to your face. Once fully applied, wet your hands and continue to massage the water into the scrub in a circular motion. Take a moment to relax and let the mixture sit on your face as a mask – using cucumber slices over your eyes actually hydrates and reduce puffiness! After ten to twenty minutes, rinse the mask away with lukewarm water and towel dry.
Our Green Tea Scrub delivers a soothing wave of heat while gently removing excess oil, dead skin, and other micro debris with its deep penetrating formula. This will help rejuvenate your skin by removing layers of build-up and revealing healthier skin beneath.
Step 4: The Colorescience Total Eye® Treatment
Once your skin is clean and exfoliated, you will apply Colorescience Total Eye® Concentrate and eye masks (included in the Total Eye Regimen) to your undereye area. Start from your inner corner, extending towards your outer eye, leaving a comfortable amount of space between the mask and your eye line. Let sit for at least ten minutes and remove gently, peeling the mask back starting from the inner corner.
Our Colorescience Total Eye® kit is formulated with powerful ingredients with lasting results that will leave you looking more refreshed and distressed. See the immediate results that minimize the appearance of fine lines, wrinkles, puffiness, and dark circles.
Step 5: Apply SkinMedica HA5 Serum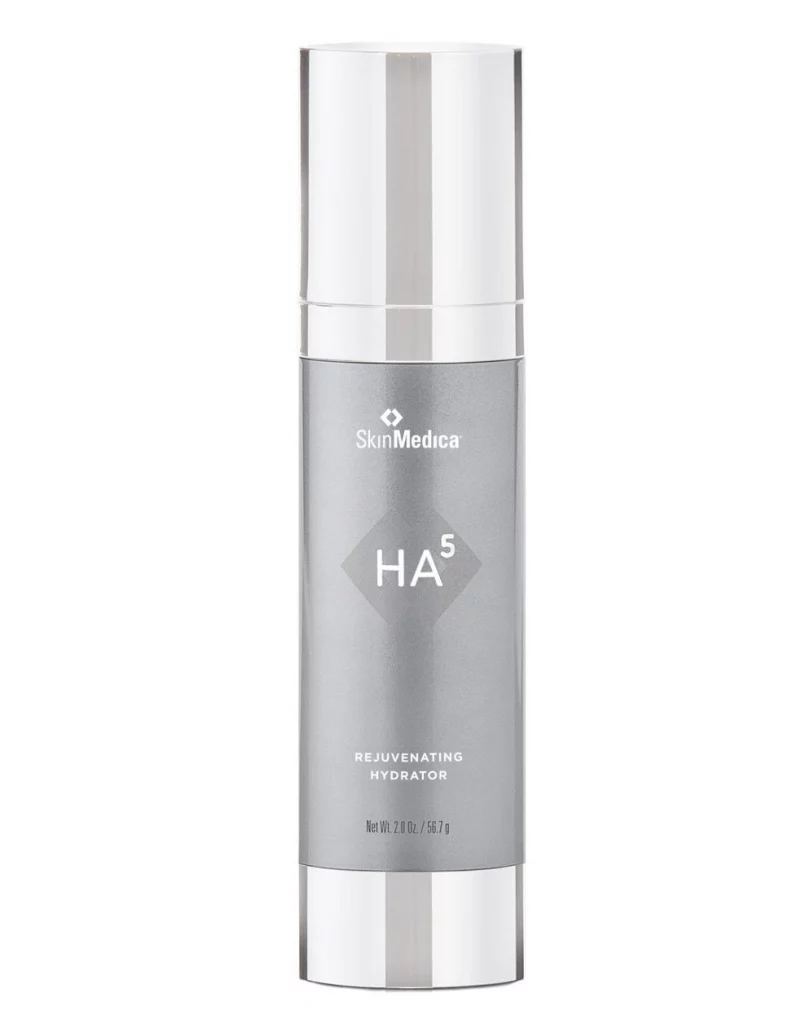 Activate the Skinmedica HA5® formula by wetting your finger with water first. Then apply the product to your face, neck, chest, or any area where your struggle with fine lines and wrinkles. Remember to avoid getting this in your eyes, and flush out with warm water if contact occurs.
Skinmedica HA5® shows immediate results and smooths the appearance of fine lines and wrinkles while supporting your skin's ability to retain moisture naturally. Using this product regularly will leave your skin rejuvenated and more radiant.
Step 6: Moisturize with Green Tea Restore Cream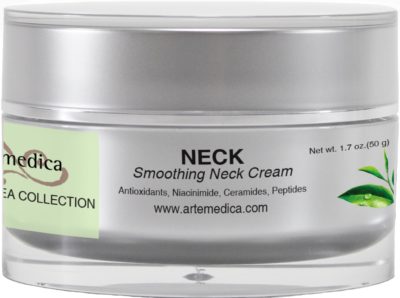 The final step in any good mini facial is to moisturize your skin with Green Tea Restore Night Cream. Its high-performance ingredients nourish your skin by repairing its natural barrier and restoring firmness. Our Green Tea Restore formula combats dryness, reduces signs of aging and stress, and leaves your skin looking younger and more hydrated.
Shop Artemedica Skincare Online and Get Skincare Products Delivered to Your Door
We are all eager to welcome you back to Artmedica as soon as possible but until then, we want to help you start an at-home skincare routine. All of our high-quality skincare products are available in our online store for home delivery! Don't miss out on our amazing offer and get Free Gifts With Purchase on select products!
Contact our experts online today if you have any questions, and we look forward to seeing you in our office again soon.