May 22, 2020 Update:
We are so excited to be back in the office with our amazing team & clients. Please call us at 707-577-8292 to schedule your upcoming appointment.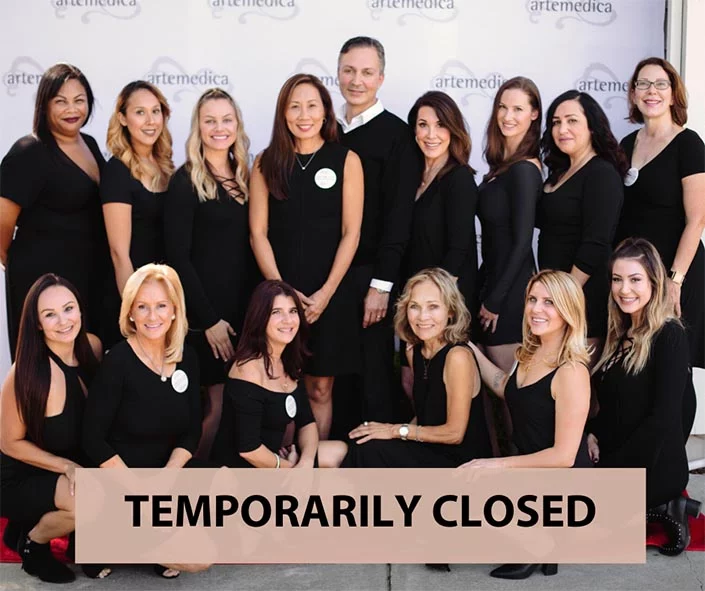 May 4, 2020 Update:
Thank you for supporting Artemedica during this shelter in place. We are so eager to see all of you again & we know you're eager to return to your favorite treatments and providers. We are still waiting on guidance from local lawmakers and government officials for more information on when we may reopen safely.
In the meantime, we are implementing additional safety and hygiene protocols to ensure both our clients and employees are safe when we do reopen. When we do reopen, you can expect these additional measures in place:
Social Distancing measures throughout the office
Health screenings for clients and staff
Sanitation stations for clients and staff
Masks worn throughout office by clients and staff
Until we're able to see you in person again, feel free to contact us by email at questions@artemedica.com. In addition, our online store is open for you to shop for your favorite products with us. And lastly, we thank you for all your support and can't wait to see you, very soon.
April 1, 2020 Update:
Artemedica Santa Rosa Office Will Remain Temporarily Closed Due to Stay in Place Extension
We are devastated to announce that the temporary office closure has been extended through May 3rd. We are looking forward to re-opening as soon as the Shelter-In-Place order has been lifted, which is scheduled to be ‪on May 4th.‬ We miss all of you so much; however, our priority has always been maintaining the health and safety of our clients and team members as guided by the CDC & Government Officials.

If you have an appointment with us in April or early May, we will be contacting you soon to reschedule that appointment.

Should you need skin care products during the time of our closure, our e-commerce site will remain open‬. Please note, there may be a 1-2 day delay in shipping.

We will continue to check our emails at questions@artemedica.com.

We sincerely apologize for any inconvenience this may cause, and we look forward to seeing you back in the office when the 'Shelter-In-Place' order has been lifted. 🤍
Please stay safe.
Love, Team Artemedica
Schedule Your Next Appointment At Artemedica
We will reopening soon! Submit your appointment request today!