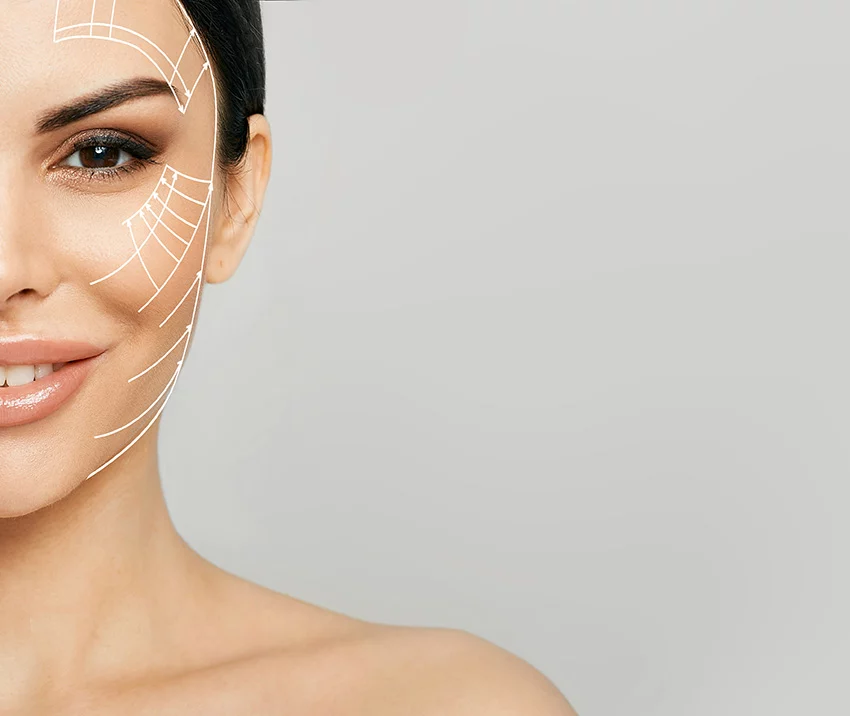 We are excited to share that there is a new product joining the Restylane family: Restylane® Contour. This hyaluronic acid dermal filler by Galderma can enhance your cheeks and correct midface contour deficiencies while maintaining expressivity in the cornerstone of your face. It enhances your natural beauty without sacrificing any emotional range. Hyaluronic acid is a natural substance found in skin that tends to be lost as we age, so any product that replaces it will usually lead to a more youthful look.
Confidence with Contour!
In the phase 3 trial as part of the FDA approval process, an incredible 98% of patients were still pleased with the results one year after the injection, and 70% rated the results "fantastic." While Restylane injections typically only last about 12 months, they can potentially have long term benefits in some faces if they prevent early sagging. And where most fillers are best for patients in their 30s or older to replace a youthful look rather than enhance, Contour offers the precision and flexibility to sculpt your face even if you're on the younger side (but older than 21).
What Makes Restylane® Contour Different from Lyft and Other Products?
You might already be familiar with Restylane Lyft, which is also FDA-approved for cheek enhancement. If you are simply looking for a bit more fullness, Lyft might do the trick, but Contour allows for precise sculpting to change the shape of your cheeks. Contour uses specially formulated XpresHAn Technology™ for an ultra-smooth gel, which lets you reshape and contour your cheeks while maintaining your full expressive range. It also means almost 15% less volume of filler is required compared to other fillers for ideal results. This is the same technology used in Restylane Defyne for reducing chin retrusion without sacrificing the full range of movement of your lips. All Restylane formulations are slightly different to specifically target certain locations of the face or body.
Replace Contour with Contour
Do you spend a lot of time and money on contouring makeup to shape your face? With an application of Restylane Contour, you could save many hours shaping your face with contour makeup, since the procedure will give you a more ideal shape to begin with. You might even use less makeup on other parts of your face if you felt you were compensating for weaker cheekbones. While Restylane or another procedure might seem pricey, if it replaces hundreds of dollars of makeup each year, never mind the time spent applying that makeup, it could be much cheaper than the initial cost indicates. Of course, if you enjoy makeup, then stronger cheekbones can give you more options to play with as well!
Redo, Undo, Copy & Paste
While most people are happy with the results, if you are unsatisfied, it is easy to have a second procedure to apply more Contour or another Restylane product, or the product can be dissolved to return your face to its original state. Since the healing period is typically brief compared to a surgical procedure, you don't have to worry about a permanent or long-term, unwanted change or many months of healing. Some patients might prefer or require a permanent, surgical procedure for the results they want, but if you are feeling unsure, Contour is a great temporary solution, try-out, or even a safe, yearly procedure.
Safety and Side Effects of Restylane® Contour
As a natural sugar found in skin, Hyaluronic Acid, the active ingredient in Restylane, is generally well tolerated and provides reliable results with only mild, short-lived side effects in the vast majority of patients. HA has been used for decades with no long-term effects. Like all Restylane products, Restylane Contour is a non-surgical procedure that usually requires less than an hour. However, patients with severe allergies (especially to lidocaine, gram-positive bacteria, or pharmaceuticals that led to hospitalization), bleeding disorders, or who are taking medications that weaken their healing response should avoid Restylane. To minimize side effects, which can include bruising, redness, and swelling, avoid alcohol, aspirin, and ibuprofen for three days after the procedure, and longer if you have persistent side effects or are on blood thinners. Also, wear plenty of sunscreen on your cheeks while they heal. An ice pack can help minimize swelling.
Feeling Cheeky (or not?) Get a Free Consultation to See if Restylane® Contour is Right for You!
If you're interested in enhancing your cheeks, Dr. Victor Lacombe can recommend and inject the right product for your needs, whether that is Restylane Contour, Lyft, or something else. Dr. Lacombe is a top 100 injector of dermal fillers that has improved the confidence of thousands of patients through fillers and other body and face enhancements.
Contact us at either our Santa Rosa or Healdsburg office to set up your free consultation today!