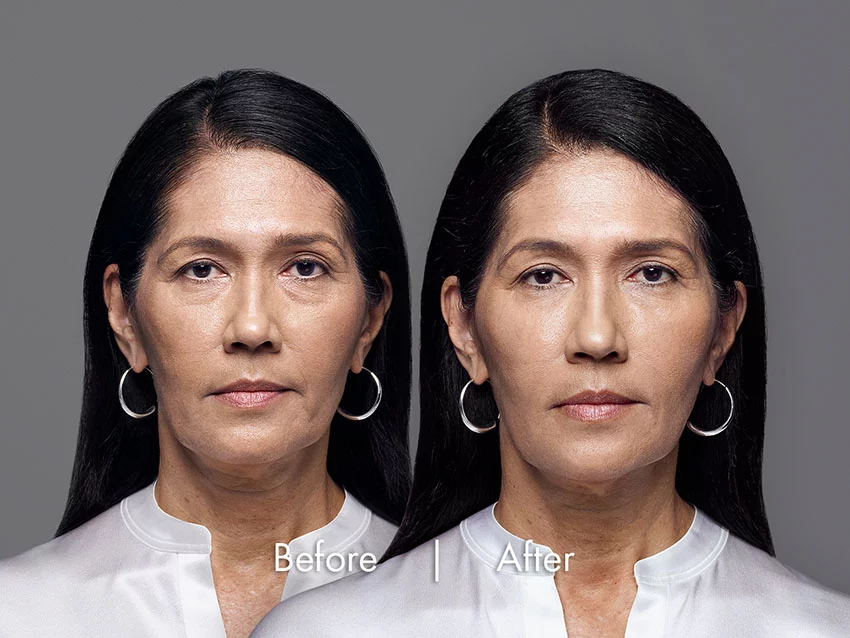 4 Reasons RHA Fillers Are the Best Treatment for Dynamic Wrinkles
Hyaluronic Acid (HA) fillers have been FDA approved for cosmetic use for over 30 years, and have quickly become one of the most popular wrinkle treatments worldwide. Since then, research and technology have paved the way for the production of highly advanced products with even more targeted uses.
The new collection of RHA fillers represent the latest advancements in the science of hyaluronic acid fillers and their effectiveness in treating dynamic wrinkles. But what actually sets the RHA Collection apart from other dermal fillers? Read on to find out!
1. Advanced Hyaluronic Acid Formula
As we age, our body starts producing less hyaluronic acid which causes our skin to lose its youthful fullness and makes fine lines and wrinkles appear deeper and more pronounced. Hyaluronic acid fillers, like RHA, restore volume to your dermal tissues, significantly reducing the appearance of expression lines and dynamic wrinkles.
RHA fillers are specifically designed to be more like the natural hyaluronic acid found in your skin already. This unique formula looks and feels more natural allowing the filler to move and act more like your organic HA.
2. RHA Fillers Don't Immobilize Facial Muscles
Not only is the RHA formula itself more natural, but the results are as well. To reduce the appearance of dynamic wrinkles, most injectable fillers tend to immobilize facial muscles which can cause patients to appear expressionless. The RHA Collection is the world's first and only FDA-approved filler for dynamic wrinkles that doesn't immobilize your facial muscles. RHA actually moves with your face, stretching and adapting to your movements, so when you talk or smile and then relax it appears much more natural.
3. RHA Fillers Provide Longer Lasting Results
Most HA injectables will last about 6 to 12 months and fillers used around highly mobile areas like in your lips or around your mouth tend to last for shorter periods of time. Through clinical studies, the RHA Collection has been proven to last as long as 15 months no matter where they are injected.
RHA fillers are able to restore youthful plumpness to your skin while also stretching to accommodate dynamic movement without losing its shape. Over time our bodies will naturally metabolize the filler, but the advanced RHA formula prolongs this breakdown, providing results that last longer and look more natural.
4. The 3 Levels of RHA Fillers Provide Personalizable Results
The RHA Collection is made up of three different levels of fillers making this treatment incredibly personalizable. Each level is formulated to provide varying degrees of stretch and strength depending on your wrinkle severity and the treatment area. This allows our RHA specialists to use levels with more advanced stretch in high mobility areas, and more plumpness in areas with deeper dynamic wrinkles or folds.
– RHA Level 2 Fillers can be used to treat moderate dynamic wrinkles and expression lines found around your lips and mouth known as Perioral Wrinkles.
– RHA Level 3 Fillers can reduce moderate to severe dynamic wrinkles and folds in highly mobile areas of your face such as around your nose and mouth, or your forehead. The expression lines around your nose and mouth are called Nasolabial Folds, and forehead furrows are referred to as Glabella Wrinkles.
– RHA Level 4 Fillers are used to treat severe wrinkles in your cheeks and outer contours of your face.
With these different levels, the RHA fillers are incredibly easy to layer with as well. So we are able to treat deeper folds and more superficial lines at the same time with natural-looking results.
Experience the Difference For Yourself and Get a Free RHA® Filler Consultation at Artemedica!
The future of hyaluronic acid fillers is here, and available now at Artemedica! If you are looking to improve the appearance of dynamic wrinkles with more natural-looking results, the RHA Collection could be your answer to the youthful skin of your dreams. Our RHA specialists are here to answer all your questions, and create a personalized treatment plan based on your unique goals and concerns!
Call our Santa Rosa or Healdsburg office or contact us online to schedule a free RHA Filler consultation today!