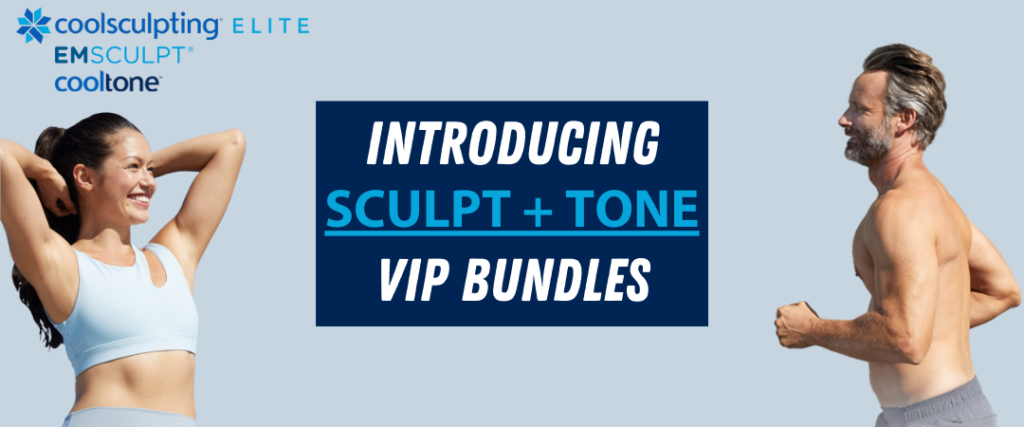 Introducing Our New SCULPT + TONE VIP Bundles!
One size does not fit all. At Artemedica, rather than only having the choice of one or two non-surgical body devices – we have the TOP 5! Our VIP Sculpt + Tone Bundles allow you to combine our most popular body procedures in one bundle and enjoy big savings! During your consultation, we'll help you create a customized treatment plan using a combination of CoolSculpting Elite, Emsculpt and CoolTone treatments.
Save $1,200 on 8 treatments
Save $2,100 on 12 treatments
Save $3,200 on 16 treatments
As a VIP, you'll also enjoy special gifts with your initial purchase and low maintenance treatment pricing following your completed treatment plan. Ready to get started? Call us today to schedule your Sculpt + Tone VIP consultation.
SCULPT + TONE VIP Bundle SILVER MEMBERSHIP – 8 Treatments ($450 per tx.)
– Maintenance Tx's (within a year of purchase) – $450
– FREE CoolSculpting Bag + Water Bottle
SCULPT + TONE VIP Bundle GOLD MEMBERSHIP – 12 Treatments ($425 per tx.)
– Maintenance Tx's (within a year of purchase) – $425
– FREE CoolSculpting Bag + Water Bottle
– FREE Alastin Transform Body ($198 value)
SCULPT + TONE VIP Bundle PLATINUM MEMBERSHIP – 16 Treatments ($400 per tx.)
– Maintenance Tx's (within a year of purchase) – $400
– FREE CoolSculpting Bag + Water Bottle
– FREE Alastin Transform Body ($198 value)
Request Your VIP Consultation
(Reg Pricing: CoolSculpting Elite $600, CoolTone $600 or Emsculpt $600)