Why We Love Vivace Microneedling Skin Rejuvenation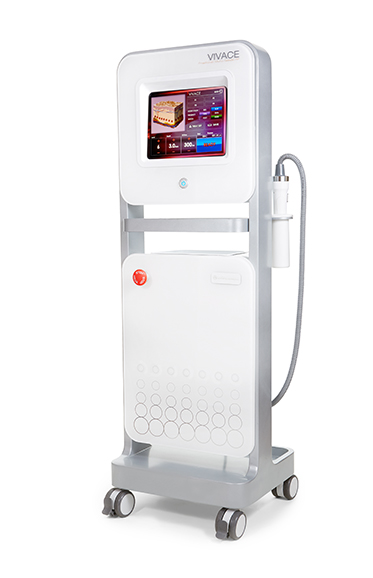 Now available at Artemedica, Vivace RF Microneedling is the most advanced, non-surgical treatment to dramatically improve the appearance and texture of your skin. The combination of Radio Frequency (RF) energies and LED light therapy instantly reverses signs of aging and damage to your skin.
This advanced technology has been proven to be a great option for treating the following prevalent skin issues:
Reduces Fine Likes
Softens Wrinkles
Evens Skin Tone & Texture
Minimizes Acne Scarring 
Reduces Pore Size 
Read on to find out all the amazing benefits of Vivace Microneedling and why everyone here at Artemedica loves this new treatment so much!
Vivace Microneedling Tightens and Renews Skin
The Vivace system utilizes radio frequency (RF) technology, taking your microneedling treatment to a new level. With RF energy being delivered through the needles, your skin's natural production of collagen is enhanced. The result is tighter and smoother skin.
See Instant Results with Vivace Microneedling
The combined technologies used in Vivace's Microneedling system creates results you can see immediately. The RF heat energy stimulates collagen production, which instantly tightens your skin and reduces fine lines and wrinkles. LED light therapy speeds up your healing process by reducing redness and inflammation. 
Vivace's gold tipped micro needles allow nutrient rich serums to reach deeper into your skin during treatment. These advanced solutions work together to reverse the signs of aging and deliver optimal results in less time.
Vivace Treatments Requires No Down Time
Vivace's motorized mechanisms and superfine needles result in a smooth treatment, with little-to-no bleeding or swelling. With LED light therapy reducing the redness of your skin, you will be ready to return to daily activities immediately.
Vivace Microneedling is Relatively Pain-Free
"Beauty is pain"? Not anymore! The advanced Vivace microneedling treatment was designed with your comfort in mind. 
Vivace uses superfine, insulated, gold-tipped needles that enter the skin smoothly. While other microneedling devices can snag the skin during treatment, Vivace's unique motor distributes needles smoothly, creating a painless experience. 
This revolutionary design paired with a topical anesthetic will keep you pain-free during Vivace treatments at Artemedica.
Wanna Try it Out? Artemedica Now Offers Vivace Microneedling in Santa Rosa!
If you are looking to improve the appearance of your skin but don't have the time for a prolonged recovery process, Vivace Microneedling may be perfect for you! Instantly rejuvenate your face or neck with no interruption to your work or social life.
To schedule your free consultation for Vivace Microneedling treatment, call or contact us online.