Book a HydraFacial with the Best in the Biz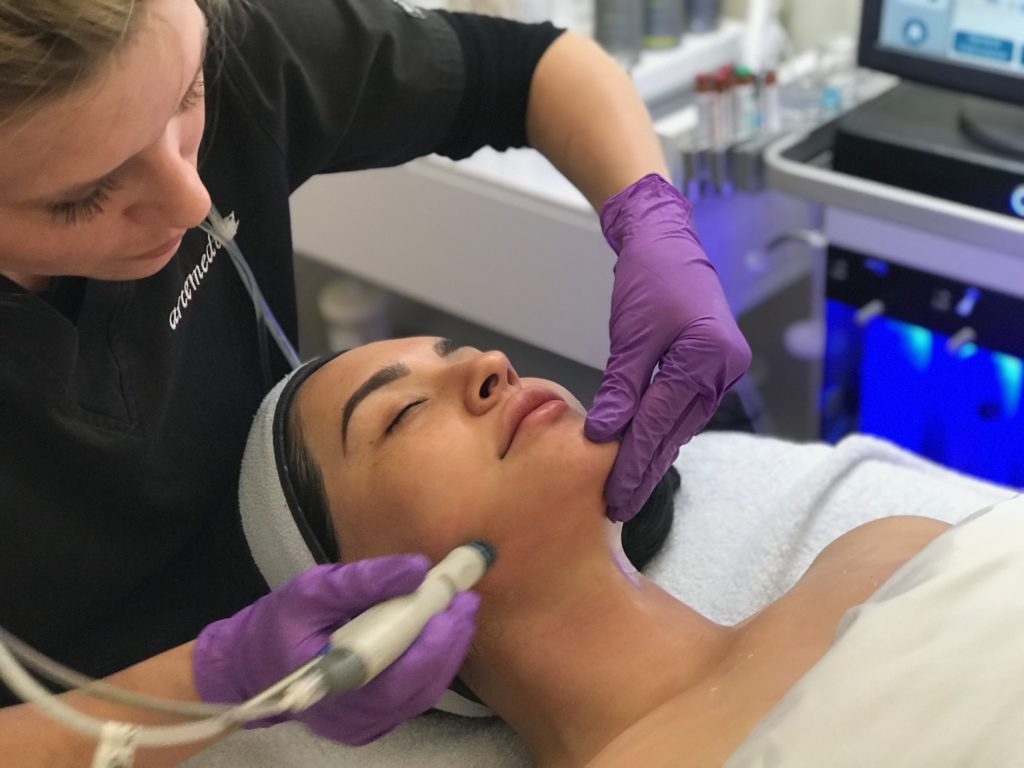 Chances are your skin has seen quite a bit of sun this summer. Is your skin in need of some TLC? Revive & re-hydrate your skin this Fall with a HydraFacial MD® treatment! Artemedica is well known for this popular facial option that leaves patients with healthy, radiant skin.
HydraFacial is a multi-step MedSpa treatment designed to cleanse, exfoliate, and extract impurities. It also removes dead skin cells. During this process, your skin is replenished with nutrients including antioxidants, peptides, and hyaluronic acid.
Do you have questions about the HydraFacial MD treatment? The experts at Artemedica are here to answer them!
What Can HydraFacial Do for My Skin?
These soothing, refreshing, and non-irritating treatments have many benefits for patients. A few of them include:
Improved Skin Appearance
Increased Skin Hydration
Elimination of Fine Lines & Wrinkles
Reduced Brown Spots
Removal of Congestion from Pores
Smaller Pores
Less Shiny or Oily Skin Appearance
and more
The treatment is designed for all skin types and is customized especially for you. Schedule a consultation today to determine how a HydraFacial regimen could help you return your skin to its healthiest state!
How long does a HydraFacial Treatment Last?
Your customized treatments are quick and easy, making them perfect for those on-the-go. A treatment lasts as little as thirty minutes. There is no downtime — you can put your makeup back on and return to your normal activities immediately after.
How Many HydraFacial Treatments Will I Need to See Results?
HydraFacial is a popular treatment not only to improve the appearance of your skin, but to restore it to its healthiest state. You will see results immediately for about seven days, but patients typically notice long term results after about six sessions.
Along with maintenance appointments, you will enjoy long-term results of glowing, healthy skin. A HydraFacial expert at Artemedica will help you craft a regimen that will maintain radiant results.
To prolong your results in between treatments, keeping your skin hydrated is key. Drink plenty of water and use a daily SPF moisturizer that will both lock in moisture and protect you from harmful UV rays.
What Are Some of the HydraFacial Add Ons?
You are unique and so is your skin! There are different, personalized treatments that will work to improve and maintain skin health, no matter what type of skin you have.
Brightalive Boost – This super serum is designed to brighten your skin tone and lessen the appearance of discoloration. You'll notice an instant glow.
Growth Factor Boost – The Growth Factor Boost will restore your skin health, diminishing the appearance of fine lines and wrinkles.
Dreambuilder Boost – With the Dreambuilder Boost, conditioning peptides are used to minimize the signs of aging by hydrating, firming, and soothing skin.
Britenol Boost – Britenol targets dark spots and sun damaged areas on your skin. You'll be left with a glowing and even complexion.
Artemedica are Experts at the HydraFacial Treatment
Artemedica proudly holds Black Diamond status with HydraFacial, an honor given to the top HydraFacial practices in the world! We love providing an amazing experience and results for our clients.
If your skin feels like it has been suffering, it might be time to schedule a consultation to determine how a HydraFacial routine can help. We look forward to answering all of your HydraFacial questions!