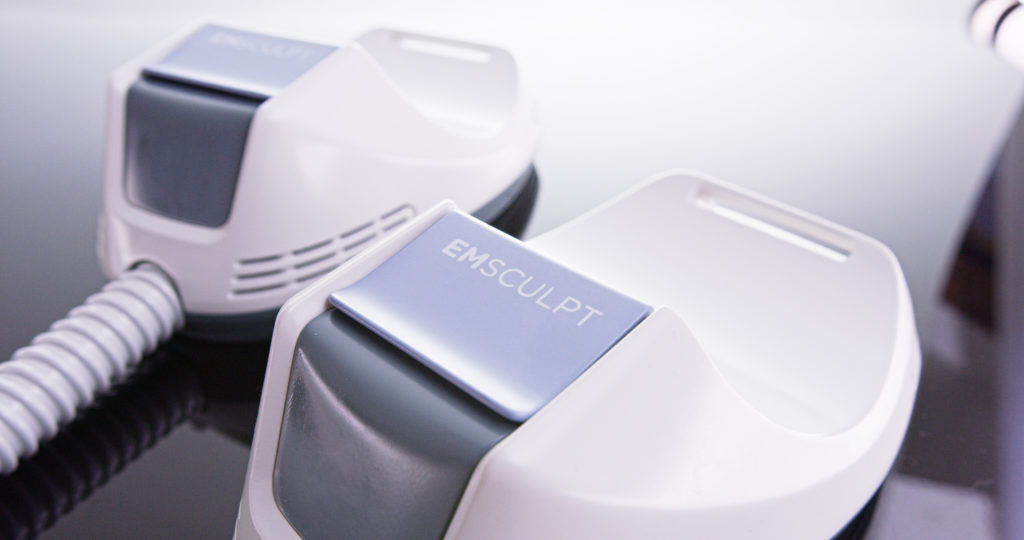 New EmSculpt Applicators Target Biceps and Calves
You might have already heard about EmSculpt, a revolutionary non-invasive treatment that both builds muscle and burns fat. It might sound too good to be true — but trust us, the results are amazing. On average, patients report a 16% increase in muscle mass and a 19% reduction in fat in their targeted areas!
Up until recently, this treatment was only performed on the abs, thighs, and buttocks with a large applicator. During the procedure, you lie down comfortably while electromagnetic energy is delivered through the applicator. If strengthening, firming, and toning target areas has been an issue in the past, this procedure is for you.
Both women and men benefit from EmSculpt, and many are excited that new small applicators have been approved to treat the upper arms (triceps and biceps) and lower legs (calves).
How Does EmSculpt Work?
As mentioned above, EmSculpt is a completely non-invasive procedure. The small applicators are strapped around your arms or legs while you rest comfortably. The procedure only takes 20 -30 minutes, depending on the area being treated.
The applicators use Highly Focused Electro Magnetic (HIFEM) energy that stimulates muscle contractions. According to the EmSculpt creators, "when exposed to strong contractions, the muscle tissue is forced to adapt to such extreme conditions. It responds with a deep remodeling of its inner structure that results in muscle building and sculpting your body."

You will feel like you have just completed an intensive workout after the procedure is through. With the large applicator targeting the abdominal section, it is compared to feeling as if you have done 20,000 crunches! With the buttocks, 20,000 squats; biceps, 20,000 bicep curls; with the triceps, 20,000 tricep dips and with the calves, 20,000 calf raise. An intense workout – without even breaking a sweat.
What Body Parts will the Small EmSculpt Applicators Tone?
The small EmSculpt applicators were recently approved by the FDA for the arms and legs. If you have found yourself lifting weights and not achieving the changes you have been working so hard for, EmSculpt might be the answer to get you there. Take a look at the Before and After gallery on our EmSculpt service page to see what other patients have achieved with the procedure.
The small applicators can also be applied to your calves. This will result in stronger, more defined-looking legs. You can also see Before and After photos for this targeted area on our EmSculpt page.
How Many EmSculpt Treatments Do I Need to See Results?
Depending on your desired results, we suggest a minimum of four sessions, two to three days apart. Schedule a consultation at Artemedica today and we will help determine how many treatments will be best for your body.
Small EmSculpt Applicators Now at Artemedica
With 96% average patient satisfaction rate, EmSculpt is a treatment-of-choice for those looking to simultaneously increase muscle and reduce fat. If you are as excited as we are about the new small applicators, schedule a consultation today! Artemedica is proud to be the first provider to bring Santa Rosa and the Greater Sonoma County Area this state-of-the-art body contouring procedure.