Turn Back the Hands of Time
Say Hello to Clear and Brilliant – a new non-surgical, non-invasive way to prevent the visible signs of aging caused by the overall effects of time and the environment on your skin.
Maintaining healthy, glowing skin is hard work – but no matter your age or skin type, fines lines or wrinkles along with tonal and textural changes will occur. Clear and Brilliant is a powerful yet gentle skin renewal treatment that can address all these issues with no downtime and leaving you to enjoy life with great looking skin.
What Can a Clear and Brilliant Laser Skin Treatment Do for You?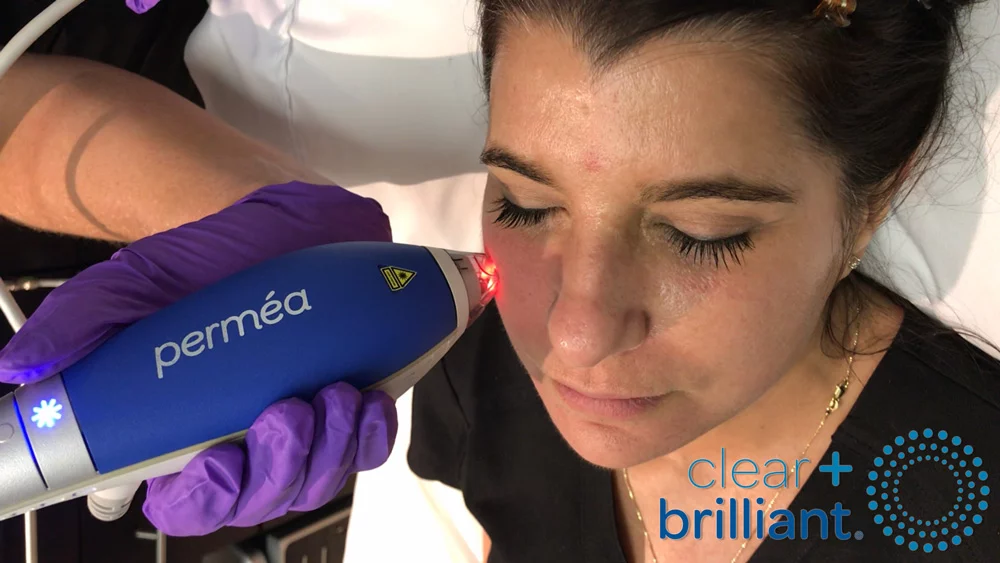 Safe & Effective Laser Resurfacing Technology
Clear and Brilliant (aka Baby Fraxel) utilizes fractional laser technology to create millions of microscopic treatment zones in the uppermost layers of your skin to encourage your body's natural healing response and stimulate the creation of new healthy tissue – yielding desirable younger looking skin.
There are two handpieces in the Clear and Brilliant system. The Original focuses on skin texture concerns, while the Perméa handpiece focuses on improved skin tone such as hyperpigmentation and melasma. Both are optimized for improved skin tone, texture, and enhanced skin permeability to increase the known benefits of topical skincare products applied following treatment.
Skin Care Results that Matter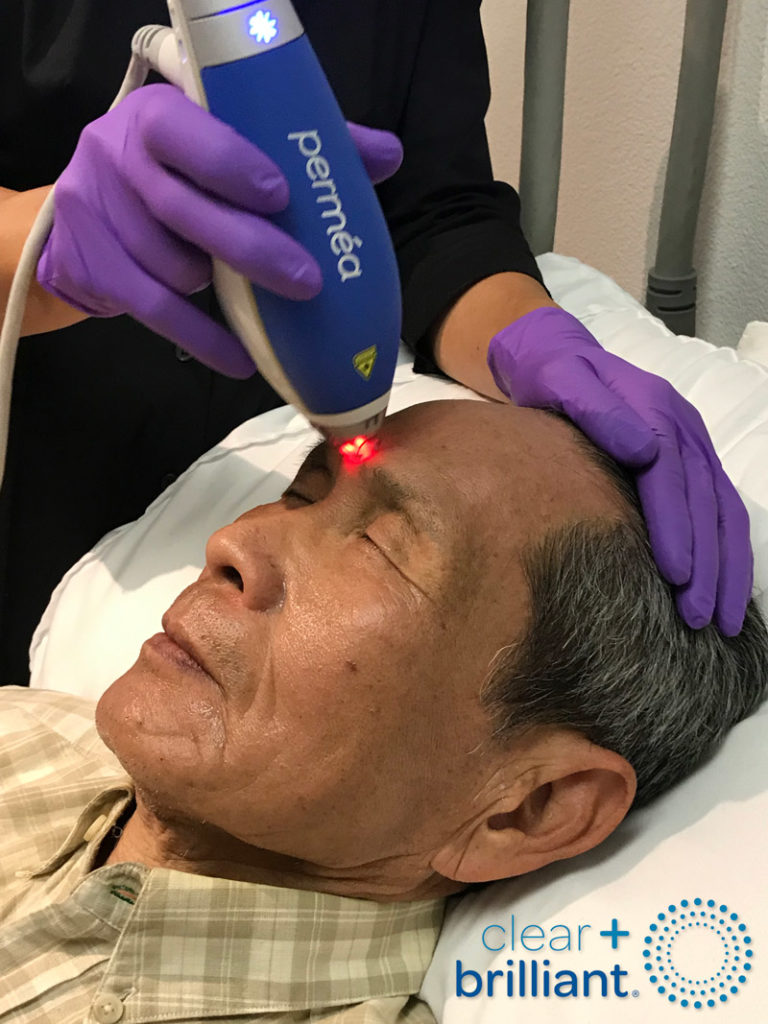 The Clear and Brilliant treatment is fast, gentle, and clinically proven to significantly replenish your skin and combat the visible signs of aging. After just a single session, your skin will begin to look younger, feel smoother, and restore its radiant glow!
A series of 4 are recommended.
Improve the look & reduce the appearance of fine lines
Improve skin tone & texture
Reduce the appearance of pores
Improve your skin's overall appearance
Following your Clear and Brilliant treatment, the results are immediate as well as improve over time. In the days to follow, your skin will continue to appear smoother, brighter, and clearer. Each subsequent treatment will further improve your skins natural healthy glow – making Clear and Brilliant an excellent treatment to add to your skin care regimen.
The Celebrity-Endorsed Laser Skin Care Treatment
Famous model and actress Christie Brinkley, recently told PEOPLE Magazine that she relies on Clear and Brilliant laser treatments to keep her skin looking young.
"I grew up in Malibu then my real job of modeling took me to beaches all over the world and under the sun. I really am aware of all the sun exposure I've had in my life and I'm interested in things that they can do to [reverse the sun's effects]," she tells People, saying that she'll get Clear and Brilliant laser treatments.
Drew Barrymore recently dished her beauty routine to the New York Times and revealed her annual Clear and Brilliant treatment to counteract her melasma. Check out her Instagram page to see a shot of her fresh face immediately following her treatment.
What to Expect from a Clear and Brilliant Laser Treatment
Every Clear and Brilliant treatment begins with a skin care consultation to ensure the procedure is right for you and to pinpoint any key problem areas it can help address. Based on this consultation, we will recommend a personally tailored treatment regimen that will work best for you and your skin care goals.
A Clear and Brilliant treatment:
Takes about 30 minutes to perform
For sensitive skin – a topical numbing cream may be applied for optimal comfort
Is delivered by gently guiding the handpiece across the targeted areas
You may experience some mild swelling and redness which will begin to recede during the first 12 hours following treatment. Dryness and itchiness can occur in the first few days following and are indications of your skin's natural renewal process.
You may continue to use most of your skincare products immediately after your treatment and we can advise you on the most beneficial products to boost your skin's new healthy glow.
Restore & Maintain Your Skin's Radiance at Artemedica
If you would like to achieve a youthful, glowing look – the Clear and Brilliant advanced laser treatment may be just what you're searching for! Attain eye-catching results that will keep others trying to guess your secret. To learn more about the amazing Clear and Brilliant treatment, call or contact online the expert skin care providers at Atremedica's Santa Rosa Plastic Surgery practice today to schedule your complimentary consultation.