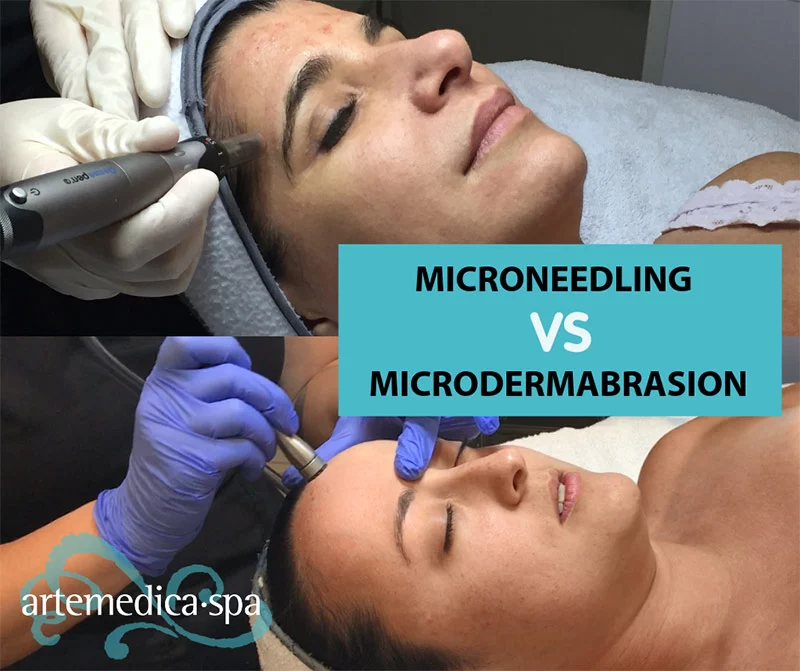 Different Skin Treatments for Different Skin Issues
With a world of skin treatments available, you might be wondering which is best for you. This all depends on the condition of your skin and your desired results. Two exfoliation treatments that are rising in popularity are microdermabrasion and microneedling. They are quick and efficient, cost-effective, and relatively painless. Both treatments help to improve various skin issues, like blemishes, fine lines, and more.
Our team of licensed providers specialize in many different skin treatments, including microdermabrasion and microneedling. We turned to them to help explain these popular treatments.
What is Microdermabrasion?
If you are dealing with irritated, dry, or rough skin, the DermaSweep microdermabrasion treatment might be right for you. According to Artmedica's internationally accredited aesthetician, Claire Lucido, the DermaSweep treatment polishes superficial dead skin cells off with a brush. Microdermabrasion has been shown to increase blood flow for collagen stimulation, resulting in stronger and more elastic skin. This can help improve minor textural irregularities, as well as the signs of sun damage.
The Dermasweep treatment also strengthens lymphatic drainage and aids in delivering key skin nutrients to the deeper layers of skin. It can be combined with epi-infusions — topical solutions that are applied under vacuum pressure to your skin. Aesthetician, Sarah Faustine explains that skin care products are able to penetrate more evenly after microdermabrasion treatments.
This non-invasive treatment combo is perfect for individuals looking for softer, healthier complexions around their face, hands, neck, or chest.
What is Microneedling?
Microneedling is another non-invasive procedure gaining popularity thanks to celebrities, like Kim Kardashian. During the Microneedling treatment, skin is punctured hundreds of times with tiny needles, resulting in new skin formation that can reduce the appearance of wrinkles and scars. Claire explains, "microneedling induces your body to make more collagen by injuring the skin. It's a very effective way to improve the texture and the quality of the skin."
This form of collagen induction therapy (CIT) reaches the dermal layer of the skin. It has been shown to be an effective treatment for many different skin conditions, with limited side effects and little downtime. A series of 3 microneedling treatments will deliver a noticeable difference. A series of 6 treatments will deliver dramatic results.
The Microneedling procedure can also be combined with our Platelet Rich Plasma Facial — an upscale procedure in which your platelet-rich plasma is separated out and applied topically. More on that process here!
Which Skin Treatment is Best for Me?
Microdermabrasion is the treatment of choice to improve your skin's complexion safely, comfortably, and quickly. There is generally no downtime after a DermaSweep microdermabrasion treatment!
Microdermabrasion reduces:
surface skin blemishes
dull skin tone
fine lines and wrinkles
clogged pores
sun damage
Microneedling is great for those that are looking to go a little deeper to reverse the signs of aging.
Microneedling helps to:
shrink pores
repair acne scars
reduce fine lines
reduce deep wrinkles
Not only is it a great treatment if you are looking for younger-looking skin, but it can also help those who suffer from sun damage, acne scars, and burn wounds. 
State of the Art Skin Care Analysis at Artmedica
No skin condition is the same, and our experienced aestheticians take pride in guiding patients to their best skin potential. In an initial Reveal Imager Skin Care Consultation, we can help determine if microdermabrasion and/or microneedling are the best options for you. The Reveal Imager's high-tech facial imaging system will help us analyze and evaluate your skin's health and set up a treatment plan that will lead to the healthy, radiant skin you have always wanted.